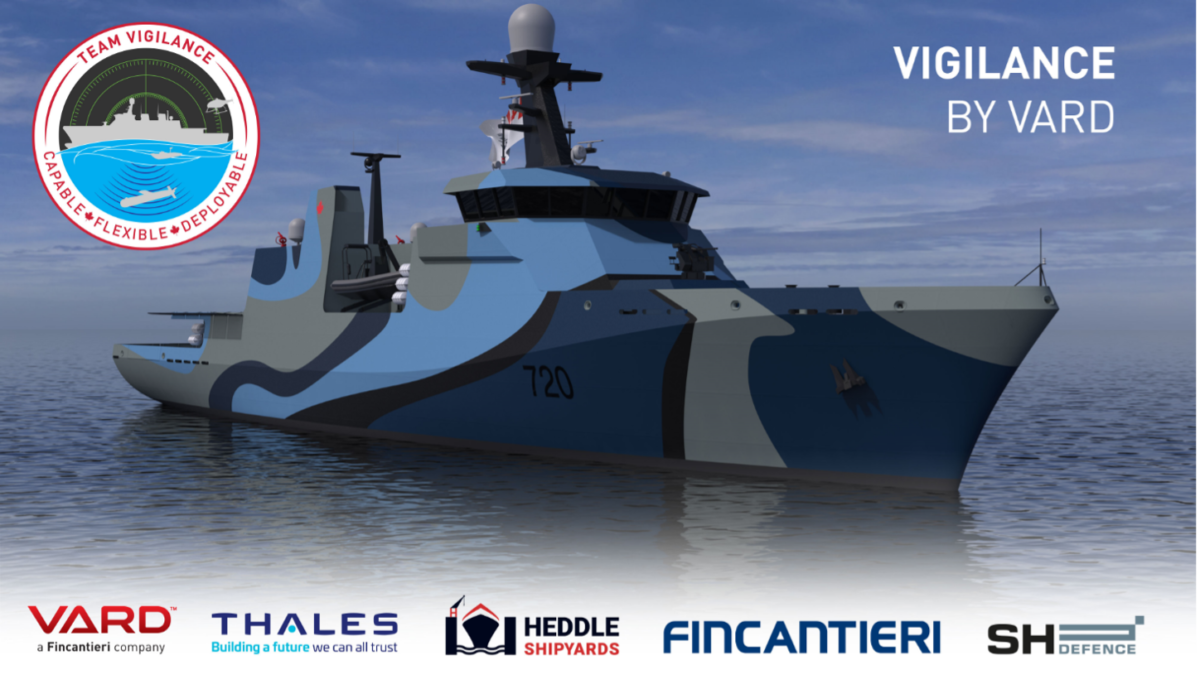 The VIGILANCE Next Generation Offshore Patrol Vessel
Vanguard Staff, July 25, 2023
3 min

read
2058
Vard Marine Inc. (VARD), a Fincantieri company, has launched the VIGILANCE Offshore Patrol Vessel (OPV) concept in conjunction with Team Vigilance partner companies Heddle Shipyards, Thales Canada, SH Defence, and Fincantieri.
Intended to satisfy projected future demands under the second pillar of the Government of Canada's National Shipbuilding Strategy as a replacement for the Kingston Class Maritime Coastal Defence Vessels, VIGILANCE will be designed, built, and equipped in Canada. Tailored to the needs of the Royal Canadian Navy's future fleet, VIGILANCE strikes the balance between flexibility, adaptability, and size, while maintaining the life-cycle cost advantages VARD's naval designs are known for.  The vessel has been conceived for high-tempo sovereignty missions and engineered for global deployment and forward basing abroad.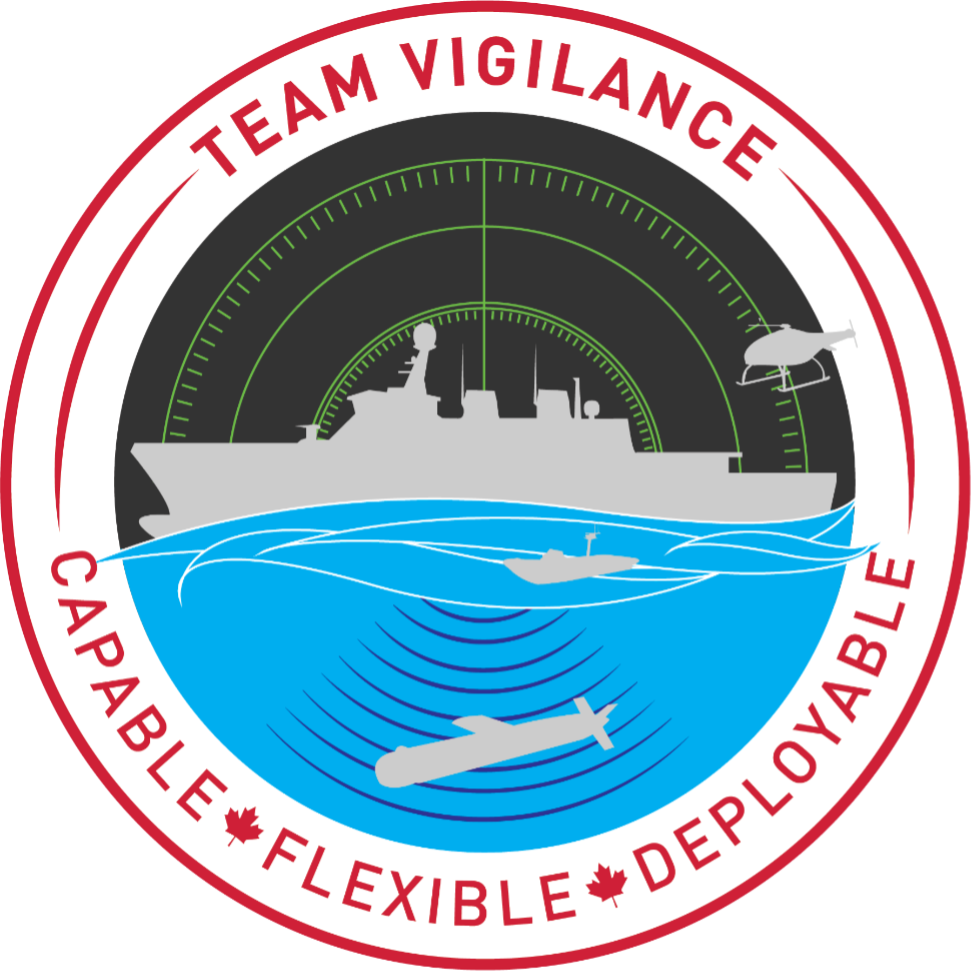 Evolving from VARD's proven family of mid-sized OPV platforms such as the Roisin Class and Protector Class, commissioned respectively by the Irish Naval Service and the Royal New Zealand Navy, VIGILANCE incorporates many enhanced design features. A covered boat bay to accommodate a 13 m unmanned surface vehicle (USV) or containerized payloads, a dedicated flight deck for unmanned aerial vehicles (UAV), and a form offering improved motions and efficiency for deployed missions are just some of these features.
The design philosophy of "commercial where possible and military only where needed" leans heavily on the use of commercial-off-the-shelf (COTS) equipment to minimize acquisition and through-life maintenance costs.  VIGILANCE's adoption of automation and autonomous systems reduces crewing demand while simultaneously enhancing the efficiency of those personnel onboard. Efficient propulsion system configuration and optimized operating modes using hybrid drives and energy storage systems minimize fuel costs and environmental impact. The possibility to source locally produced Canadian steel grades will help avoid the premium associated with the production of small quantities of specialized steels from foreign suppliers.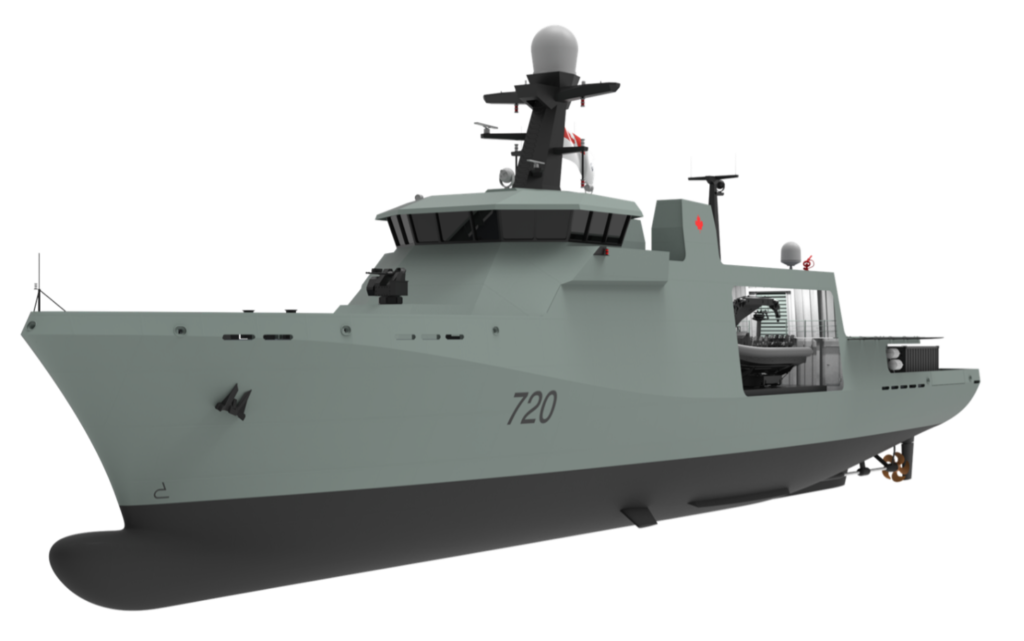 Cost effective and forward-looking, VIGILANCE fulfills critical operational needs through its combination of organic and modular capabilities, enabling core naval missions such as intelligence, surveillance and reconnaissance, subsea infrastructure protection, mine countermeasures, fisheries enforcement, and maritime interdiction operations. The seamless integration of the CUBETM plug-and-play mission module and payload handling system ensures VIGILANCE remains future-proof and can offer a true multi-mission capability regardless of the tasks assigned to the vessel.
Collectively, Team Vigilance brings vast and impressive capabilities and experience to bear in naval ship design, Canadian and global shipbuilding, the integration of combat and offboard systems, modular payload systems, and life-cycle solutions. This collaboration ensures VIGILANCE can meet the needs of any naval operator in this space and beyond and will offer broader economic development for the marine sector across Canada.
VIGILANCE is the only solution that can offer a Canadian outcome across all stages of the shipbuilding value chain from early-stage design through construction to delivery and beyond. Team Vigilance is truly committed to the designed, built and equipped in Canada mantra they have adopted, and attention has now turned to building a broad coalition of Canadian companies ready, willing and able to contribute to VIGILANCE.
Related posts