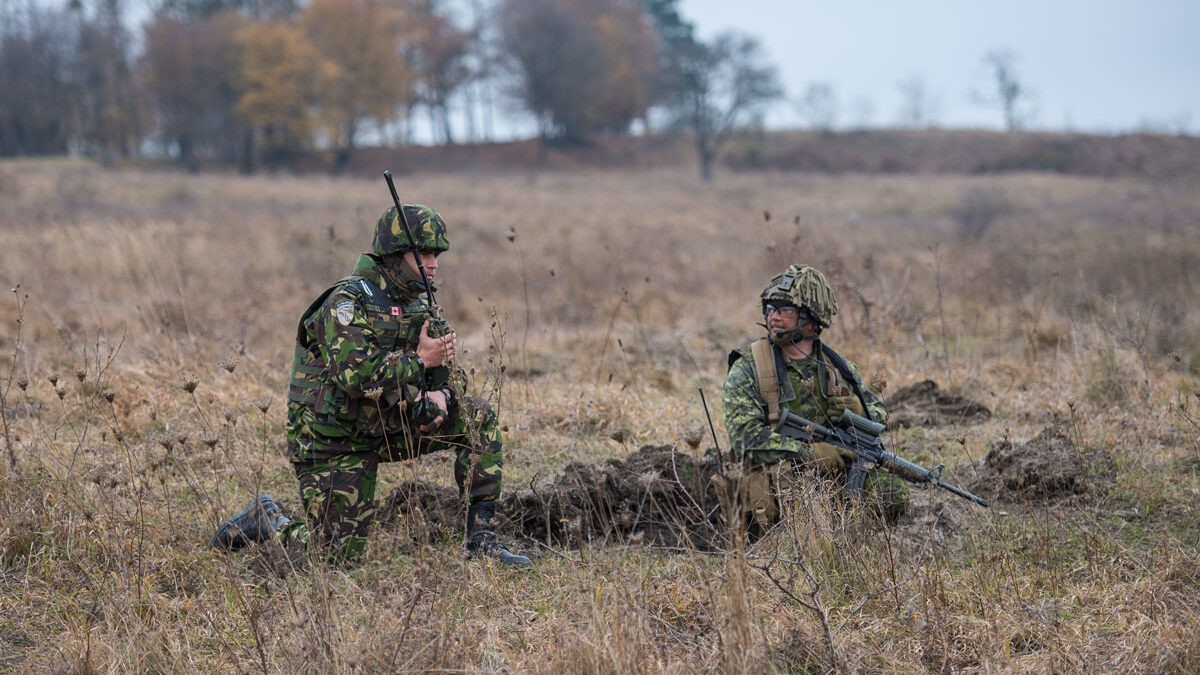 What Does Digitization Mean for the Canadian Armed Forces?
Victor Khoo and Alkarim Amlani , July 18, 2023
4 min

read
605
We recently had the chance to interview two key players from General Dynamics Mission Systems–Canada who are working to address the CAF's current digitalization challenges: Director of Cyber Programs Alkarim Amlani and Chief Engineer Victor Khoo. 
General Dynamics has a lot of experience with digitization, and the goal for Amlani and Khoo is to enable the warfighter.
General Dynamics' current initiatives are focused on giving the individual warfighter, and the CAF as a whole, the information they need to make the right decisions at the right time.
Three main Digitalization challenges:
Data consolidation: "We've focused efforts in collaborating with industry partners and experts on the latest in data fusion techniques to address this problem space, creating digital twins and creating AI algorithms to help perform the analysis," says Khoo.
Data distribution: Passing data efficiently and reliably accounting for the intermittent and latency challenges of a tactical network.
Data contextualization: "General Dynamics' TNaaS (Tactical Networks as a Service) enables the flow of how information is analyzed and scrubbed: presenting the essential information needed for decision making."
Khoo also noted that "the operational urgency has significantly increased due to conflicts that are happening in real time."
How General Dynamics Approaches C4ISR Modernization 
C4ISR is a key concern for the CAF. General Dynamics is drawing on three previous areas of experience to move forward, as Khoo explained.
Innovation with industry partners: "GD hasn't stopped innovating in this space. There are many technology companies, both big and small, that have excellent expertise and products to offer. Working with these companies, we can adapt the technology in the Canadian Armed Forces (CAF) context. If you want to go further, go together."
A quick feedback cycle with the end user: "We've always taken the user-centered approach to our solution offering. Moving forward these end user engagements are invaluable … working side by side developing and iterating solutions in real time with the end user feedback being instantaneous"
Packaging for easy consumption by the CAF: Whether it's out of the box or needs some customization, General Dynamics is prepared to help, and Khoo notes that both turnkey and custom solutions work with Made in Canada hardware and software already in service.
Bringing CAF Infrastructure to the Cloud 
Everything General Dynamics is trying to do with its CAF digitization initiatives comes back to enabling the warfighter. C2 workloads and the cloud are at the center of that effort.
Alkarim Amlani explained a few of the C2 application and workload needs. First, new C2 systems need to operate in an environment where reliable, high-bandwidth connections are not available all the time and where some of these connections could end up traveling into contested cyberspace. There also needs to exist the ability to add and remove technologies as priorities evolve and capabilities are phased out. And they need a secret-level cloud with data-centric security (General Dynamics being a cloud-agnostic capability provider helps with this).
But there's more to it than that. "There is an angle which I feel gets overlooked when we talk about cloud deployment into the CAF, and that's how the data within the cloud is used," says Amlani. "Warfighters do not just access the data, they actively use the data in support of mission operations."
This means any C2 workload has to provide effective, useful, secure data to the warfighter over a disconnected, intermittent and latent network. And as AI and machine learning come into the mix, providers like General Dynamics have to figure out risk mitigation for a whole new cyberattack surface.
Amlani calls out four areas from the new CAF digital strategy that need to be addressed to make digitization a reality:
Willingness to experiment with emerging technologies.
Investment in technology and infrastructure.
Active collaboration between industry partners, academic institutions and DND.
Merging best practices from the defense industrial base and traditional IT companies to create a Canadian sovereign solution.
General Dynamics is focused on accomplishing these goals for the CAF, and Amlani and Khoo are right at the forefront. Want to hear more? Listen to the whole interview here. 
You may also like our other interviews with GDMS:
Victor Khoo and Alkarim Amlani
Victor Khoo is the chief engineer at General Dynamics Mission Systems Canada. Alkarim Amlani is the Director of Cyber Programs at General Dynamics Mission Systems, Canada.
Related posts