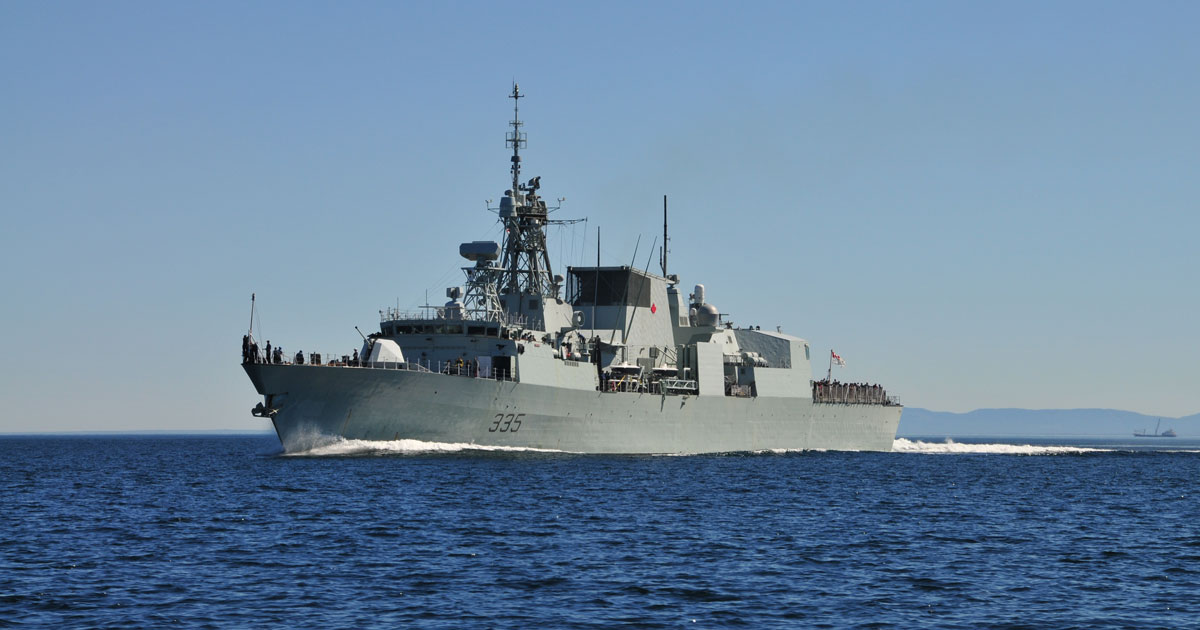 L3Harris Integrated Data and Configuration Management Solution
Sponsored Content, November 2, 2021
3 min

read
4949
Key Enabler for Naval Digital In-Service Support
As the Royal Canadian Navy evolves the Concept of In-Service Support (ConISS) from the current Halifax Class to the Canadian Surface Combatant, one key enabler to achieve the ConISS objectives is a robust Integrated Data and Configuration Management Solution (IDCMS). The current data environment lacks certain elements required to support the Naval Material Assurance (NMA). The L3Harris IDCMS provides the data and configuration management backbone for the fleet to achieve NMA goals, and offers significant advantages in terms of fleet availability and efficiency.
A Canadian solution serving the Royal Canadian Air Force (RCAF) for over three decades, L3Harris' IDCMS has continued to evolve over time, through investment and experience, and now serves the complex In-Service Support (ISS) requirements of several major RCAF platforms and systems. L3Harris was an early adopter of S1000D standards and since 2003 has progressed its Integrated Data Environment solutions to further enhance the functionality necessary for full airworthiness compliance for RCAF fleets, which is transferable and scalable to NMA standards.
L3Harris' IDCMS is a fully integrated Collaborative Environment and S1000D-compliant solution providing all functionality requirements to support elements of Program Management, Systems Engineering, Logistic Support, Data and Configuration Management, Materiel Management and interfaces with the Department of National Defence and Industry existing databases.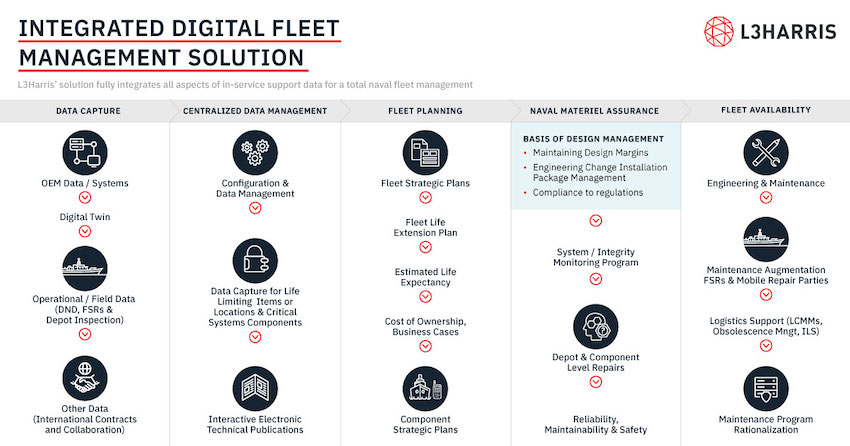 L3Harris' IDCMS makes use of emerging technologies, such as 'digital thread', that enables digital twins and uses its virtual and augmented reality, as well as 3D graphic and data modelling capability, to extract the digital twin's data source. Being an exact replica of the physical configuration of the platform (aircraft, ship or land vehicle), the digital twin's data source can support the release of real-time maintenance updates and operations data within the IDCMS, published for use by maintainers and operators.
While most of the design data is captured during the design phase, additional data is captured post-commissioning via L3Harris' automated digitization process during the ISS phase. The data is then error-checked against the latest data standard, stored and automatically populated in the L3Harris IDCMS. L3Harris' IDCMS is hosted in a secure Canadian cloud and accessible anywhere and anytime, providing Single Source of Truth information to the user community and project stakeholders, whether on board a deployed vessel or ashore.
A fully integrated technical solution is a key enabler; however, to achieve ConISS objectives, proven experience is essential. In supporting several fleets for the RCAF, L3Harris has developed detailed ISS processes and has successfully embedded these processes in its IDCMS. Moreover, each ISS process, incrementally developed using stakeholder input, then tested and implemented, has resulted in a proven ConISS. This methodology has ensured that the end system reflects and institutionalizes the real needs of actual customers or system stakeholders.
The IDCMS not only automates the ISS processes and tasks required for several stakeholders to perform, it also validates that the user has the correct credentials for the task and provides an audit trail for system assurance. Key Performance Indicators are measured and displayed in customizable dashboards, providing the level of information required by each system stakeholder to execute their decisions.
The secured Canadian cloud hosting L3Harris' IDCMS is accessible to the user community anywhere and anytime, via desktops or handheld devices, providing all elements of In-Service Support, fleet operational and maintenance planning, operational and maintenance data, materiel assurance and fleet availability. Such a fully digitized In-Service Support solution is available at L3Harris, already trusted by leading defence customers and thousands of users.
For more information, please send an email to info.marketing@l3harris.com.
Related posts