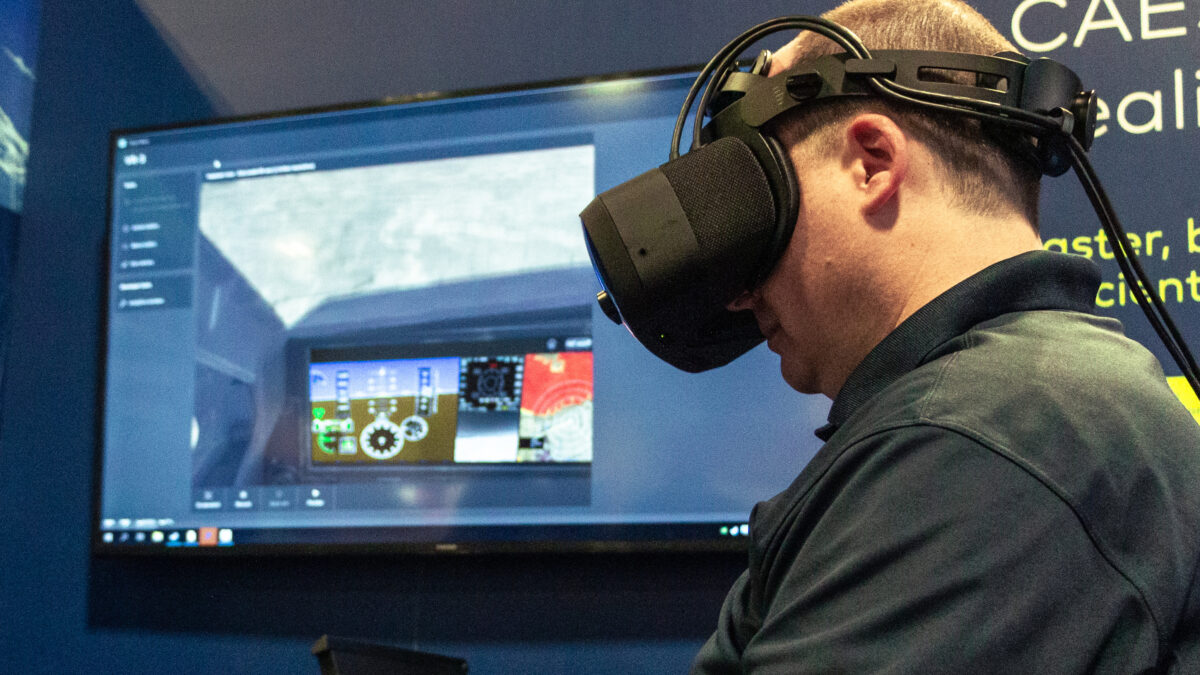 CAE Driving Development to Support Training Transformation
Michael Kasaboski, April 25, 2023
3 min

read
972
Canadian-based CAE is leading the way in digital immersion for pilot training and operational support solutions. A globally recognized powerhouse providing cutting-edge military training, CAE leverages new technologies to enhance its ability to train pilots and support better, faster, and more efficient throughput.
CAE's flight training capabilities are much more than producing the full-flight simulators it is widely known for. The company does produce these high-fidelity devices and others, but it is also known for its innovative and immersive training methodologies, which embrace new and emerging technologies.
Many may be aware that CAE provides flight training to the Royal Canadian Air Force for its NATO Flying Training in Canada (NFTC) program, which to date has trained over 3,600 students, but their expertise doesn't stop there. CAE is the training provider for the U.S. Air Force Initial Flight Training (IFT) program, providing introductory flight training for all U.S. Air Force aviation candidates – training 1,800 students every year. In addition, CAE trains all fixed-wing pilots for the U.S. Army (as well as pilots from the U.S. Navy and U.S. Air Force) at its Dothan, Alabama facility, training more than 800 students per year.
The sheer number of flight students CAE trains on an annual basis is impressive, but more important is their investment in technologies to further improve student skills and overall throughput. The company is at the forefront of incorporating new technologies like its Sprint Virtual Reality (VR) Trainer and its Rise performance grading and assessment tool, designed to objectively measure student progress and proficiency. These products are elements of CAE's Trax Academy, an advanced student-centered training continuum for military student pilots.
With advanced technology aimed at modernizing pilot training and improving the quality and quantity of pilots, CAE is modernizing training with adaptive instructional techniques like self-paced learning. Students are able to engage in their exposure to training and practice skills repetitively, giving them more control of their competency in tasks and supporting their successful progression.
CAE recently demonstrated some of its innovative capabilities in a study conducted with the Japan Air Self-Defense Force (JASDF), with the goal of objectively verifying the training benefits of CAE coaching, feedback, and biometrics using a CAE Sprint VR device.
The January 2023 study exposed 30 pilot trainees to a 1-hour training event to practice takeoff or landing across six trials during day and night conditions. CAE's AI coaching provided verbal cues for descent and touchdown speed and was coupled with auto-grading. The study clearly showed that the CAE-developed tools enabled the cadets to significantly improve their overall performance between trial one and trial 6. Sharing their views of the study, JASDF cadets said: "AI coaching is good" and "Grading with detail evaluation helped for good motivation."
"The JASDF study was a watershed moment demonstrating the validity of applying these new types of training capabilities," said Phil Perey, Head of Technology at CAE Defense & Security. "It is all about immersing the student. Regardless of the level of experience and proficiency, over just one hour of training on the device with an AI coach, they dramatically improved their performance."
The CAE/JASDF study is just one example of the work CAE is doing to evolve military flight training. Key elements of this approach include student-centered learning, increased student access to training content, advanced and immersive training technology, and human performance factors.
CAE is incorporating adaptive training technologies like these to support enhanced training now and the transformational requirements of the next generation of training platforms to ensure defense customers are prepared for the mission ahead.
Related posts