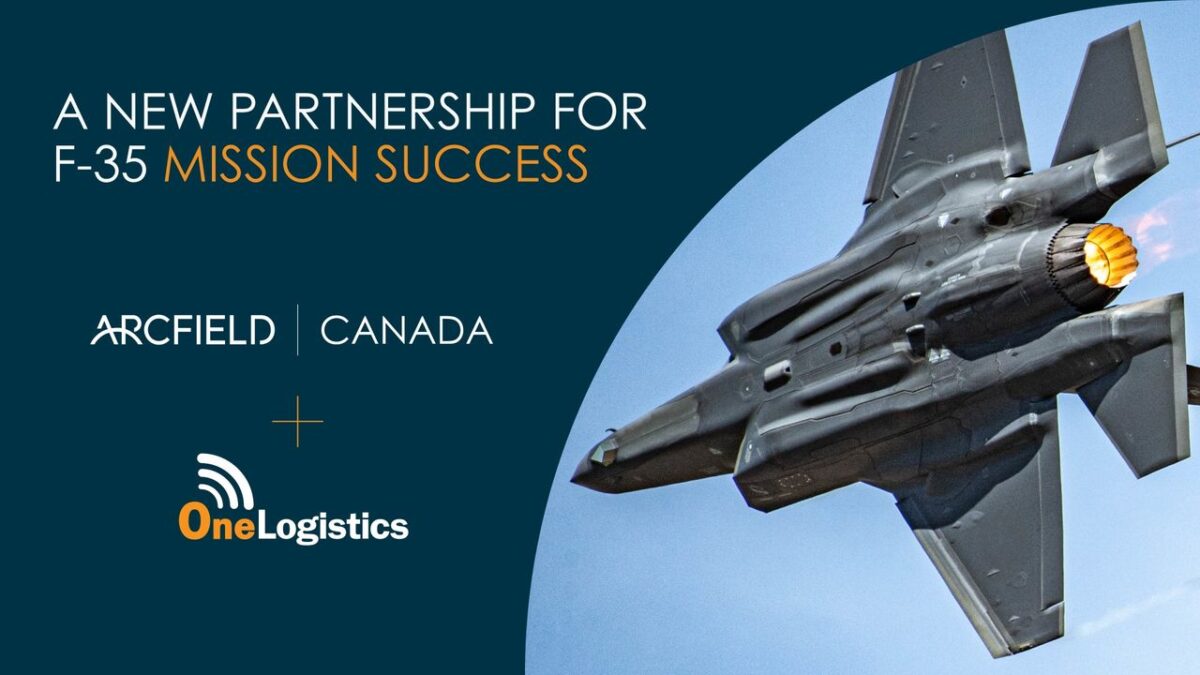 Arcfield Canada and OneLogistics Collaborate to Bolster Canada's F-35 Program
Vanguard Staff, October 11, 2023
2 min

read
354
Arcfield Canada, a prominent company specializing in high-value logistics and support services for aircraft avionics, C5ISR, electronic warfare, and advanced systems for the Royal Canadian Air Force (RCAF), has joined forces with OneLogistics, Europe's foremost partner in the supply chain for sustaining the F-35 fighter jet. Their collaboration is set to deliver in-service support for Canada's forthcoming F-35 fleet. This partnership amalgamates the proficiency, infrastructure, and know-how of two leading global defense organizations with the aim of servicing and maintaining Canada's next-generation fighter while simultaneously contributing to the economic well-being of Canadian enterprises and employees.
"The OneLogistics partnership will provide Arcfield with a unique opportunity to apply our hands-on experience and expertise as a long-standing partner to RCAF to its future F-35 program in an effective and meaningful way. Together we believe we can deliver the most comprehensive and efficient solution to the Canadian government," said Kevin Kelly, chairman and chief executive officer, Arcfield.
For over three and a half decades, Arcfield Canada has been a stalwart provider of engineering, maintenance, repair, overhaul, and integrated logistics support services for Canada's CF-18 fleet. Meanwhile, OneLogistics, headquartered at the Royal Netherlands Air Support Command in Hoogerheide, Netherlands, has been effectively managing the supply chain for the F-35 fleet in the Netherlands, across Europe, and in the Pacific Rim since 2019.
The experience OneLogistics has acquired as a Product Support Provider (PSP) within the F-35 Global Support Solution program in Europe, coupled with Arcfield Canada's extensive history of providing sustainment services to Canada's CF-18 fleet, forms an unparalleled synergy in secure supply chain management, avionics maintenance, repair, overhaul, and test and engineering support capabilities, all geared towards sustaining and bolstering Canada's future F-35 fleet.
"Our 35+ years of experience sustaining and maintaining Canada's CF-18 fleet, at home and abroad, uniquely positions us to provide similar sustainment solutions to the future Canadian F-35 fleet," said Jacques Comtois, vice president, Arcfield Canada. "By combining Arcfield Canada's exemplary record of support to the CF-18 fleet with OneLogistics' unmatched experience as a PSP for the F-35, we will offer the Department of National Defence a seamless, low-risk, mature and proven sustainment solution for Canada's future F-35 fleet."
Rene de Koning, CEO and owner of OneLogistics, concluded, "We are proud to team with Arcfield Canada, and bring the proven techniques, approaches and supply chain knowledge we are using today to maintain Europe-based F-35s to Canada to ensure the successful sustainment of Canada's future fighter fleet."
Related posts