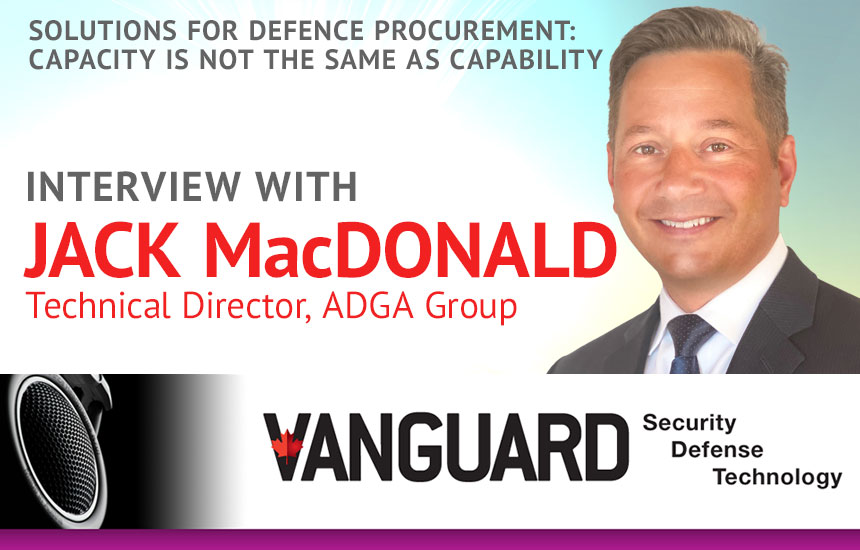 Solutions for Defence Procurement: Capacity is Not the Same as Capability
Vanguard Staff, September 26, 2023
1 min

read
587
In the latest episode of Vanguard Radio, host J. Richard Jones talks with Jack MacDonald, Technical Director, ADGA Group about ADGA's core services, observations, and insights on defence procurement problems and how ADGA's Value-added Program Management service is part of the solution.
Jack MacDonald served 27 years in the Canadian Armed Forces before taking on leadership roles both within government and the defence industry. He brings years of experience in complex procurement, program management and technology innovation to his current role as Technical Director for ADGA Group.
ADGA Group is a proudly Canadian-owned and operated defence and security technology company. Their core services include value-added program management, agile software engineering development, and integrated security solutions. ADGA is recognized for employing advanced technology experts who bring unparalleled expertise in defence and security systems. For decades, ADGA have recruited CAF veterans to integrate their unique skill sets and highly specialized training into their workforce and work culture. ADGA's social mandate is not only to hire veterans, but also family members and fellow citizens who share a passion to protect Canadians and Canada's allies, and to give back to veteran causes in the community.
In this episode:
What has changed at ADGA since the acquisition by Commissionaires Ottawa
ADGA's core services
What is "Value-added Program Management"?
How Value-added Program Management supports military members on the battlefield and behind the lines
And more!
Related posts