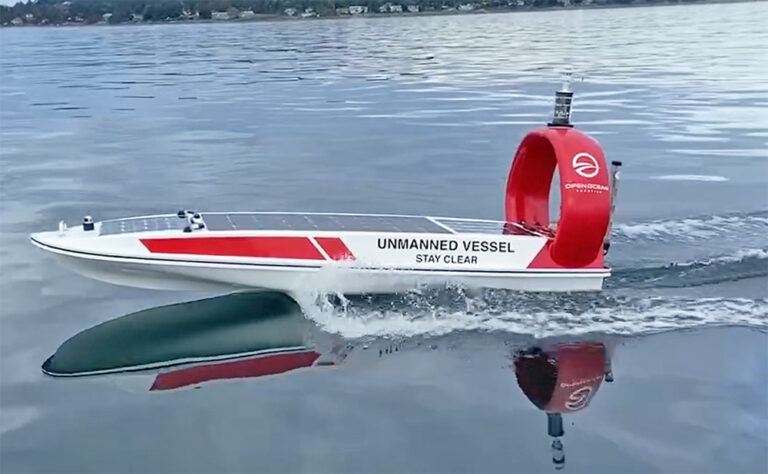 Canadian cleantech entrepreneurs are taking on today's environmental challenges and proving their worth. Working in partnership with innovative companies, the Government of Canada is supporting the growth of a greener economy.
Open Ocean Robotics is a leading Canadian cleantech company. Investment in the company will not only help Canada protect its oceans, but also meet the country's ambitious climate objectives.
The Honourable François-Philippe Champagne, Minister of Innovation, Science and Industry, and the Honourable Jonathan Wilkinson, Minister of Natural Resources recently announced an investment of $2.8 million in Victoria-based Open Ocean Robotics. The investment will be made through Sustainable Development Technology Canada (SDTC and marks the second SDTC investment in Open Ocean Robotics (OOR). This continuing collaboration is helping the company to advance its cleantech solution for gathering ocean data and protecting marine environments.
"Now is the time for ambitious climate action. Cleantech innovation, entrepreneurship and commercialization are key to the vital shift to a healthier environment and a net-zero carbon economy. Today's announcement will boost our leadership in climate and waste reduction technologies and help foster a truly Canadian success story," as stated by the Honourable François-Philippe Champagne, Minister of Innovation, Science and Industry.
OOR is also a graduate of SDTC's Seed Fund. The fund is intended to assist early-stage entrepreneurs who have gained solid ground and are looking to scale up. Previously, the company used its funding to build one of its first solar-powered, uncrewed surface vehicle (USV) prototypes. These USVs are designed so they do not produce any greenhouse gas emissions and are able to monitor and protect marine environments for months at a time. By capturing key data, they help better understand the impacts of climate change, conserve marine biodiversity, and prevent overfishing and other threats to ocean health.
Julie Angus, the CEO of Open Ocean Robotics remarked, "We are delighted to have the support and recognition of SDTC for our technology to advance ocean monitoring. This will accelerate the development of our solar-powered autonomous boats and real-time data analytics systems to help transform how we understand and protect our oceans."

With this latest SDTC investment, the OOR will advance its SeaSense initiative, the aim of which is to protect the marine environment with the latest generation of zero-emission autonomous vessels, artificial intelligence and, advanced sensors.
The Government of Canada is committed to investing in clean technology and laying the foundation for a stronger, greener, and more sustainable economy while also creating opportunities for all Canadians. The investment in OOR will help grow the economy and support Canada in meeting its 2030 climate commitments and reach net-zero greenhouse gas emissions by 2050.
Related posts