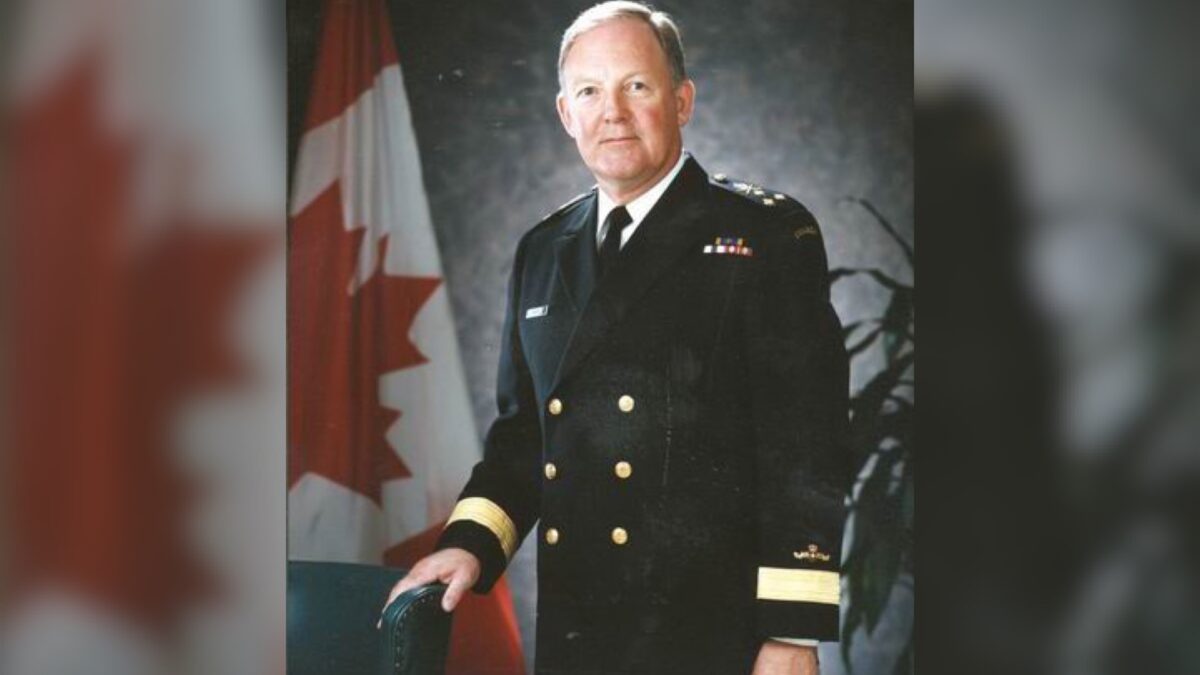 Vice-Admiral Peter William Cairns, CMM, CD, 1938-2023
Vanguard Staff, March 5, 2023
3 min

read
701
It is with great sadness that we remember VAdm Peter Cairns. Peter was one of the co-founders of the Shipbuilding Technology Forum, which we call the ShipTech Forum. The 10th Annual ShipTech Forum was recently held on February 28, 2023, in Ottawa, Ontario. Peter had a long and dedicated career prior to his involvement in the ShipTech Forum.
Vice-Admiral Peter Cairns grew up in Orillia, Ontario and joined the Royal Canadian Navy (RCN) as a cadet in 1956 under "The Venture Plan" for training junior officers, where he subsequently served in HMC Ships Venture, Skeena, Stadacona, Sioux, Chaudiere and Gatineau. In 1965 he specialized in submarines, attending the Royal Navy submarine officers training course at HMS Dolphin followed by an appointment in 1965 to the British submarine HMS Orpheus as the Navigating Officer. In 1967 he joined the submarine HMCS Onondaga as part of the commissioning crew followed by tours as the Executive Officer in the submarines HMCS Rainbow, and HMCS Okanagan. In 1971, on completion of the British Royal Navy Submarine Commanding Officer Qualifying Course (Perisher), he assumed command of the submarine HMCS Onondaga. On promotion to the rank of Commander in 1974 he was appointed in command of the First Canadian Submarine Squadron, followed by studies at the US Naval War College in Newport, Rhode Island in 1975. Between 1976 and 1978 he commanded the helicopter carrying destroyer escorts HMC Ships Fraser, Margaree and Assiniboine and, on promotion to Captain(N) in 1979, he was appointed Commandant of the Canadian Forces Maritime Warfare School. In 1981 he returned to a seagoing appointment as the Commander Fifth Canadian Destroyer Squadron and two years later he moved to National Defence Headquarters (NDHQ) in Ottawa, initially as the Director Personnel Careers Officers and, in 1985, on promotion to Commodore, he was appointed Director-General Personnel Careers Officers in NDHQ. Two years later, on promotion to Rear-Admiral he moved to Norfolk, Virginia and assumed the duties of Deputy Chief of Staff Operations to NATO's Supreme Allied Commander Atlantic (SACLANT). In 1989 he returned to Canada as the Commander Maritime Forces Pacific and in 1992 he was promoted to Vice-Admiral and appointed Commander Maritime Command, a position he served in until his retirement in August 1994. After leaving the Canadian Forces, he worked briefly with SPAR Aerospace and, in 1995, he took on the position of President of the Canadian Shipbuilding Association. In that role, for over twenty years, he tirelessly advocated for Canadian maritime industry as a whole, promoting the building of warships and government ships in Canada, the impetus behind what would eventually become known as the National Shipbuilding Procurement Strategy, now known as the National Shipbuilding Strategy. His goal was to have a perpetual build cycle for the navy and coast guard by keeping the government fleets modern with continuous build programmes, that retained a trained and experienced Canadian maritime workforce.
Peter Cairns passed away peacefully on Saturday 18 February 2023, at the age of 84, after a long illness.
Related posts