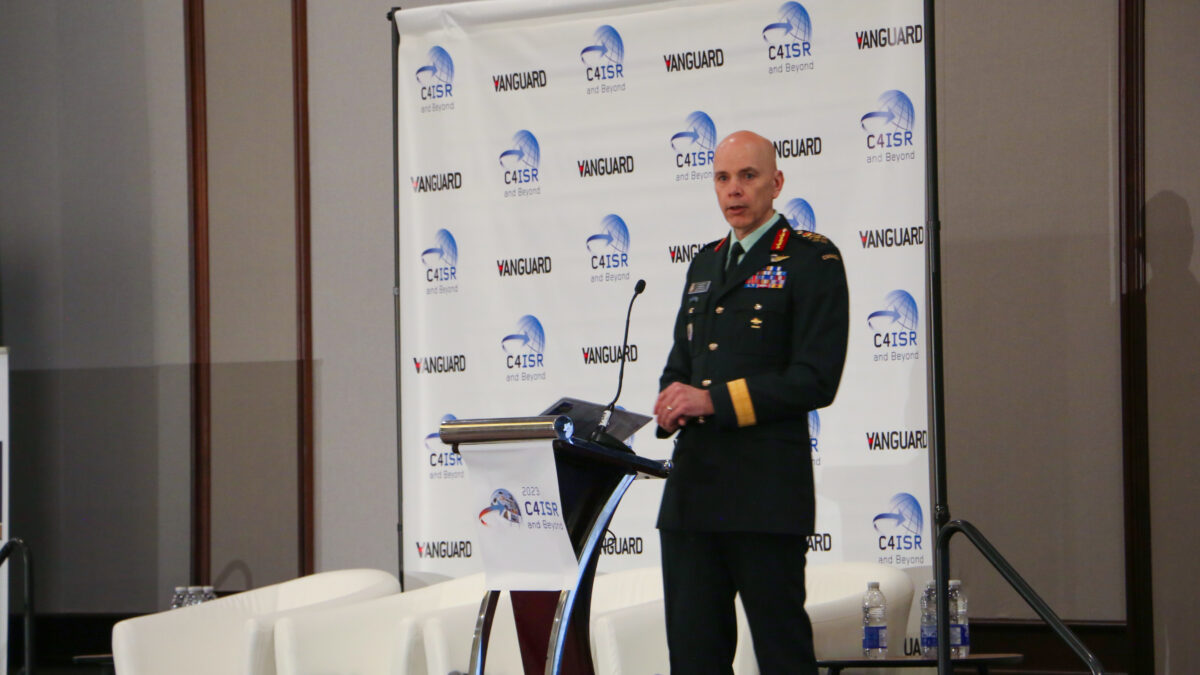 On January 26th, Vanguard successfully hosted the 9th annual C4ISR and Beyond Conference, C4ISR – Getting it and getting it right! The conference was held in person, for the first time since the pandemic, at the Westin Conference center in Ottawa. Despite a snowstorm the evening before, it did not deter many from attending and or speaking, other than those who unfortunately had their flights cancelled. The great news was that the conference was designed to be hybrid which meant that for those who were not able to attend in person, their participation was easily enabled by clicking on the link.
The opening keynote was provided by the Chief of the Defence Staff, General Wayne Eyre.  His participation was a powerful message with respect to the importance of C4ISR for the Canadian Armed Forces (CAF) and he very much reinforced that narrative during his presentation.  He identified a number of themes that would be reinforced throughout the day.  Specifically, he noted that the CAF can't lose the innovation race as our adversaries are "in it to win it", the significance of data and the user experience, the criticality of interoperability and partnerships and he reinforced the importance of culture, speed of relevance and that lethality matters.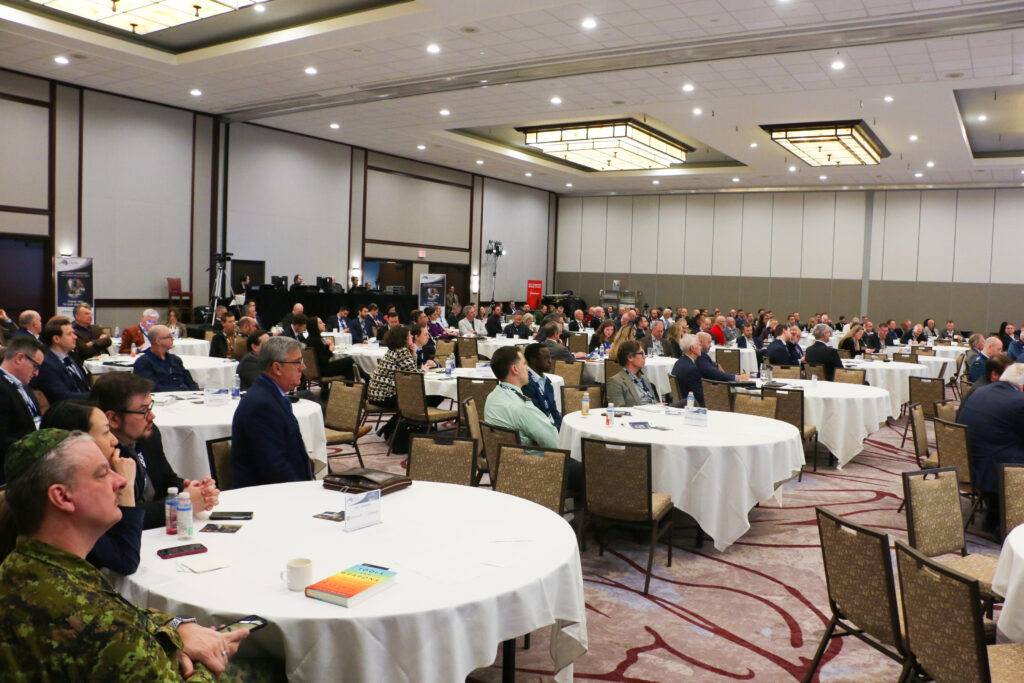 Following the CDS's address, were two panels that focused on What's changed/changing in the world of Defence and Security and What's changed/changing in DND/CAF. The perspectives from NORAD, NATO, industry, and CAF articulated the nature of the threat and the fact that key to deterring the threat was the importance of understanding that people and processes are as important, if not more important, than the capabilities themselves. It was also noted that by not accepting risk to "programs" it actually translates to accepting increased risk to mission. Two other themes that were reinforced were the importance of acting at the speed of relevance and the requirement to have redundancy and layers built into our nation's respective Command and Control architecture. Both panels identified a number of barriers and obstacles that need to be addressed to fully leverage the true potential of "digital". Barriers included a linear approach to digital thinking in Canada, procurement challenges, and a lack of trust in the digital ecosystem.
The luncheon keynote presentation was presented by the Ukrainian Deputy Minister of Defence on Digital Development, Digital Transformation and Digitalisation, Oleh Haiduk. The Deputy Minister's remarks very much underpinned the theme of the conference and in particular the implications of "getting it right". Key messages were the rapid transformation of the Ukrainian forces with respect to cyber, the importance of training and having sufficient access to the appropriate training, and some of the challenges associated with legal frameworks in the cyber domain. On completion of his very powerful presentation, Deputy Minister Haiduk received a standing ovation.
The two afternoon panels examined What's changed/changing in delivering and performing in C4ISR from a number of perspectives including allies, industry, government and across a number of subject areas such as cloud, talent, and culture. Both of these panels built on themes that were identified in the morning. In particular, it was noted that in Canada there is a lack of a security culture and in many respects, trust is enabled by a number of conditions such as an appropriate security clearance. It was also reinforced that there is currently a gap between the CAF and industry on being able to procure C4ISR services/capabilities. Interestingly, the point was raised that industry is leveraging AI/ML to significant advantage in ways that could enable/translate to increased lethality/precision in the battlespace and how do we embrace these new technologies/processes. More specifically, how do we pivot from a "sensor to shooter" paradigm to a "data to shooter" paradigm? As important as security is, it must also be recognized that the more secure you make the data the slower it moves…which speaks to the importance of not "overclassifying" data, which appears to be the default setting for most militaries. The concept of "professional humility" was also identified as an enabler in terms of seeking out expertise that an organization/individual may not have to better understand what "right looks like" in applying new technologies/concepts to improve ways of doing business. Finally, TRUST was highlighted as being instrumental to all of our collective success and the importance of enabling it through a fleet of "ships": relationships, partnerships and mentorship, was underscored.
The final keynote was presented by Mary Legere and John Burnham, who have extensive experience as senior leaders in the US military/industry/government. They virtually attended the daylong conference and based on what they heard during the presentations, they were able to share insights that were relevant from their US experience. Equally as important as what they heard, was what they did not hear. As such, they also provided a rich narrative around cloud, the importance of cloud and their lessons learned pertaining to cloud.
At the end of the conference, I was fortunate to provide a "wrap-up". I thanked Terri and the Vanguard team for their superb leadership bringing together the leaders in the room and virtually, to have the rich and informed conversation that we were able to have. I also noted the truly exceptional calibre of those who participated in the conference and their significant contribution to elevating this important dialogue. I reinforced the key themes highlighted in this article and indicated that I believe that industry and government are having two separate conversations on security, as well as procurement.
As it pertains to procurement, no one would disagree that the nation requires a fair, open, and transparent procurement policy framework. I would submit, based on my experience, that the challenge is when government refers to procurement it is typically referring to procuring "widgets", for which the existing procurement system works well. However, when industry speaks about procurement it is typically referring to digital capabilities/services for which the procurement system does not work well at all. Closing this gap will be essential if Canada is to deliver on its digital aspirations/ambitions, particularly as it applies to the CAF.
Similarly, when the government/CAF talks about security they are talking about confidential, secret, and top secret information, whereas industry is talking about "secure" information. In this context, I am not referring to secret and top secret information, which I would argue is a small subset of the entirety of CAF data holdings, which absolutely needs to be protected appropriately. However, for the vast majority of CAF data, if industry standard security is sufficient to protect an individual's life savings and/or preclude access to an individual's digital device, then I am more than confident that it is sufficient to protect the majority of CAF data holdings. Elevating the dialogue on procurement and security would be time remarkably well spent by all stakeholders. Until that happens, it will be difficult for the CAF to transition from "getting it" to "getting it right".
VAdm Ron Lloyd (Ret'd) was the Master of Ceremonies for C4ISR and Beyond 2023.
Related posts