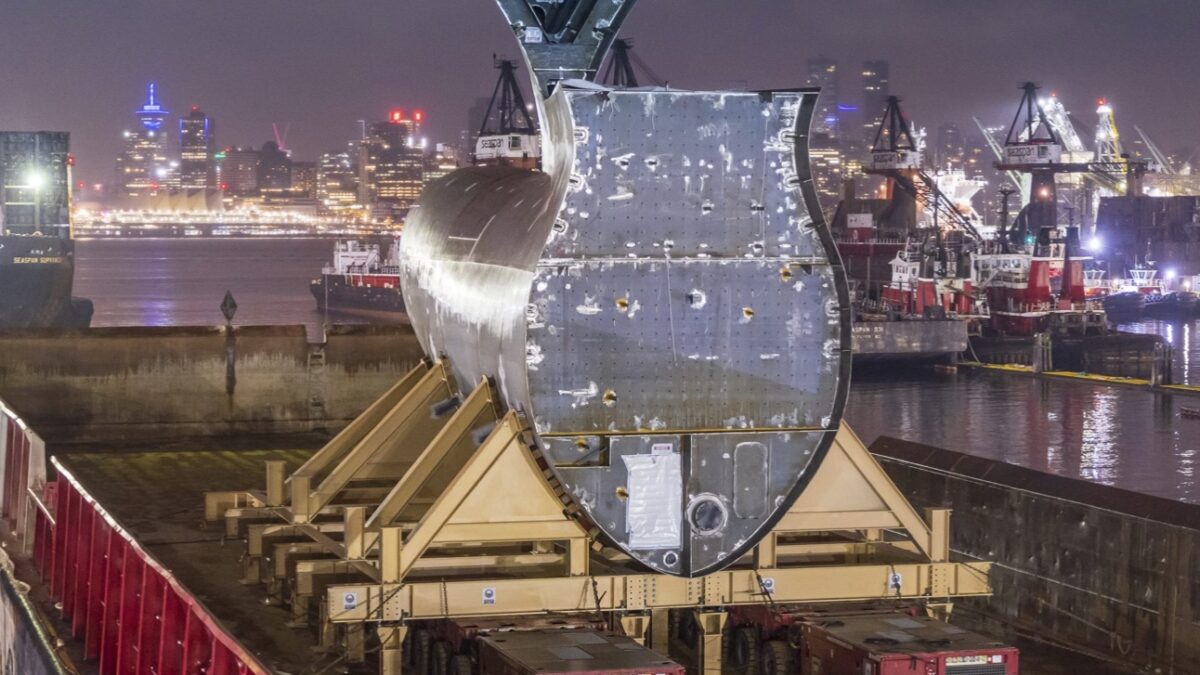 On October 19, 2011, Seaspan was selected as Canada's long-term strategic shipbuilding partner to construct large, non-combat vessels for the Canadian Coast Guard and Royal Canadian Navy as part of National Shipbuilding Strategy (NSS).
In marking the 10th anniversary, Mark Lamarre, Chief Executive Officer, Seaspan Shipyards said that their first decade of NSS partnership has been a remarkable story of vision and transformation, of strength and resilience. "We now have a sustainable, competitive industry on the West Coast that is enabling us to build world-class ships and a new generation of shipbuilders and marine experts here at home in Canada. The hard work and collaboration of the talented teams at Seaspan, across our marine supply chain, and in the Canadian Coast Guard and Royal Canadian Navy are setting the stage for success for many decades to come," he added.
Over the 10 years, Seaspan has invested in its infrastructure and its people. According to the news release, the company invested more than $185 million to transform its shipyard into one of the most modern in North America, with a purpose-built infrastructure to deliver much-needed ships for Canada's federal fleets. Seaspan's NSS program of work includes three Offshore Fisheries Science Vessels (OFSVs), one Offshore Oceanographic Science Vessel (OOSV), 16 Multi-Purpose Vessels (MPVs), and one Polar Icebreaker for the Canadian Coast Guard as well as two Joint Support Ships (JSSs) for the Royal Canadian Navy. These vessels will play a vital role in ensuring Canadian sovereignty; conducting climate and ocean research; and protecting the world's longest coastline, including our fragile Arctic waterways.
To date, Seaspan has delivered to the Coast Guard all three world-class OFSVs—completing the first full class of large vessels delivered under the NSS. Several other vessels are under construction and in design.
As part of the 10th anniversary, Seaspan also released a new socioeconomic impact study, conducted by Deloitte, which highlights the significant economic and job creation engine that the NSS and Seaspan have become. Over the period from 2012 to 2021, Seaspan contributed $2.6 billion to Canada's Gross Domestic Product (GDP) through its NSS-related activities alone (and an additional $1.4 billion through its repair, refit and maintenance activities). Seaspan has awarded more than $1.8 billion in NSS-related contracts to more than 660 Canadian suppliers from coast to coast, many of which are small and medium-sized businesses. They, in turn, have been able to grow; develop advanced technologies; reinvest in R&D, infrastructure, and skills development; and leverage new opportunities at home and abroad.
Over the past decade, Seaspan has also grown its workforce into a team of approximately 2,700 engineers, naval architects, procurement specialists, and highly skilled tradespeople – from welders, pipefitters, shipfitters, electricians and mechanics to millwrights, machinists, riggers, joiners, and painters.
"Shipbuilding is in British Columbia's DNA, and we are proud to see a new generation of workers building on its rich history in our coastal communities. Seaspan is celebrating its 10th year in the National Shipbuilding Strategy by bringing Canada's next polar icebreaker to B.C. shipyards. Seaspan continues to rejuvenate the shipbuilding industry and play an integral role in a stronger, more resilient province, for everyone," said John Horgan, Premier of British Columbia.
A DECADE OF MILESTONES
2011 — Government of Canada selects Seaspan to build Canada's non-combat fleet
2012 — Signing of Umbrella Agreement to deliver Canada's non-combat fleet
2014 — Completion of privately funded shipyard modernization
2015 — Steel cutting on first Offshore Fisheries Science Vessel (OFSV)
2016 — Steel cutting on second OFSV
2017 — Steel cutting on third OFSV
2018 — Steel cutting and start of construction of first Joint Support Ship (JSS), the longest naval vessel ever to be built in Canada
2019 — Delivery of the Canadian Coast Guard Ship (CCGS) Sir John Franklin, the first OFSV and first vessel delivered to Canada under the NSS, now stationed in Patricia Bay, British Columbia; and the CCGS Capt Jacques Cartier, the second OFSV, now stationed in Dartmouth, Nova Scotia
2019 — Government of Canada announces Seaspan will build fleet of multi-purpose vessels (MPVs) for Canadian Coast Guard
2020 — Keel laying of the first Joint Support Ship
2020 —Delivery of the CCGS John Cabot, the third and final OFSV now stationed in St. John's, Newfoundland and Labrador, completing delivery of the first full class of vessels under the NSS
2021 — Steel cutting and start of construction of Canada's most modern climate and ocean research ship, the Offshore Oceanographic Science Vessel
2021 – Government of Canada announces Seaspan will build a Polar Icebreaker for the Canadian Coast Guard
Related posts