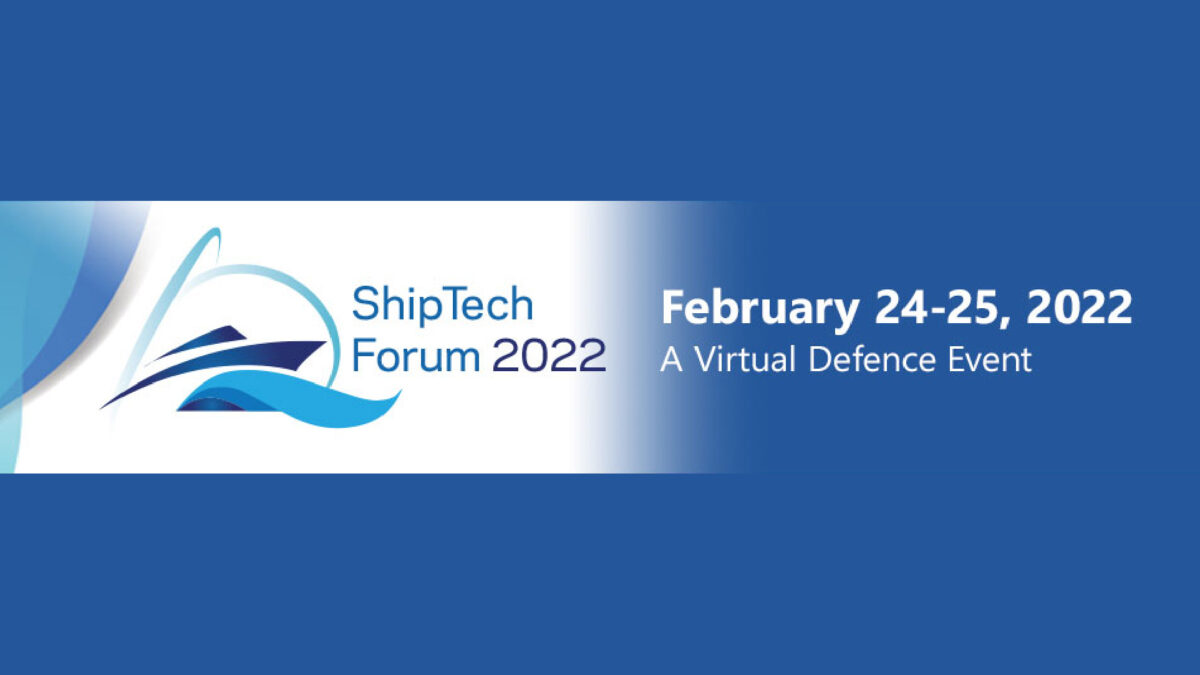 A Recap of ShipTech Forum 2022: Smart Ships of the Future
Elise Park, May 13, 2022
6 min

read
1203
A ship is a floating city, with all its needs managed and integrated. In the last decade, digitalization has started to make an impact on maritime operations and the way the world interacts with ships. To reveal the potential of this new era of smart ship operations, many government/RCN/CCG and industry professionals gathered at the 9th annual ShipTech Forum held on February 24-25, 2022.
ShipTech Forum is an annual virtual conference addressing various marine, shipbuilding, ship repair, and growth and export issues. This year, 240 registered participants attended this wholly virtual event, partaking in engaging keynote presentations and various networking sessions. The Master of Ceremonies, Dave Hatherall, led the two-day event featuring keynote speakers including Day 1's Andy Smith, Deputy Commissioner, Shipbuilding and Materiel of the Canadian Coast Guard (CCG), and Day 2's RAdm Casper Donovan, CD, Director General Future Ship Capability, Royal Canadian Navy (RCN), among countless other key presenters including (but not limited to) Microsoft, Gastops, IDEaS, Shift Clean Energy, and the World Wildlife Fund.
It is evident that we are now entering a rebirth of major shipbuilding capacities. With Canada being 10 years into the National Shipbuilding Strategy, it is the most opportune time to focus on new methods of how technology can help this sector amplify its age-old processes and push its limits above and beyond. There is a struggle to renew fleets while simultaneously managing remaining assets, and the development of these new fleets are driving new workforces, as evident in the quick growth of shipyards in Vancouver and Halifax.
Now, a new third shipyard is in the works to ensure that Canada's demands for future fleets will be met in a timely manner. The successful establishment of this shipyard will allow for many more job opportunities within the Canadian sector, which in turn also spawns a need for greater resources. With every advancement comes another problem to solve – so how can we maintain momentum and continue to achieve competitive milestones?
The solutions to these dilemmas lay in the very theme of this year's ShipTech Forum itself – Smart Ships of the Future, a nod to the modernization and technological advancement of maritime ships that is currently underway.
On Day 1, presentation themes focused on the advancement and potential barriers towards Green Tech/Energy, Alternative Fuels, Noise and Emission Reduction, and its impact on the Arctic. Many conversations were had regarding how to meet the International Maritime Organization's decarbonization goals in reducing the 2008 global greenhouse gas emissions by 40% by 2030. Countless questions were posed – What green technologies do we need to be looking at? What alternative energies, clean fuels, and infrastructure is needed?
Andy Smith's keynote shed light on these challenges, sharing that current processes are now focusing on greening the fleet and reducing emissions to an all-time low for all newly constructed ships. With waterways being opening up in the Arctic, there is more shipping taking place within these waters. This in turn affects marine life heavily as the noise pollution levels rise and disturb this wildlife, spurring a need for quiet design integrated into these ships. Regarding the ability to compete against subsidized yards in other regions of the world, he clarified that while low salary rates may not be able to be a point of competition, the Canada can lead in other areas such as design engineering and production thanks to advancements in technology, increasing competition in a different way. For the Canadian Coast Guard, the average ship age is 40 years, in-service support, maintenance and repair for these ships are a continual focus, which calls for the incorporation of new technologies – such as digital twin, a topic revisited in Day 2.
Other leaps in technological adoption that the CCG is looking at include a new Smart Vessel Traffic System, which uses AI, predictive modelling, predictive vessel movement and map environmental sensitivities – all of which will greatly enhance capabilities. Smith's keynote was further enhanced by various panels, such as Brent Perry's, the CEO of Shift Clean Energy. He shared various advancements in battery production and decarbonation using energy storage. Cdr Corey Gleason also shared an eye-opening video of the maiden voyage of the HMCS Harry DeWolf, one of Canada's newest icebreaking ships, sailing around the continent of North America – the first in 50 years.
Day 2, led by keynote speaker RAdm Casper Donovan, enhanced the first day's conversations with themes regarding digital ships, by continuing the dialogue around digital twins and threads. The recent move to industry 4.0 ushers in a new era of digitization, as digital technology enables new ways of pursuing and changing how we interact with our environment and each other. This digital world also needs to be seamlessly integrated into ships for ease of communication and more efficient processes. With a digital twin or thread, this ease of communication is made even clearer. With built-in capabilities to model, simulate and predict performance and data, a digital twin is a virtual representation of an object or system that spans its lifecycle, is updated from real-time data, and uses simulation, machine learning and reasoning to help decision-making. Especially in the case of ship lifecycle management, it is imperative for the data and emergence of innovative solutions to lead to effective management for operations, engineering planning, and supply chain. RAdm Donavan concluded by emphasizing the Royal Canadian Navy's goal – to accurately pinpoint what we need to change to ensure future success, and how they can better empower their staff and those within the sector to adopt these practices, bettering the industry.
In regard to security, the increasing use of cloud computing platforms and the Internet of Things, particularly onboard vessels, has created new opportunities for integrating and analyzing real-time data from different sources. However, it also raises questions about how we can securely capture, analyze, and integrate this data safely when at sea. The second day wrapped up with a unanimous agreement regarding the importance of knowing what, where, and how this data is transmitted, making note that this needs to be prioritized onboard ships.
With technology constantly improving and expanding its limits by the second, opportunities to further integrate and utilize these tools are abundant within Canada's maritime sector. This year, the 9th Annual ShipTech Forum has provided an efficient virtual stage for such discussions to be held and deliberated upon, proving to be a successful step forward into the new generation and future of shipbuilding in Canada.
Related posts