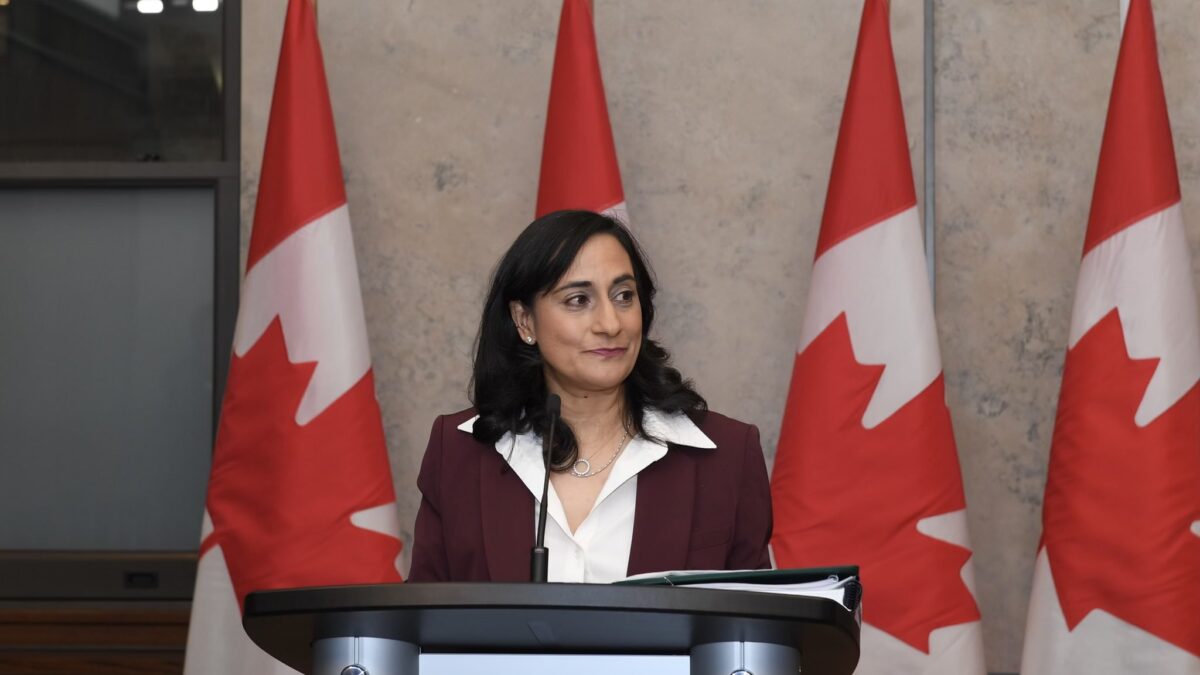 On December 13, 2022, Defence Minister Anita Anand tabled a report in Parliament that outlines the reforms that will be implemented to address sexual harassment and sexual misconduct within the Department of National Defence (DND) and Canadian Armed Forces (CAF). Far too many CAF members have endured these injustices. It is time to protect those who protect Canadians every single day. In May 2022, former Supreme Court Justice Louise Arbour provided the Minister of National Defence with recommendations to address these issues and better support survivors. The systemic reforms will address all these recommendations and work to better support survivors.
"As Minister of National Defence, I frequently visit military bases in Canada and travel to visit our personnel deployed abroad. I have met with thousands of Canadian Armed Forces members and Department of National Defence employees – and I am deeply proud of them. My sincere hope is that every Canadian feels this same pride in the people who protect our country and who keep us safe. But this can only happen if we rebuild lost trust by delivering transformative change. Culture change cannot happen from the top down. It will only succeed if it is a team effort, and it will continue to require the involvement and commitment of every DND employee and CAF member. I invite them all to take up this call to arms, and to pursue this mission with the same commitment and vigour for which they are known around the globe,"commented, the Honourable Anita Anand, Minister of National Defence.
Madame Arbour provided a total of 48 recommendations for effecting transformative change in the DND and CAF. Once received, DND/CAF analyzed, undertook consultations, and provided options to Minister Anand on a path forward. Pursuant to Recommendation 47, the report tabled in Parliament on December 13 serves as Minister Anand's official response to all of Madame Arbour's recommendations. None of the 48 recommendations were rejected and Minister Anand directed DND/CAF to move forward on all of them. In the report, Anand outlines the work undertaken to implement the 17 recommendations that were accepted immediately as well as the work that will be undertaken to address the 31 remaining recommendations as well as ongoing and forthcoming DND/CAF culture change initiatives.
Bryan May, Parliamentary Secretary to the Minister of National Defence, said, "Culture change is a moral and operational imperative for the Canadian Armed Forces. Earlier this year, Minister Anand accepted Madame Arbour's Independent Comprehensive Review, and today she provided parliament with a roadmap to implementing Madame Arbour's recommendations, and other transformative culture change initiatives. As her Parliamentary Secretary, I will continue to support the Minister of National Defence, in a sustained and continuous effort, as we create an environment where all our members feel protected and respected."
The recommendations provided by Madame Arbour range from issues like the CAF's definitions of sexual misconduct and harassment, to the mandate and responsibilities of the Sexual Misconduct Response Centre (SMRC) to the jurisdiction of the CAF over a number of criminal sexual offences, to issues around recruitment, military training and colleges, and internal and external oversight mechanisms.
In particular, Recommendation 5, calls for the removal of criminal sexual offences from the jurisdiction of the CAF – both prosecutorial and investigative, with some exceptions. The recommendation states that such cases should be investigated by civilian police forces at the earliest opportunity, and that they should be prosecuted exclusively in civilian criminal courts.
Minister Anand has directed DND/CAF to implement Recommendation 5. She has requested that DND/CAF present options regarding how such jurisdictional change can occur, and to do so in consultation with federal, provincial, and territorial partners and other actors. Minister Anand has also requested that the implementation of this recommendation address potential issues such as:
the capacity for civilian police services to investigate historical cases;
Canada's obligations under international law;
the ability of civilian authorities to investigate cases outside of Canada (including civilian police force capacity to deploy to conflict zones) and;
discrepancies in providing victims' services between the civilian and military justice systems, among other things.
Since May, several other of the recommendations have been implemented or are in the process of being implemented. One such example is the appointment of Jocelyne Therrien by Minister Anand as the External Monitor October 2022. The terms of reference for Madame Therrien's appointment requires her to oversee DND/CAF's efforts to address Madame Arbour's other recommendations, providing crucial oversight going forward and satisfying Recommendation 48. Changes to promotion and selection processes, beginning with those for general and flag officers, are also underway, the SMRC has expanded its reach and services, and work to transfer investigation and prosecution of Criminal Code sexual offence cases from the military justice system to the civilian justice system is continuing.
"As I speak with our members and leaders at all levels, I see a strong desire for change with my own eyes. Simply put, we owe it to our people to make serious changes—we owe it to our people to have confidence in their leadership and their reporting systems. Our ability to defend our nation depends on it, and our future operational effectiveness is predicated on forming diverse and inclusive teams where everyone is able to carry out their duties to the very best of their abilities. Change is absolutely necessary, and we will do so not only because it is what Canadians rightly expect of us, but ultimately because it is the right thing to do," explainedGeneral Wayne Eyre, Chief of the Defence Staff.
It is clear that meaningful culture change is needed. Progress has been made but much work still lies ahead. Openness and transparency will be crucial components of the process moving forward. As such, DND/CAF will continue to offer regular public briefings to parliamentarians and stakeholders on the progress they are making. This way Canadians can hold those responsible for change to account.
Minister Anand is grateful for the months of tireless work that Madame Arbour and her team at Borden Ladner Gervais put in to producing their report. It provides clear, transformative recommendations for reform. The Minister is also grateful to DND/CAF members who spoke with Madame Arbour, many courageously sharing their difficult experiences in order to help deliver a better institution for the next generation of sailors, soldiers, aviators, special forces, and defence civilian employees. Progress is necessary, possible and achievable by working towards it together.
"While changes to policies and processes will help break down institutional barriers and improve systems, every Defence Team member has a role to make our culture respectful, and one in which everyone feels that they belong and can contribute their best each day," expressed Bill Matthews, Deputy Minister of National Defence.
Related posts