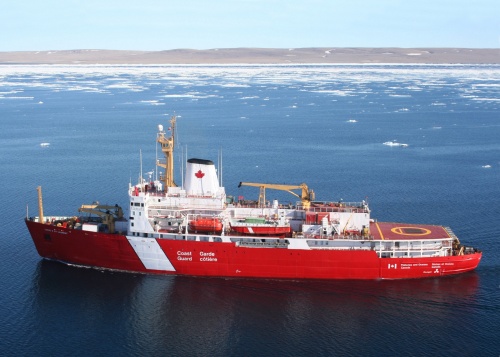 Refit work contract for Canada's largest icebreaker awarded by government of Canada
Vanguard Staff, March 13, 2022
2 min

read
1613
The Government of Canada is providing members of the Canadian Coast Guard with the equipment they need to safely and effectively do their important work to serve Canadians, and it is doing so through the National Shipbuilding Strategy.
"The National Shipbuilding Strategy continues to provide important economic opportunities for shipyards right across Canada. Canada's skilled shipbuilding workforce is helping us repair and maintain our fleets, while supporting economic growth across the country," explains the Honourable Filomena Tassi, Minister of Public Services and Procurement.
Public Services and Procurement Canada has awarded a $14.36 million contract ($16.5 million including taxes) to Chantier Davie of Lévis, Quebec on behalf of the Canadian Coast Guard. This contract is for vessel life extension (VLE) work on the Canadian Coast Guard Ship (CCGS) Louis S. St-Laurent. The vessel is Canada's largest icebreaker.
"Members of the Coast Guard have the critical responsibility of ensuring mariners' safety and that of the marine environment," said The Honourable Joyce Murray, Minister of Fisheries, Oceans and the Canadian Coast Guard. "The Louis S. St-Laurent has helped keep Canadian waters safe for navigation for more than 50 years, and this work will ensure the Coast Guard can continue this important work, season after season, in dangerous and icy conditions."
This announcement follows an Advance Contract Award Notice issued on October 29, 2020. The notice signalled Canada's intention to enter into a contract with Chantier Davie. When it comes to Eastern Canada, the Chantier Davie shipyard is only facility with a dry dock large enough to perform this work.
The spring of 2022 will mark the beginning of work and this will include inspections, regulatory maintenance and equipment upgrades to extend the operational life of the CCGS Louis S. St-Laurent until a new ship comes into service. A 3-month dry-docking period will be required for the scheduled VLE work.
The Government of Canada is delivering important benefits for Canadian shipyards and suppliers across Canada through the National Shipbuilding Strategy. This contract will help to create or maintain approximately 50 jobs at Chantier Davie and was awarded under the repair, refit and maintenance component of the strategy, continuing to provide opportunities for the Canadian marine sector.
"This announcement is another testament to the invaluable expertise of Davie's workers," observed The Honourable Jean-Yves Duclos, Minister of Health and Member of Parliament for Québec. "Once restored, the Louis S. St-Laurent will continue to proudly serve Canada, ensuring the safety of maritime traffic, the delivery of essential supplies, and the transportation of our Coast Guard members to remote areas of Canada for decades to come."
Related posts