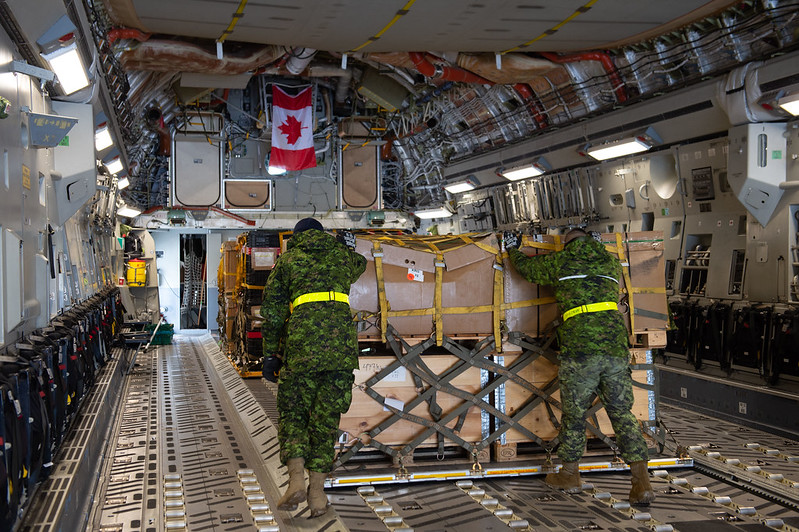 Non-lethal military aid from Canada to support Ukraine
Vanguard Staff, February 8, 2022
2 min

read
2402
Last week a CAF C-177 Globemaster departed CFB Trenton carrying non-lethal military equipment bound for Ukraine. This is an extension and expansion of Canada's recently announced immediate support to Ukraine, known as Operation UNIFIER, a Canadian Armed Forces (CAF) training and capacity-building mission.
The Honourable Anita Anand, Minister of National Defence said, "During my visit to Ukraine, Minister Reznikov and Ukrainian defence officials reiterated their country's sincere gratitude for Canada's training and capacity-building mission, Operation UNIFIER. Today's donation reinforces Canada's support to Ukraine and will assist Ukraine in remaining sovereign and secure. In the face of unwarranted Russian aggression, Canada stands with Ukraine."
Steadfast in its support of Ukraine's sovereignty, territorial integrity, and independence, the Canadian equipment will help the Ukrainian security forces defend against Russian threats and military buildup in and around Ukraine.
Personal protective and load carriage equipment, as well as surveillance and detection equipment is included. Accompanying the equipment is a team of CAF personnel who will assist with its integration and also ensure Ukrainian security forces are trained on its function and proper maintenance.
The CAF personnel will remain in Ukraine, providing additional mentoring to the Ukrainian security forces. Due to operational security, exact locations and dates of the arrival of the additional CAF members as part of the extension and expansion of Operation UNIFIER will not be disclosed.
Canada has provided over $23 million dollars in non-lethal military equipment to Ukraine since 2015. The equipment has included such items as:
communications systems used for field operations
a mobile field hospital
explosive disposal equipment
Canadian troops have also trained around 33,000 Ukrainian military and security personnel in a range of tactical and advanced military skills during this same time frame including:
unit and brigade level tactical training
combat engineer training such as improvised explosive device disposal and explosive ordnance disposal
sniper skills
reconnaissance
development of a non-commissioned officer corps
medical training
Additionally, civilian and military personnel from the Department of National Defence and the CAF have been supporting key elements of Ukraine's defence reform process. This includes democratic accountability and civilian oversight of defence and security institutions.
Related posts