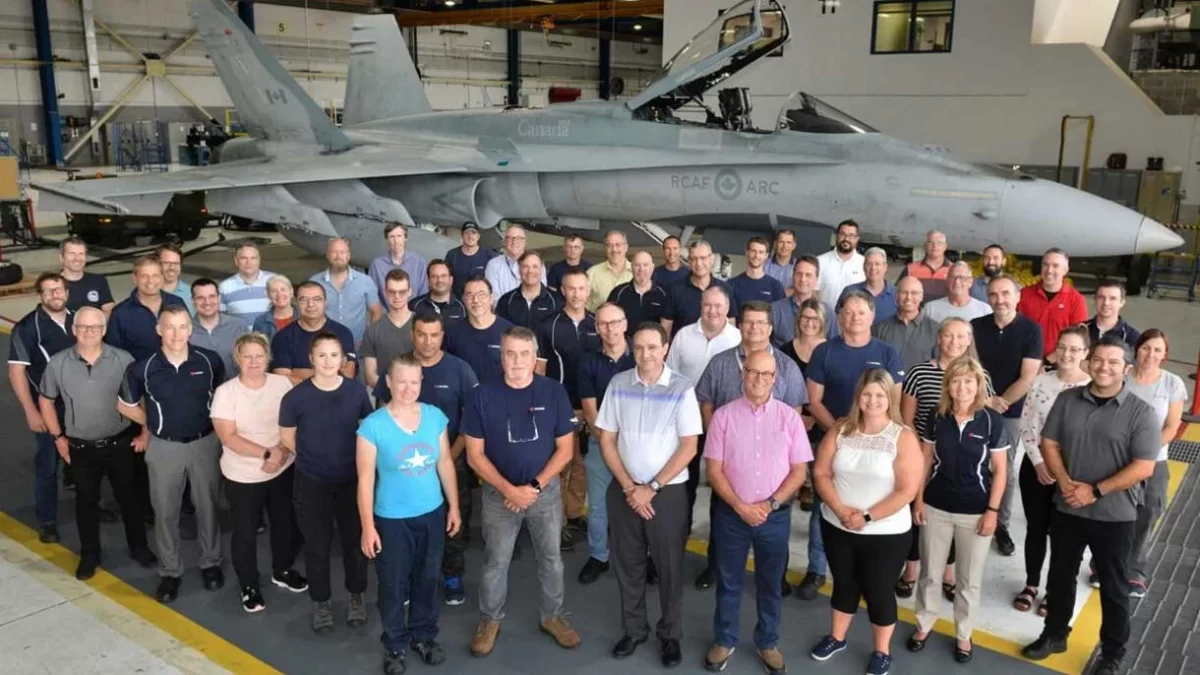 L3Harris Makes Initial Aircraft Delivery of the Hornet Extension Project
Vanguard Staff, August 6, 2023
2 min

read
773
The initial fighter aircraft of the Hornet Extension Project (HEP) were delivered by L3Harris in June 2023. The aircraft were made ready at the L3Harris Canadian fighter aircraft centre of excellence located in Mirabel, Canada. L3Harris shoulders the lion's share of the design responsibilities and all the associated enhancements and alterations to the aircraft in connection with the HEP initiative.
"L3Harris is Canada's only fighter aircraft center of excellence," explained Ugo Paniconi, General Manager, L3Harris. "This contract is a testament to our ongoing performance and commitment to our customers' mission. For over three decades, we have proudly maintained Canada's only fighter aircraft fleet, and we look forward to the opportunity of continuing our rich legacy of ISS on Canada's future F-35 fleet."
HEP constitutes a dual-phase undertaking aimed at safeguarding the operational commitments of Canada's CF-188 Hornet fleet, encompassing duties to both the North American Aerospace Defence Command (NORAD) and the North Atlantic Treaty Organization (NATO), until the F-35 next-generation fighter aircraft attains full operational readiness by 2032. The initial stage of this project entails adjustments made to 94 CF-188s to fulfill regulatory and interoperability mandates. These modifications enable the CF-188s to persistently utilize civilian airspace in subsequent periods and maintain their compatibility with Canada's allied forces. The second phase impacts 36 CF-188s and embodies enhancements involving advanced hardware and software, aimed at elevating their combat capability, thus ensuring their operational efficacy throughout their service tenure.
For a span of over 35 years, the Royal Canadian Air Force (RCAF) has reposed its trust in L3Harris, relying on their peerless proficiency in offering in-service support for the upkeep of its fighter aircraft squadron. This encompasses substantial undertakings for prolonging structural integrity and upgrading systems, which have effectively preserved the operational relevance of Canada's fighter fleet. This approach also serves to maximize the value derived from Canada's investments in this platform. L3Harris further administers maintenance services for several of Canada's critical aviation fleets, namely the CC-150 Polaris; CP-140 Aurora; CH-148 Cyclone; CH-147F Chinook; CT-114 Tutor (Snowbirds); and the impending CC-330 fleet, an integral component of the Canadian government's Strategic Tanker Transport Capability initiative.
In its capacity as a global pacesetter in conceiving and executing structural enhancements and life-extension solutions for fighter aircraft, L3Harris has additionally demonstrated its prowess by successfully concluding substantial depot-level projects for the Royal Australian Air Force and the U.S. Navy. Moreover, they have lent indispensable assistance to other fighter aircraft users, such as the Swiss Air Force, the Finnish Air Force, and NASA.
Related posts