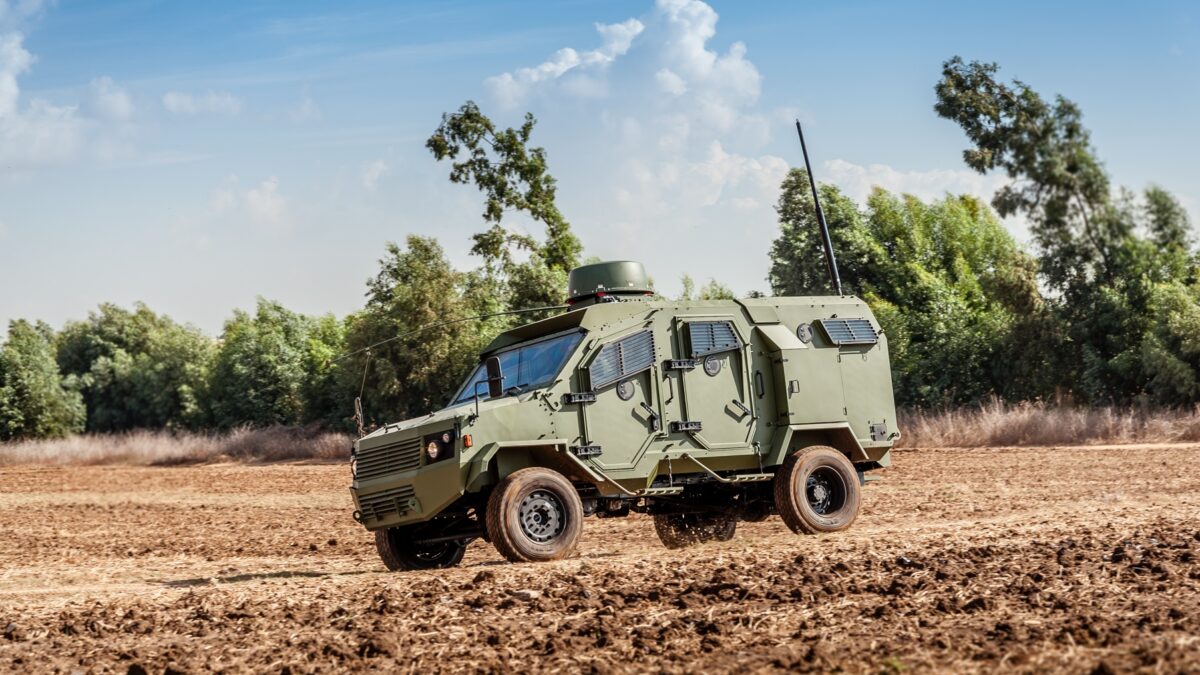 Elbit Systems Showcases Solutions in Canada's North at CANSEC 2023
Vanguard Staff, June 1, 2023
9 min

read
540
Elbit Systems is participating in the Canadian Association of Defence and Security Industries (CANSEC) event at the Ernst and Young Center in Ottawa from May 31 to June 1, 2023. The company is showcasing a diverse array of well-established capabilities through interactive and visually engaging displays.
Elbit Systems Ltd. is a global technology company specializing in defense, homeland security, and commercial programs worldwide. The company, comprising Elbit Systems and its subsidiaries, operates in various sectors, such as aerospace, land and naval systems, command and control, communications, computers, intelligence, surveillance, and reconnaissance (C4ISR), unmanned aircraft systems, advanced electro-optics, electro-optic space systems, electronic warfare (EW) suites, signal intelligence systems, data links and communications systems, radios, cyber-based systems, and munitions. Additionally, the company prioritizes the enhancement of existing platforms, the development of new defense, homeland security, and commercial technologies, and the provision of comprehensive support services, including training and simulation systems.
At CANSEC, Elbit will present an impressive range of state-of-the-art technological solutions that effectively address the current and emerging operational requirements of armed forces worldwide.
Among the capabilities that Elbit Systems will showcase at CANSEC 2023 are:
Training and Simulation Systems
Communication and Battle Management Solutions
Training and Simulation Systems
Elbit Systems has been at the forefront of Training and Simulation Systems for more than 20 years, providing comprehensive solutions for air, ground, and naval platforms. These systems have been successfully deployed by leading armed forces worldwide. With a focus on interoperability, Elbit Systems' training solutions replicate complex combat scenarios that require coordination among multiple teams to achieve success. Utilizing advanced modeling, visualization, and networking capabilities, our range of solutions caters to individual soldiers as well as full-scale joint forces training systems, known as Live, Virtual, and Constructive (LVC) training.
One of our notable offerings showcased at the company's booth is the operational mission training and simulation systems designed specifically for the Canadian Army's Land Vehicle Crew Training System (LVCTS) project. In December 2022, Elbit Systems and CAE announced their collaborative effort in pursuing the LVCTS program. Acting as the prime contractor and training system integrator, CAE will work alongside Elbit Systems, the major subcontractor responsible for providing essential elements of our advanced suite of proven vehicle training tools and technologies. If awarded the contract, the CAE-LVCTS system will enable the Canadian Army to enhance the proficiency of individual soldiers and the wider combat team, while reducing the reliance on expensive and environmentally burdensome live vehicle driver and combat system training.
Additionally, Elbit Systems was granted a contract by the Israeli Ministry of Defense in January to establish, operate, and maintain new simulation and training centers for the IDF Armored Corps' Main Battle Tanks (MBTs). These centers will facilitate individual and collective training up to company level, empowering the Israeli Defense Forces (IDF) with state-of-the-art training capabilities.
In a separate achievement, Elbit Systems UK secured a contract from the UK Ministry of Defense in May. Under the British Army's Project Vulcan, we will provide, maintain, and operate the Ground Manoeuvre Synthetic Trainer system (GMST) for Boxer armored vehicles and Challenger 3 tanks. The simulators will be interconnected, allowing soldiers to engage in simultaneous training across various formations, vehicles, and locations.
Elbit Systems remains committed to delivering cutting-edge training and simulation systems, enabling armed forces around the world to enhance their readiness, sustain their skills, and achieve mission success.
Land Solutions
AION-C is an innovative handheld thermal imager that boasts exceptional capabilities for day and night observations. This lightweight device incorporates cutting-edge technology, including an integrated laser tracking system. With its powerful features, AION-C offers accurate target acquisition on the move, making it an invaluable tool for various applications.
The device comes equipped with an advanced Laser Rangefinder, ensuring precise measurements. Additionally, it integrates an internal GPS system, an IR Pointer, a Digital Magnetic Compass, and an IMU, further enhancing its mobile target acquisition capabilities. AION-C stands as a versatile and powerful observation system, enabling users to effectively track targets with remarkable accuracy.
The Target Acquisition Suit is a sophisticated, networked solution designed to acquire, generate, and communicate target information. This state-of-the-art system facilitates joint precision and non-precision fires by providing effective information to effector systems. Its modular and lightweight design caters to the needs of JTAC (Joint Terminal Attack Controller) and Fire Support Teams, establishing a rapid and accurate "sensor to shooter" loop.
The UK Ministry of Defence has selected the Target Acquisition Suit as part of its Dismounted Joint Fires Integrator (DJFI) program. This endorsement underscores the system's exceptional capabilities and its importance in enhancing operational effectiveness.
The Family of Night Vision Googles offers enhanced visual capabilities and situational awareness for military personnel. These cutting-edge devices cater to various operational scenarios and provide exceptional performance.
The AN/AVS-9 (F4949) Fixed and Rotary-Wing Aviators version provides clear visual clarity, enabling aviators to identify targets and avoid obstacles effectively. The AN/PVS-14 Night Vision Monocular (F6015) allows soldiers to navigate and operate in all night conditions without the burden of carrying multiple specialized equipment. It features Dark-adapted and unaided-eye technology, offering situational awareness and close-range vision.
The Lightweight Night Vision Binocular (F5032) features an industry-leading close-focus range, ensuring near-eye clarity for reading detailed intelligence, aiding in medical support, and operating radios even in low or no-light scenarios. Its controllable, integrated Infrared (IR) illuminator provides immediate lighting in zero-light environments. Moreover, the Optimized SWaP (Size, Weight, and Power) profile of the F5032 reduces user fatigue.
The Fused Night Vision Binocular represents the pinnacle of night vision technology. It combines a fused NVB (Night Vision Binocular) with high-performance white phosphor image intensifier tubes and an internal thermal detector. This unique integration enables seamless overlaying of images, delivering superior visibility. The device features an integrated full-color display, a battery pack supporting various functions such as compass, location, time, altitude, and augmented reality features.
The lightweight XACT th family of uncooled thermal weapon sights revolutionize target recognition in challenging conditions. These high-performance devices excel in total darkness or obscured daylight scenarios, providing unparalleled thermal sensitivity. With their robust metal housing and water-submersible capability up to 15 meters, the XACT sights are well-suited for multi-mission deployments.
Skystriker loitering munitions (LM) redefine precision strikes by locating, acquiring, and engaging operator-designated targets. With a warhead capacity of up to 10 Kg housed inside the fuselage, Skystriker delivers high-precision performance. Its electric propulsion system generates a low acoustic signature, rendering it silent, invisible, and a formidable surprise attacker. Skystriker grants a critical advantage on the modern battlefield, combining precision and reliability seamlessly.
Maritime Solutions
Elbit Systems offers a comprehensive range of unmanned systems, maritime C4ISR technologies, protection, and weapon systems. These advanced solutions are designed to deliver an integrated and highly processed tactical picture by leveraging onboard and external sensors, as well as operator data. Elbit Systems' technologies support and control ship combat activities, facilitate data link functions, enable task force management, and provide various other support functions.
One of the notable innovations from Elbit Systems' subsidiary, Geospectrum Technologies (GTI), is the Towed Reelable Active Passive Sonar (TRAPS) system. At CANSEC, GTI will showcase a new model of TRAPS, which is a low-frequency variable-depth sonar specifically developed for the detection, tracking, and classification of submarines, midget submarines, surface vessels, and torpedoes. TRAPS comprises a vertical projector and a receive array.
What sets TRAPS apart is its unique design that eliminates the need for a dedicated, heavy, and costly deployment and recovery system. The projector array of TRAPS is reelable and conveniently stows on the winch drum along with the receive array and tow cable. This innovative approach offers a cost-effective and compact Anti-Submarine Warfare (ASW) sensor solution. TRAPS can be deployed as a stand-alone system or seamlessly integrated into the Seagull multi-mission suite Unmanned Surface Vessel (USV), providing enhanced capabilities for maritime operations.
Communication and Battle Management Solutions
Elbit Systems' advanced networked battle management systems offer improved situational awareness and vital mission-critical information, facilitating optimal coordination among different branches of the armed forces in the battlefield. These systems enable seamless connectivity between decision-makers and ground forces, as exemplified by the Digital Army Program.
At CANSEC, Elbit Systems will showcase its exceptional portfolio for the multi-domain battlespace, featuring the remarkable E-LynX™ and Torch-X™ families of communication and management solutions. These offerings provide unparalleled coverage, ensuring seamless interconnectivity and operational flexibility.
The E-LynX™ family of software-defined radios (SDR) represents the cutting edge in tactical communication solutions. It effectively caters to the operational needs of the modern battlefield and has already been successfully deployed by the Spanish army. With its dynamic and autonomous optimization capabilities, the E-LynX™ family enables rapid, resilient, and secure communications in diverse terrains. The family's open architecture approach, incorporating unique waveforms and supporting European and NATO waveforms, allows for versatile deployment. Several armed forces across Europe, including Spain, Switzerland, Germany, and other NATO countries, have selected this exceptional solution. Elbit Systems will also present its complete soldier, manpack, and mounted portfolio as part of the exhibition.
The Torch-X™ family of solutions offers an advanced framework for handling complex and large-scale applications, specifically tailored to address the challenges of multi-domain combat warfare. These solutions seamlessly integrate battle management capabilities with comprehensive support for both manned and unmanned operations.
Airborne Solutions
The MUSIC™ family of Direct Infrared Counter Measures (DIRCM) provides exceptional protection against shoulder-launched surface-to-air missiles, including the renowned J-Music system. This comprehensive suite offers large aircraft a reliable, effective, and affordable solution against missile threats. By seamlessly integrating cutting-edge laser technology, a high frame-rate thermal camera, and a small dynamic high-speed sealed-mirror turret, the MUSIC™ family ensures optimal defense capabilities.
All in Small compact unified suite for airborne EW self-system that combines a multi-spectral defensive aids suite and electronic support measures, a digital radar warning receiver, IR missile warning system, advanced laser warning system and chaff/flare dispenser.
The Re-Drone is an operational counter-UAS defense solution capable of neutralizing all types of drones. Whether used in military, paramilitary, homeland security, or civilian applications, the Re-Drone offers a complete, multi-layered, and proven defense system against the full spectrum of UAS threats. Its versatility allows it to operate across a wide range of scenarios, ensuring comprehensive protection in various contexts.
The Helmet Display and Tracking System (HDTS) revolutionizes situational awareness capabilities by providing color symbology and Line-of-Sight technology. This advanced system significantly improves mission effectiveness and survivability. Suitable for installation on any helicopter, regardless of origin, the HDTS has been successfully deployed on thousands of helicopters. It has accumulated over 2.5 million operational hours across various platforms, establishing its reliability and effectiveness.
The Xplore Airborne Imaging RADAR offers pilots the ability to perform missions in degraded visibility environments and GPS-denied areas. Specifically designed for terrain and obstacle mapping during DVE (Degraded Visual Environments), this low-cost solution ensures improved situational awareness and flight safety. Furthermore, the Xplore Airborne Imaging RADAR seamlessly integrates with the HDTS, maximizing mission success probability and enhancing overall operational effectiveness.
Related posts