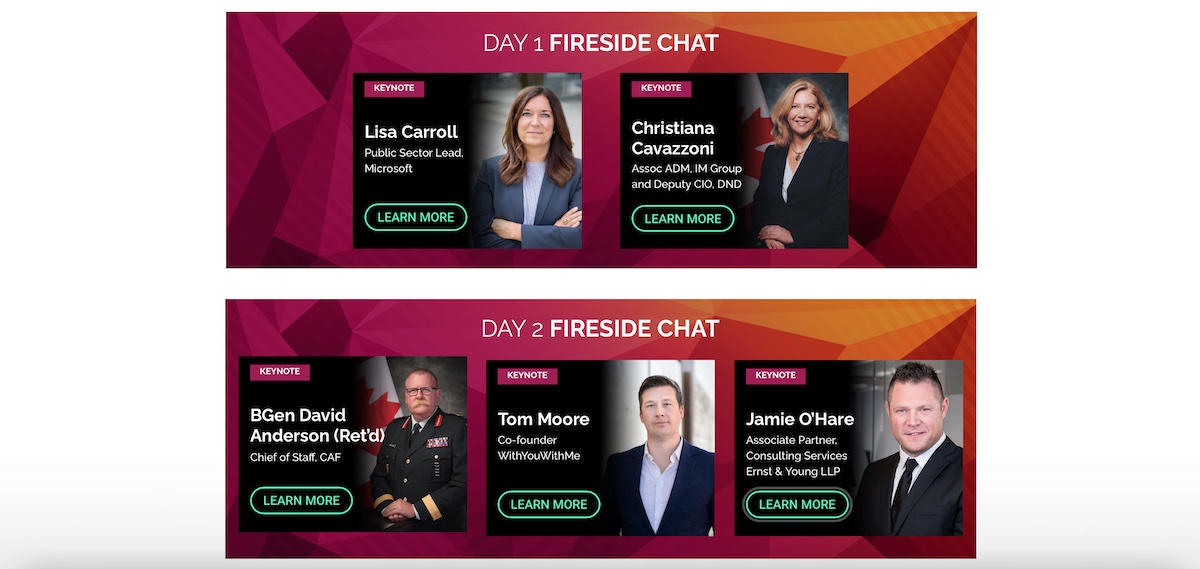 Digital for Defence
Marcello Sukhdeo, May 18, 2021
5 min

read
2628
DX Summit, a two day virtual event that will take place on May 27-28, will see a full lineup of keynote speakers that will get into the discussion about digital within defence and the broader public sector.
As defence and public sector continue the digital evolution, the need to make transitions over to digital is much more important now than ever before. The way work is conducted today and technologies used to help with it, is tranforming at a rapid pace.
To set the stage for this two day event, opening keynote speakers on Day 1 and Day 2 will spend the time discussing this transition within public sector.
Day 1
Keynote Speakers
Lisa Carroll, Public Sector Lead, Microsoft and Christiana Cavazzoni, Associate Assistant Deputy Minister, Information Management, and Deputy Chief Information Officer, Department of National Defence will utilize the opening keynote by having a fireside chat.
Lisa Carroll
Public Sector Lead, Microsoft Canada
Lisa Carroll is the Public Sector Lead for Microsoft Canada. Her most recent role prior to joining was as the Senior Vice-President, National Capital Region at CGI.
Lisa's 29-year IT career has included leadership roles with other leading Canadian organizations, such as Sierra Systems, University Health Network, Liberty Technology Services and Compugen Systems Ltd. Her passions include supporting a strong Canadian economy by enabling a healthy ICT Sector and helping clients deliver on their commitments to the Citizens of Canada. She is currently co-chair of TECHNATION's Diversity and Inclusion Committee, formerly she was Vice-Chair Director on the National Board and chair of TECHNATION's Ontario Board. She also has participated in many advocacy councils with the Ontario Chamber of Commerce. Lisa is a recipient of the Silver Stevie Award – Canadian Female Executive of the Year (2013), TECHNATION's Volunteer of the Year Award (2013), and the Queen's Jubilee Award (2013).
Christiana Cavazzoni
Associate Assistant Deputy Minister, Information Management, and Deputy Chief Information Officer, Department of National Defence
Christiana Cavazzoni joined Canada's federal government in 2009, after spending a number of years in the telecommunication and surveillance industry with Nortel and MacDonald Dettwiler. In her current role, she provides leadership and support in the delivery and execution of the Defence IM/IT Programme, including enhancing the integration and interoperability of defence capabilities, as well as the alignment of strategies in support of defence priorities, including Strong, Secure, Engaged.
In addition, Christiana supports the CAF/DND in advancing and implementing digital transformation and innovation across business lines. As a senior executive with a background in Technology and Business Transformations, her experience in digital and business strategy development and implementation spans both private and public sectors.
Day 2
Keynote Speakers
The same trend will continue for Day 2 with BGen Dave Anderson (Ret'd), Chief of Staff, CAF, Tom Moore, Co-Founder, YouWithMe andJamie O'Hare, Associate Partner Consulting Services, Ernst & Young LLP having a fireside chat.
BGen David Anderson (Ret'd)
Chief of Staff, CAF
Brigadier-General Dave Anderson was born in Bristol, England, and raised in Montreal. He joined the Canadian Forces in 1980 as a Guardsman in the Canadian Grenadier Guards, and in 1988 he transferred to the Regular Force. Since that time he commanded 3 PPCLI, was the Commanding Officer of 1 PPCLI from 2006-2008, and the Commander of 1 CMBG from 2012-2014.
Brigadier-General Anderson's extra-regimental service included the Company Commander in the 1st Battalion The Royal Green Jackets in England, Executive Assistant to the Chief of the Land Staff, and Chief of Staff Land Force Western Area (now 3rd Canadian Division). From 2014 to 2016, he was appointed as the CF Liaison Officer to the Pentagon in Washington, DC. His operational experience includes deployment to Cyprus, Bosnia, Afghanistan and Iraq. Upon his return from Iraq, he was appointed Chief of Staff Readiness at Canadian Joint Operations Command.
Tom Moore
Co-founder, WithYouWithMe
Tom Moore spent seven years in the Australian Army as an infantry soldier and infantry officer including leading a 60-person combat team in Afghanistan for eight months. Tom suffered a physical injury whilst serving in the defence force, removing him from active duty. He was reassigned to manage a transition and contract termination unit within the Australian Army. Tom worked closely with private-sector transition service providers and in doing so saw first-hand the current transition model employed by the Government. In this role, Tom personally transitioned 370 personnel.
When Tom left the military, he conducted his own transition program and ended up working in digital marketing sales and product development where he quickly grew to become an account executive managing some of their largest clients including HP, before creating WithYouWithMe, which provides job-ready veterans to fill large skill gaps in the tech market.
Jamie O'Hare
Associate Partner, Consulting Services, Ernst & Young LLP
Jamie leads Ottawa's Cyber Security Practice in Ottawa for Ernst & Young LLP (EY). He also leads the Defence and National Security practice at EY for Canadian Federal Government clients.
Mr. O'Hare has built a reputation for falling in love with the problem to drive innovation and efficiencies through meaningful solutions that stand the test of time. Most recently, he worked with GoC in bridging the tremendous gap between demand for skilled IT resources and the availability of personal. He subsequently developed the CWEP Program in partnership with WYWM for Public Sector whereby Canadian Armed Forces Veterans are upskilled in IT and made available to GoC through the exclusive GoC CWEP contract. In addition to bridging the gap in resource availability, the program is dedicated to solving the under and unemployment challenges CAF veterans face following service.
Since this is a virtual event, there is still room if you would like to attend. Register today. For public sector attendees, this event is brought to you at no cost by Canadian Government Executive and Vanguard.
Related posts