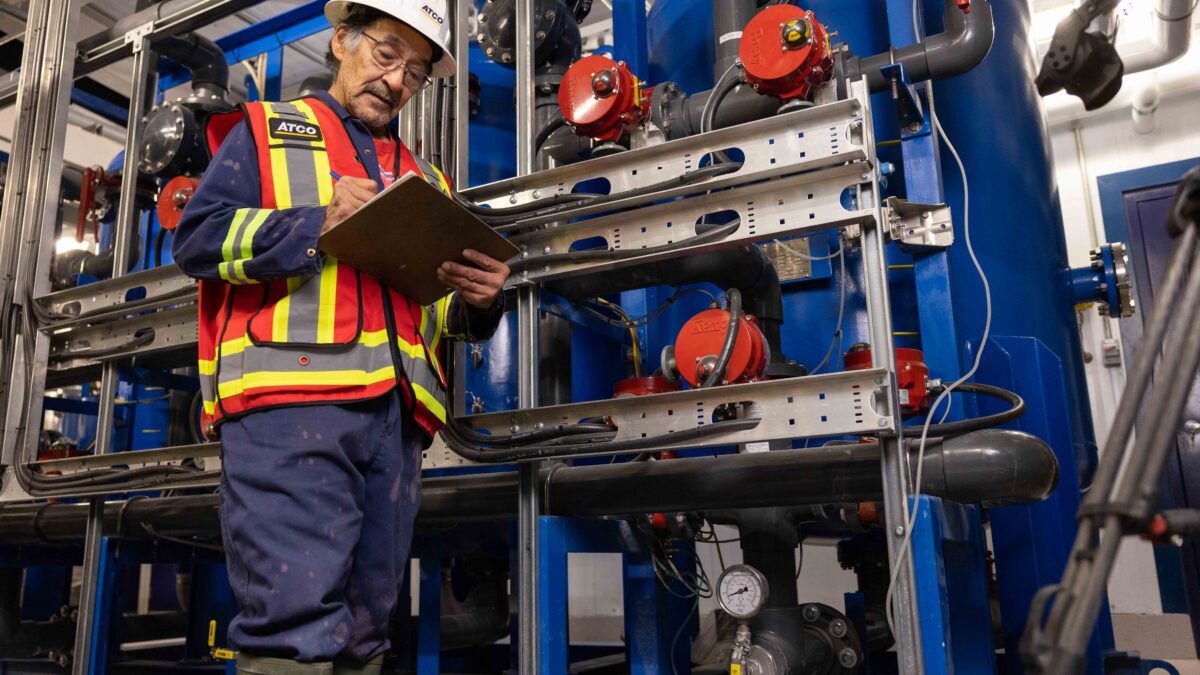 ATCO Frontec: Partner of Choice in Continental Defence
Vanguard Staff, October 6, 2022
6 min

read
1009
Since its inception, NORAD has brought on a variety of partners to ensure the safety and security of the continent. While much of this conversation relies on technological efforts to keep up with the ever-changing battlefield, NORAD also must consider how and where these efforts will be housed across the continent.
Here is where a partner such as ATCO Frontec, the operational support services division of Calgary-based ATCO Ltd., has proven to be a stalwart, forward-looking partner for the North American defence industry, with in-house capability that is Always There. Anywhere.

Northern & Defence Experience
ATCO Frontec has its roots in northern Canada. It was formed in 1986 under the banner Frontier Technologies to provide technical and logistic support services. In 1987, we became the first Canadian contractor to be awarded the operations and maintenance contract for the North Warning System, which we delivered until 2000. Some of our early work also included creating an operational services hub in Resolute Bay, Nunavut, which continues to grow today.
We also have a long history of serving the defence sector, trusted by DND, the Canadian Armed Forces and NATO to provide real life support services around the world. For instance, we currently provide O&M services at CAF's Forward Operating Locations across the North in addition to DND sites across Alberta. Our joint venture, ARCTEC Alaska supports the Alaska Radar System. From deploying and operating military camps to managing and maintaining facilities, airfields, and fuel, to providing highly technical services such as software engineering and information systems support, we enable our clients to focus on their core mission.
Today, our frontier spirit drives our global operations, challenging us to find innovative solutions for our clients' most demanding projects. We create and maintain safe environments for customers, whether delivering operational support services, logistics, turn-key workforce accommodations, facilities management, or disaster and emergency management services. Our goal is to make your life easier and your operations run smoother with our world-class integrated services.
Indigenous Benefits
Since 1981, ATCO has partnered with Indigenous communities in Canada from coast to coast to coast resulting in numerous profitable businesses and long-spanning relationships. As the operational support services division of ATCO, we proudly hold Silver Certification through Progressive Aboriginal Relations, a program with the Canadian Council for Aboriginal Business (CCAB), that confirms proven corporate performance in Indigenous relations.
Our connections with Indigenous communities – as customers, partners, neighbours, colleagues, and suppliers – are numerous and diverse. Whatever the relationship, our Indigenous partners count on us for respect, transparency, and trust. ATCO maintains more than 50 joint ventures, MOUs, and other partnerships. But we're never content with the status quo; we continue to pioneer new, collaborative models for Indigenous engagement and partnership.
We remain committed to Call to Action #92 of the Truth and Reconciliation Commission of Canada (2015), which calls on the corporate sector in Canada to adopt the United Nations Declaration on the Rights of Indigenous Peoples (UNDRIP) as a reconciliation framework. We work steadfastly to apply the UNDRIP principles, norms, and standards to corporate policy and core operational activities involving Indigenous peoples and their lands and resources.
We believe in our responsibility to ensure Indigenous peoples have equitable access to jobs, training, and education opportunities. Indigenous communities are an untapped reserve of talent, expertise, and knowledge, which will lead to long-term sustainable benefits from economic development projects. We're registered with the CCAB as an Aboriginal Procurement Champion to support Indigenous-owned businesses in securing contracts.
In 2019, as an extension of ATCO's working relationship with Siksika First Nation in Alberta, our Disaster & Emergency Management division launched its Partnering 4 Resilience (P4R) program. P4R takes a community-based approach to advancing resilience at the local level by matching traditional and cultural knowledge with technical expertise. ATCO supports First Nation ownership of Emergency Management practices and believes it's critical to the safety and security of Indigenous peoples.
ATCO Frontec's joint venture with Pan Arctic Inuit Logistics Corporation (PAIL) was formed in 1994 and was one of the first of its kind participating in Canadian Government contracts. In 2000, Canada expressed a desire for operations on the North Warning System (NWS) to flow benefits to Inuit beneficiaries more transparently, and our Inuit partners had greater interest in the management and technical aspects of the defence system. At this time the partnership was 50-50, sharing all aspects of the business and Nasittuq Corporation was created. As a joint venture, Nasittuq delivered the operations and maintenance contract for the NWS from 2001-2014. It has also provided site support services at Canadian Forces Station Alert on Ellesmere Island, Nunavut since 2012.
Today, Nasittuq is now a majority-owned Inuit company, registered on the Inuit Firm Registry, with ATCO Frontec maintaining a 49 per cent standing for both shares and equity. Under this new ownership structure announced in January 2021, Nasittuq won back a seven-year North Warning System contract in January 2022.
Innovation: One company, infinite possibilities
An undertaking as momentous as NORAD modernization requires forward-thinking partners who will invest time and resources to realize efficiencies and cost-savings. With more than 30 years of global operations experience and the ability to deliver innovative solutions, ATCO Frontec is well-positioned to be a partner-of-choice for NORAD modernization activities.
Continuous improvement is a core value of our business. Our system of identifying and applying lessons from our operations helps inform future opportunities at all levels of organization. For instance, we investigate and implement ways to reduce our reliance on chemicals. Operating in remote and rural areas has taught us how to make better use of water and to find ways to reduce the amount of waste. For example, we use ozone dispensers for both housing/janitorial and within our kitchens, to limit the use of chemicals agents. We're also working with various industry partners to develop and implement ways our projects may repurpose solid waste as an energy feedstock, thus reducing fossil fuel consumption.
Furthermore, we're able to leverage the innovative engineering and research and development from other parts of ATCO to develop sustainable solutions for NORAD modernization and deliver on Industrial and Technological Benefits. In the last three years, we have partnered with our colleagues at ATCO Infrastructure Solutions and ATCO Energy Solutions in harnessing solar energy for use in remote and rural areas. With its Indigenous partners, ATCO has installed the largest off-grid solar and storage microgrid project in Canada near Fort Chipewyan, Alberta. The project has reduced the community's reliance on diesel generation. ATCO has also acquired the rights to build two solar installations in Calgary to support transition to lower-carbon energy. Once completed, the two projects will be the largest solar installation in a major urban centre in Western Canada, at 27 and 37 megawatts, respectively. The installations will cover the equivalent of 170 football fields, power more than 18,000 homes and offset 68,000 tonnes of carbon a year.
Path Forward
The path to bringing NORAD assets into the 21st century offers considerable planning, innovation, and patience. In ATCO Frontec and the greater ATCO family, NORAD and defence contractors alike may be assured of a partner who is Always There. Anywhere.
Learn more at: frontec.atco.com
Related posts