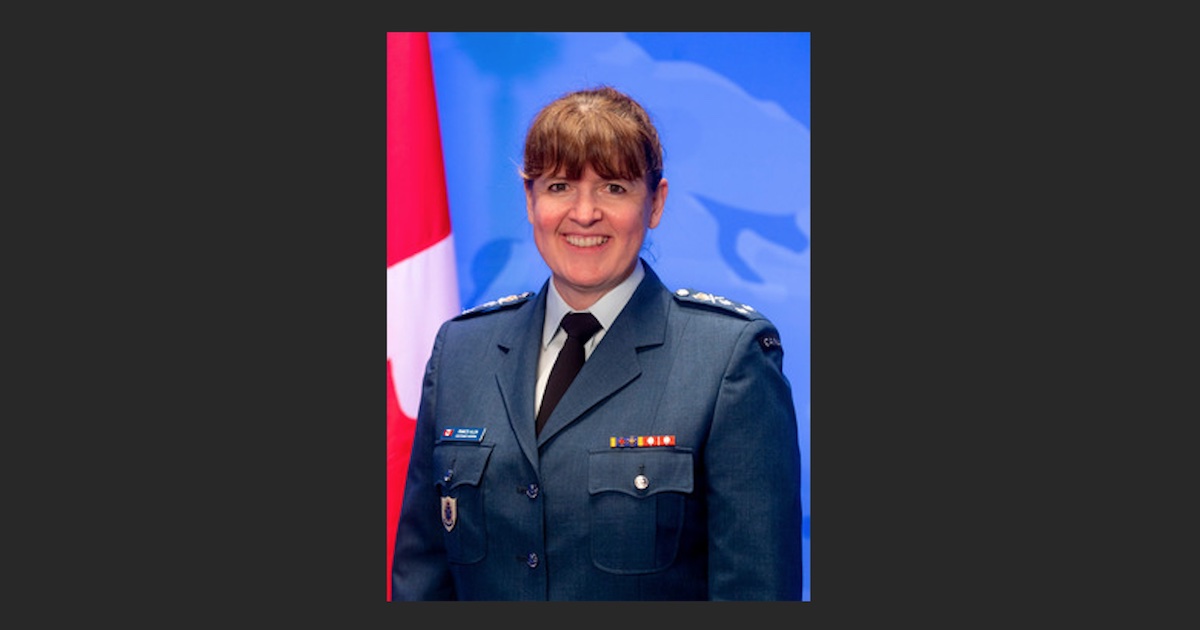 LGen Frances Allen has been appointed as the new Vice Chief of the Defence Staff of the Canadian Armed Forces, the first woman to ever hold this position. She will be replacing LGen Michael Rouleau, who was appointed to the position on July 15, 2020.
LGen Allen began her career with the CAF in 1983 and since that time has commanded at multiple levels including Officer Commanding the National Systems Management Centre in Ottawa, at the Aerospace and Telecommunications Engineering Support Squadron in Trenton, the Canadian Forces Network Operations Centre, and the Canadian Forces Information Operations Group.
Her staff appointments included the Operations Officer for the Information Protection Centre, Executive Assistant to the Vice-Chief of the Defence Staff, Director Support Operations in the Strategic Joint Staff. On her promotion in 2014 to BGen, she served as Director General Defence Security at NDHQ and also as Director General Cyberspace, Director General Information Management Operations at NDHQ, and Joint Force Cyber Component Commander. After her promotion to MGen in June 2018, she was appointed Deputy Vice Chief of the Defence Staff. In July 2020 she was promoted to the rank of LGen.
Since that time, she has been serving as Military Representative of Canada to the NATO Military Committee in Brussels, Belgium until her recent appointment as the new VCDS.
As part of the new moves, the Acting Chief of the Defence Staff, Lieutenant-General Wayne Eyre announced today the 2021 CAF General and Flag Officer (GOFO) senior appointments, promotions, and retirements. 
With this announcement, the following permanent and temporary GOFO positions have been created to meet CAF operational requirements, which will be headed by the following officers:
LGen Michael Rouleau
To steer and control the development and further evolution of joint combat systems within the CAF and the Department of National Defence, a temporary position has been created which will be accountable to the CDS and in support of Canada's Defence Policy, Strong, Secure, Engaged. This position will set the conditions for the execution of an approved joint combat systems solution, ultimately enhancing and expanding existing and future interoperability of the CAF. LGen Michael Rouleau will be appointed to the new position as Strategic Advisor to the Chief of the Defence Staff on Future Capabilities, in Ottawa.
MGen Derek Macaulay
The CAF will be sending a General Officer to the United States to advise, monitor, and assess the execution of joint and combined combat and crisis operations and planning throughout the United States Central Command (USCENTCOM) area of responsibility. MGen Derek Macaulay will be appointed to the new position as the USCENTCOM Vice Director of Operations in Tampa, Florida.
BGen Christopher Zimmer
To provide supervision and oversight of all Data, Innovation, Analytics Group business management functions including Public Affairs and Strategic Communications, Human Resources, Finance/Comptrollership, Business Planning, and internal Data Analytics. BGen Christopher Zimmer will be promoted to Major-General and appointed Chief of Staff (Data, Innovation, Analytics) in Ottawa.
Cmdre Steven Thornton
To provide supervision and oversight of Digital Enterprise Modernization activities, including the Defence Resource Business Modernization (DRMIS) Programme, as well as developing options for future programme or project portfolios for other Defence enterprise digital modernization efforts. Cmdre Steven Thornton will be appointed Director General Digital Enterprise Modernization (DG DEM) in Ottawa.
BGen Keith Osmond
To provide supervision and oversight of all corporate business management functions for the Chief of Combat Systems Integration, provide input into strategic direction for the development of DND/CAF plans, programs requirements, and analysis related to the capital equipment procurement, Pan Domain Command and Control solutions, Operational Sustainment optimization, DND digital initiatives development, and Professional Military Education oversight. BGen Keith Osmond will be appointed Deputy Chief of Combat Systems Integration in Ottawa.
BGen Carla Harding
The CAF will be sending a General Officer on a three-year rotation to NATO's Supreme Headquarters Allied Powers Europe to provide cross-cutting authority, direction, and requirement setting at the strategic level for all project, maintain and sustain functions of logistics. BGen Carla Harding will be appointed Assistant Chief of Staff J4 (Logistics) in Casteau, Belgium.
This year, the following permanent and temporary GOFO positions have been removed:
CENTCOM J4 (MGen/RAdm)
NATO Mission Iraq (MGen/RAdm)
Queens University Fellowship (BGen/Cmdre)
Associate Director General – Data, Innovations, and Analytics (BGen/Cmdre)
OPERATION IMPACT Military Liaison Team (BGen/Cmdre)
Maritime Component Command Deputy Chief of Staff Operations (BGen/Cmdre)
Combined Task Force 150 (BGen/Cmdre)
Permanent Mission New York (BGen/Cmdre)
LGen Omer Lavoie will retire from service. MGen Jocelyn Paul will be promoted LGen and be appointed Deputy Commander Allied Joint Force Command, in Naples Italy.
MGen Guy Chapdelaine will retire from service and his responsibilities as the Canadian Armed Forces Chaplain General. Col Guy Belisle will be promoted to BGen and appointed Chaplain General, in Ottawa.
"I am pleased to announce the first round of this year's selected General and Flag Officers. Each leader will go on to represent Canada, whether at home or abroad, in key decision-making positions," said LGen Eyre. "The responsibilities of shaping the CAF of the future are great. I know they are all ready for the challenges ahead. To those retiring, my thanks for your service and dedication to Canada."
Related posts