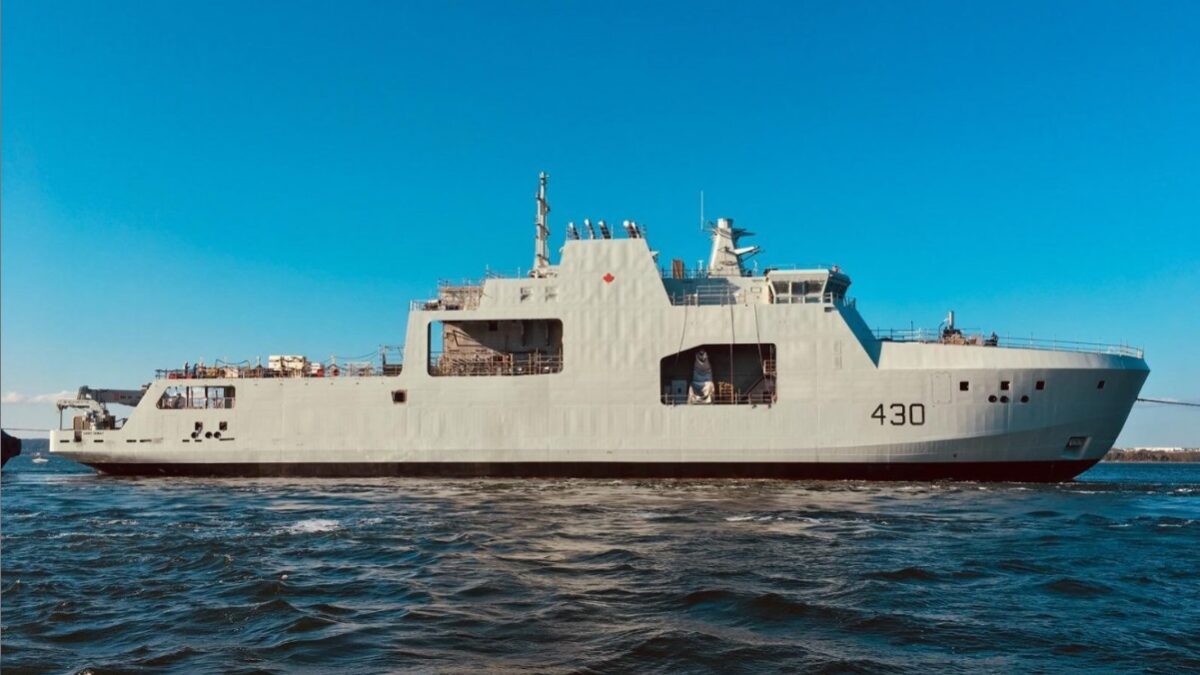 Canada's Commitment to Local Purchases Persists: Thordon Secures New AOPV Bearing Agreement
Vanguard Staff, August 13, 2023
3 min

read
604
Thordon Bearings has secured a contract to provide seawater-lubricated bearings for the initial vessel in a pair of modified editions of the Harry DeWolf-class Arctic and Offshore Patrol Vessels (AOPV). These newly commissioned ships, earmarked for the Canadian Coast Guard (CCG), are presently in the order pipeline and are set to be constructed at Irving Shipbuilding's Halifax Shipyard.
These CCG AOPVs are variants of the six AOPVs that are currently being fabricated by Halifax Shipyard for the Royal Canadian Navy (RCN). It's noteworthy that all these vessels, belonging to the RCN, incorporate Thordon's seawater-lubricated bearings.
The Royal Canadian Navy has already taken possession of three ice-capable AOPVs, and the fourth one in line, the prospective HMCS William Hall, is presently undergoing the final stages of fitting out.
Anticipated for delivery in 2027, the initial AOPV, bedecked in the distinct red and white motif of a CCG vessel, will be outfitted with a duo of seawater-lubricated COMPAC propeller shaft bearings that are meticulously crafted to accommodate 480mm (18.8 inches) diameter shafts. Notably, the supply scope also encompasses Thordon's Water Quality Package and SXL rudder bearings.
"The performance and reliability of the Thordon arrangement aboard the first three RCN AOPS – HMCS Harry DeWolf, HMCS Margaret Brooke, and HMCS Max Bernays, which are now operational – together with a long history supplying navies and coast guards around the world, is the primary reason Thordon is continually trusted to deliver critical components to Canadian built combatants and patrol vessels," said Scott Groves, Thordon Bearing's VP Sales.
Irving Shipbuilding published an article on their website explaining how Thordon Bearings supports the future growth of Canada's naval fleets: "As environmental considerations increase in shipbuilding, a number of partners are helping to ensure that the power produced by Canada's new Arctic and Offshore Patrol Vessels (AOPV) will move the vessels in an efficient, reliable, and environmentally safe manner. Thordon Bearings, an Ontario-based designer and manufacturer of high-performance bearings, seals, and other shaft line products for the global marine industry, is a key part of these efforts."
The article continued: "Thordon invests heavily in innovation and research and development at its Canadian facility, seeing much of its growth from developing new products in-house. Thordon brings highly skilled labour to the local economy, bolstering Canada's contribution and reputation by exporting into world markets with market-leading products."
Subsequently, the article highlights how Canada's National Shipbuilding Strategy is affording domestic enterprises like Thordon Bearings the avenue to introduce novel technologies, sustain expansion, and unearth future avenues for export.
"We are delighted that Irving Shipbuilding continues to invest in Canada's homegrown products for its supply chain," said Jeffrey Butt, Business Development Manager – Navy & Coast Guard.
"The National Shipbuilding Strategy (NSS) introduced in 2010, to which we both remain committed, not only strengthens Canada's shipbuilding industry but it helps promote Canada's marine engineering and manufacturing might around the world, which is a huge benefit to the Canadian economy in the long term," he added. "As Irving says on its website: 'When Irving Shipbuilding builds in Canada, it invests in Canada'."
Beyond its engagement in the AOPV initiative, Thordon Bearings has undertaken a pivotal role in the success of the RCN Halifax-class frigates, which will be succeeded by the Type 26 design. The company also retains the favored status as a supplier of seawater-lubricated bearings and seals to more than 50 navies and coast guards globally, including but not limited to the CCG, Royal Australian Navy, French Navy, Brazilian Navy, German Navy, and the United Arab Emirates Coast Guard.
Related posts