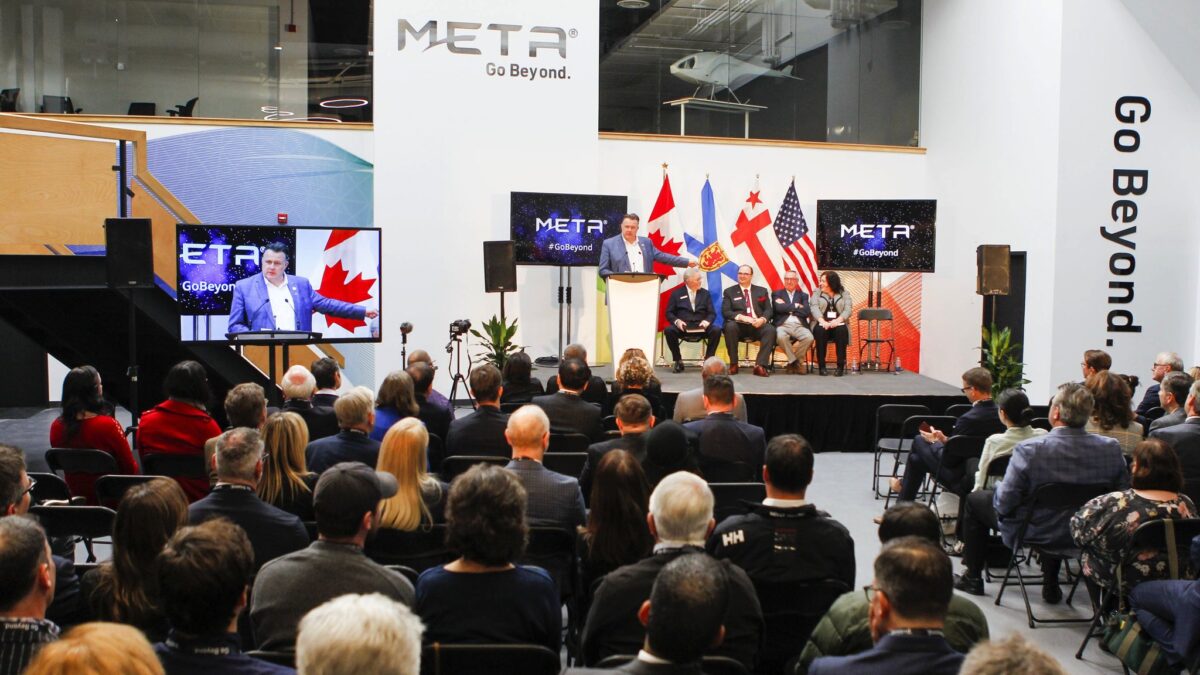 Dartmouth, Nova Scotia, New Global Headquarters and Centre of Excellence for Meta Materials
Vanguard Staff, November 20, 2022
3 min

read
2015
Meta Materials Inc. is a developer of high-performance functional materials and nanocomposites. On November 17 they opened their new global headquarters and Centre of Excellence in Dartmouth, Nova Scotia. The facility is 68,000 square feet and will house some of the world's leading scientists in metamaterials, advanced manufacturing, and nano-photonics. The only facility of its kind in Canada, it combines advanced packaging for semiconductors, unique materials, and chemistry research, as well as design and manufacturing of holographic and other optical products. The state-of-the-art facility has 12 cleanrooms that are designed to operate at ISO 8 and up to ISO 5 standards. This makes it one the largest and most advanced nanofabrication facilities in Canada in the last thirty years and the only facility of this kind east of Ottawa.
Jack Harding, chair of the board at META, said "today marks a historic milestone for Meta Materials. During my career in semiconductors, I have observed the development of advanced manufacturing infrastructure globally. I'm particularly impressed with the efficiency with which META has built world class facilities in Nova Scotia extending its leadership in advanced functional materials and nanophotonic applications. Our customers and partners will be the beneficiaries of our new facility. Further, Nova Scotia now has the opportunity to lead the world in this critical technology."
The new META facility offers a one-stop-shop approach to customers in augmented reality, automotive head-up displays, electro-optics, and other solutions. It will also be the new home for META's ARfusion® platform technology, which caters to the entire smart lens value chain, from optical design and material selection to mass production and integration. META will be able to integrate its advanced materials into a variety of products such as VLEPSIS™, NANOWEB®, metaAIR® and holoOPTIX®.
"The opening of this impressive facility shows that Atlantic Canada has what is required to support companies of almost unimaginable scope and ability," said the Honorable Ginette Petitpas Taylor, Minister of Official Languages and Minister responsible for the Atlantic Canada Opportunities Agency (ACOA). "In the last nine years, META grew from a start-up seeking ACOA's advice and support to a world leader of advanced materials and nano technology. We are proud they selected Nova Scotia for their global headquarters and Centre of Excellence."
In 2021, META became the first metamaterial company listed on the NASDAQ. They now have 10 locations in 4 countries around the world. Making a number of strategic acquisitions since 2016, META has combined critical technology platforms, added infrastructure, expertise and IP that is globally unique. The Company currently boasts 472 active utility and design patent documentsand has worked with some of the world's leading brands including Airbus, PPG, Lockheed Martin, Sekisui, Mitsubishi Electric, and DuPont Teijin Films. Additionally, META has forged key partnerships with several leading academic institutions and supplies including Covestro, PPG, and Sekisui Chemical. META is even a leader in sustainability, having been named to the Global Cleantech 100 in 2019, Innovator of the Year by Lux Research in 2021, recently named as a Future 50 Fastest-Growing Sustainable Companies in Canada by Corporate Knights and one of Canada's Clean Technology Winners in Deloitte's Fast 50 Program.
"I am so proud of my team and what we have been able to accomplish today as we continue to push the boundaries in materials science. Through nanotechnology, the smallest of things can have the biggest impact," said George Palikaras, META's President & CEO. "Behind every META advanced material and application is a plan for a sustainable future. Through this expansion, META is delivering the world's first IDM, the Integrated Device Manufacturer model for metamaterial-based companies, similar to early semiconductor companies which have grown to lead their industry. We are excited to celebrate the official opening of our new global headquarters, which will act as an important catalyst for growth. I would like to thank everyone who has helped get us to where we are today."
Related posts