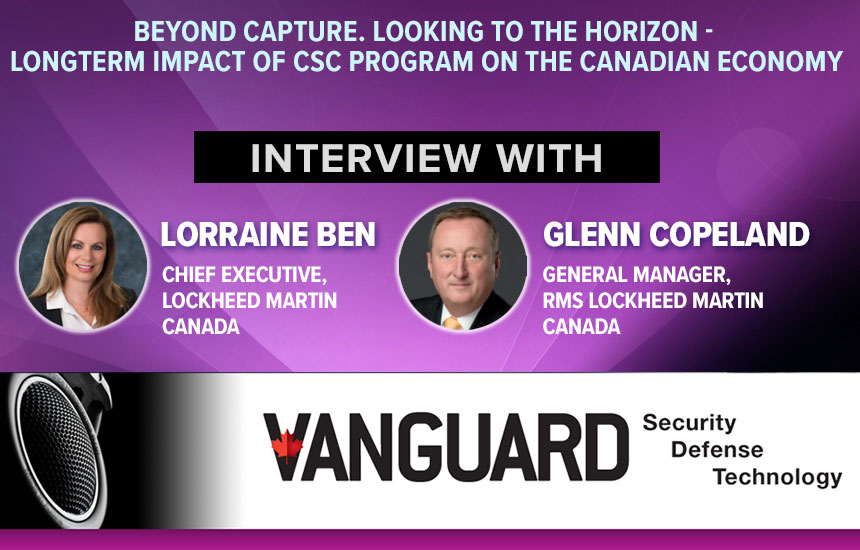 In this episode of Vanguard Radio, J. Richard Jones speaks with Lorraine Ben, Chief Executive, Lockheed Martin Canada and Glenn Copeland, General Manager, RMS Lockheed Martin Canada. The topic of discussion for this episode is the economic impact of the Canadian Surface Combatant (CSC) program on Canada, both immediate and especially long-term. Listen in to learn more.
Episode topics:
What does the CSC program bring to the employment table for Canadians?
How does Lockheed Martin Canada know the CSC will be effective?
How will the program deliver the requirements of the Royal Canadian Navy in the near and far future?
How far reaching is the CSC program?
And more…
About Lockheed Martin Canada
Lockheed Martin Canada has been Canada's trusted defence partner for over 80 years specializing in the development, integration and sustainment of advanced technology systems, products and services. The company employs approximately 1,200 people at facilities in Ottawa, Montreal, Halifax, Calgary, and Victoria, working on a wide range of major programs spanning the aerospace, defence and commercial sectors. We are a global leader in systems integration, software development and large scale program management, working on some of Canada's most complex and innovative programs – like the Canadian Surface Combatant. Lockheed Martin Canada partners with companies of all sizes from all regions across Canada.
About Lorraine Ben, Chief Executive, Lockheed Martin Canada and Regional Vice President Latin America
Lorraine Ben was appointed Chief Executive for Lockheed Martin Canada in June 2019, becoming Lockheed Martin's first female to take the helm of a Chief Executive role internationally. In 2021, Lorraine's portfolio expanded to include Latin America, as the Regional Vice President.
Lorraine is passionate about women in leadership and has made a commitment to help broaden Lockheed Martin Canada's diversity and inclusion, while highlighting the benefits of giving all Canadians a seat at the table. As a significant step in 2021, Lockheed Martin Canada is participating in the Government of Canada's 50-30 challenge to increase the representation and inclusion of diverse groups within their workplace.
Lorraine is Executive Co-chair for Lockheed Martin's Women Impact Network that provides a spectrum of thoughtful and relevant programs to employees across the organization through intersectional advocacy, professional development and active allyship. She is also an Executive Inclusion Council Member, serving to reinforce diversity and inclusion strategies as imperative business drivers.
Under her leadership, Lockheed Martin Canada and Latin America teams are responsible for delivering on country-specific strategies, maintaining and strengthening strategic customer and partner relationships and partnering with business areas on key pursuits, program campaigns and government relations.
Lorraine rejoined Lockheed Martin Canada in August 2015 as Director of Business Development and Strategy. In this role, she was responsible for the development and execution of strategies to grow the business and strengthen customer relationships.
Prior to returning to Lockheed Martin Canada in 2015, she served in a variety of Business Development Executive roles with Lockheed Martin in Owego New York, TELUS Corporation, Accenture and IBM.
Lorraine graduated from Laurentian University in Canada with a bachelor's degree in English/Law.
About Glenn Copeland, General Manager, RMS Lockheed Martin Canada
Mr. Copeland began his career in 2009 as a Project Manager within the Halifax Class Modernization (HCM) program where he managed software development projects for training systems while supporting business development initiatives related to the National Shipbuilding and Procurement Strategy. In 2014, Mr. Copeland was appointed to the Senior Leadership team where he assumed the role of Economic Development Opportunities lead for Lockheed Martin Canada serving directly for the Vice President on matters of economic strategy, coupled to the company's long range Industrial Technical Benefits plan.
Currently the Director, Business Development for Lockheed Martin Canada Rotary and Mission Systems (RMS) Mr. Copeland supports multiple lines of business including Integrated Warfare Systems, Sikorsky Aircraft Corporation and the Training and Logistics arm of RMS. In addition, he oversees the business investment funding strategy for LM Canada. He has held lead roles in the pursuit and capture of the Canadian Surface Combatant program and currently oversees the company's strategy in regard to securing and maintaining the winning position, leading the six industry partner team in the collective effort.
Mr. Copeland is a past president of the Aerospace and Defense Industries Association of Nova Scotia (ADIANS) and chair of the Atlantic Alliance Aerospace and Defence Association where he worked with Federal and Provincial government departments under the common goal of promoting the Aerospace and Defence Industrial membership from all Atlantic provinces.
A former Senior Naval Officer with extensive operational sea time, Mr. Copeland was lead for the Canadian Navy's Fleet readiness and training team as well as the lead Tactics and Procedural development officer at the Navy's warfare school. He was awarded key leadership positions, including Operations Officer for the Sea Training Atlantic group and Executive Officer of Her Majesty's Canadian Ship ST. JOHN'S, after which, he was selected to return to Sea Training once again, serving as the organization's Executive Officer.
Related posts