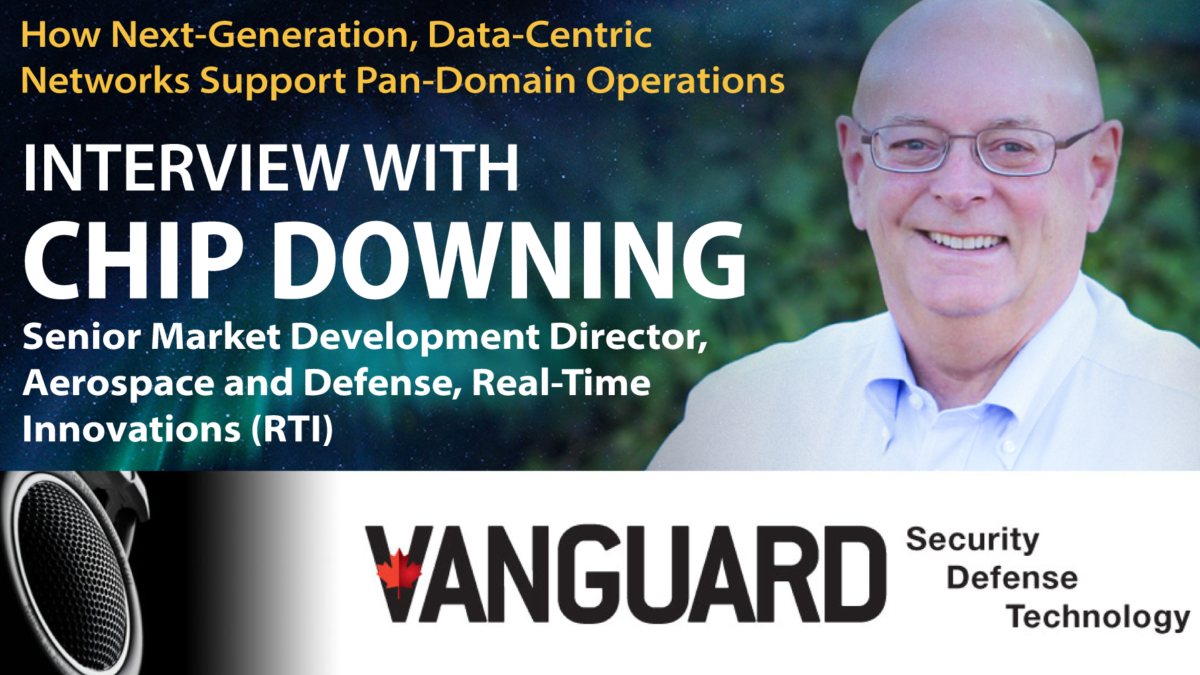 How Next-Generation, Data-Centric Networks Support Pan-Domain Operations
Vanguard Staff, February 24, 2022
2 min

read
2576
In this episode of Vanguard Radio, J. Richard Jones meets with Chip Downing, Senior Market Development Director of Aerospace and Defense at Real-Time Innovations (RTI). The topic of discussion is How Next-Generation, Data-Centric Networks Support Pan-Domain Operations. Listen in, to learn more.
Episode topics:
What is data-centric networks and how it will benefit the military and industry system integrators?
How data-centric networks help the military to achieve interoperability?
JADC2 its relevance to the US military, what it is trying to achieve, and the progress being made?
DND's move toward pan-domain operation capability and the fundamentals needed to move in this direction?
And more…
About RTI:
Real Time Innovations (RTI) is the largest software framework company for autonomous systems. RTI Connext is the world's leading architecture for developing intelligent distributed systems. Uniquely, Connext shares data directly, connecting AI algorithms to real-time networks of devices to build autonomous systems. RTI is the best in the world at ensuring our customers' success in deploying real-time embedded systems in critical environments. With over 1,700 designs, RTI software runs over 250 autonomous vehicle programs, controls the largest power plants in North America, coordinates combat management on U.S. Navy ships, drives a new generation of medical robotics, enables flying cars, and provides 24/7 intelligence for hospital and emergency medicine. RTI runs a smarter world. RTI is the leading vendor of products compliant with the Object Management Group® (OMG®) Data Distribution Service™ (DDS) standard. RTI is privately held and headquartered in Sunnyvale, California with regional offices in Colorado, Spain, and Singapore.
About Chip Downing:
Chip Downing is the Senior Market Development Director of Aerospace and Defense at Real-Time Innovations (RTI). In this position, he manages RTI's global aerospace and defense business and helps drive the RTI Connext product, now used in over 1,700 global systems, into the commercial and military aerospace market. In addition, Mr. Downing currently serves as Chair of the Future Airborne Capability Environment (FACE) Consortium Business Working Group Outreach Subcommittee, promoting the FACE approach globally. A luminary of the embedded systems industry and an innovator for creating COTS safety certification evidence for commercial RTOSs, he previously served as Senior Director of Aerospace & Defense at Wind River Systems, where he was responsible for the business development of the company's global A&D markets. During his 13-year Wind River tenure, design wins for certified avionics products grew to more than 500 projects. Mr. Downing has also led sales, marketing, and consulting organizations at Esterel Technologies (now Ansys), Validated Software, OnCore Systems, and Mentor Graphics (now Siemens).
Related posts