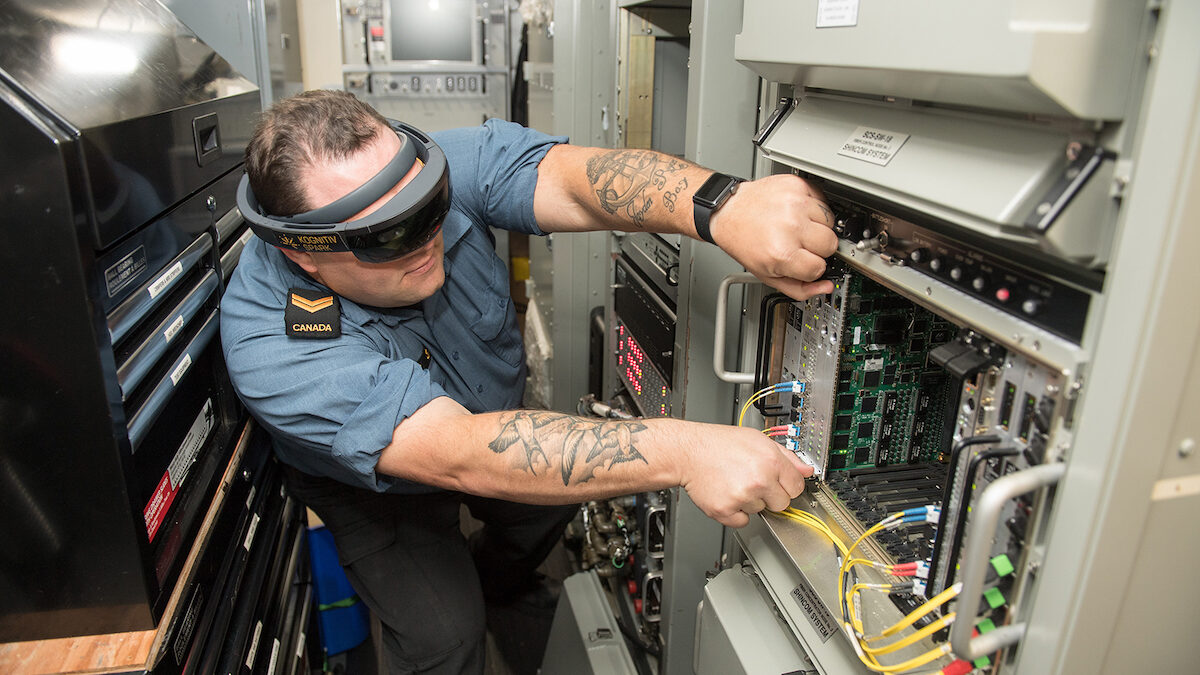 Mission Critical Innovation
Derek Dobson, February 19, 2021
3 min

read
5221
Advanced technology is transforming the way defence organizations operate and the maritime domain is no exception. From artificial intelligence (AI) and data analytics to mixed reality and internet of things (IoT), high-performance cloud computing is at the core of the C4ISR spine and is powering mission critical work. With a hybrid cloud approach, navies can leverage the security, flexibility and innovation friendly environment that the public cloud provides, while maintaining certain data in on-premises infrastructure to ensure regulatory requirements are met. And with an evolution towards edge computing, maritime forces will benefit from real-time insights and experiences, delivered by highly responsive and contextually aware apps, creating more efficient and effective operations.
For the Royal Canadian Navy (RCN), digital transformation is not just a business imperative – it's about making Canada's sailors the best they can be. This imperative is driving innovation and improving mission outcomes. With experts becoming scarce, resources and ships becoming more complex, RCN is using Microsoft HoloLens2 for remote collaboration solutions that connect sailors with specialized experts located anywhere in the world. Working with Kognitiv Spark, a valued Microsoft partner based in Fredericton, New Brunswick, the RCN has implemented the RemoteSpark Mixed Reality Remote Assistant Support (MiRRAS) solution to improve maintenance and repairs aboard RCN vessels. Through the remote support platform, experts working remotely can see what the sailor sees and can send digital assets to support with the task at hand.
"With crews aboard ships getting smaller, we needed to find an effective solution that empowered sailors to manage all their responsibilities, which have expanded to include highly technical tasks," said Rear-Admiral Casper Donovan, Royal Canadian Navy. "With mixed reality, we have the ability to tap into highly experienced experts who are working remotely to guide the sailor on a ship. This technology has made a real operational impact."
This builds on the RCN's own work to overhaul its training system to make it fit for purpose for the 21st century, including using its immersive technology in training exercises to make combat scenarios as realistic as possible. With immersive training, sailors will not only better understand what they're being trained to do but will also build muscle memory that will allow sailors to react when on the job.
"Pursuing training using mixed reality is an excellent opportunity that allows us as the Navy to tailor our training system to suit the needs of individuals," said Rear-Admiral Donovan. "We're doing that deliberately because we believe if we can enable our sailors to be the best that they can be, then that's a good thing for the Navy and for Canada."
South of the border, Microsoft worked with a U.S. Navy team of leading engineers and scientists to successfully deploy an enhanced weather model, COAMPS-TC, within the span of a weekend in August 2020. With two tropical storms headed for the Gulf coast, the team used the opportunity to showcase the viability and scalability of the Azure-powered weather modeling capability. The high-performance cloud technology allowed the team to quickly build and disseminate weather and ocean proof-of-concept models on Twitter within two days. COAMPS-TC uses Azure's secure cloud to deliver faster, real-time and scalable tropical cyclone forecasts, which result in greater fleet safety and effectiveness.
As technology continues to advance, the possibilities are endless. At Microsoft, we are committed to working alongside the Armed Forces to drive innovation and create more efficient, effective and secure ways to operate. To learn more about digital transformation for defence, visit aka.ms/DefenceDigital
Related posts