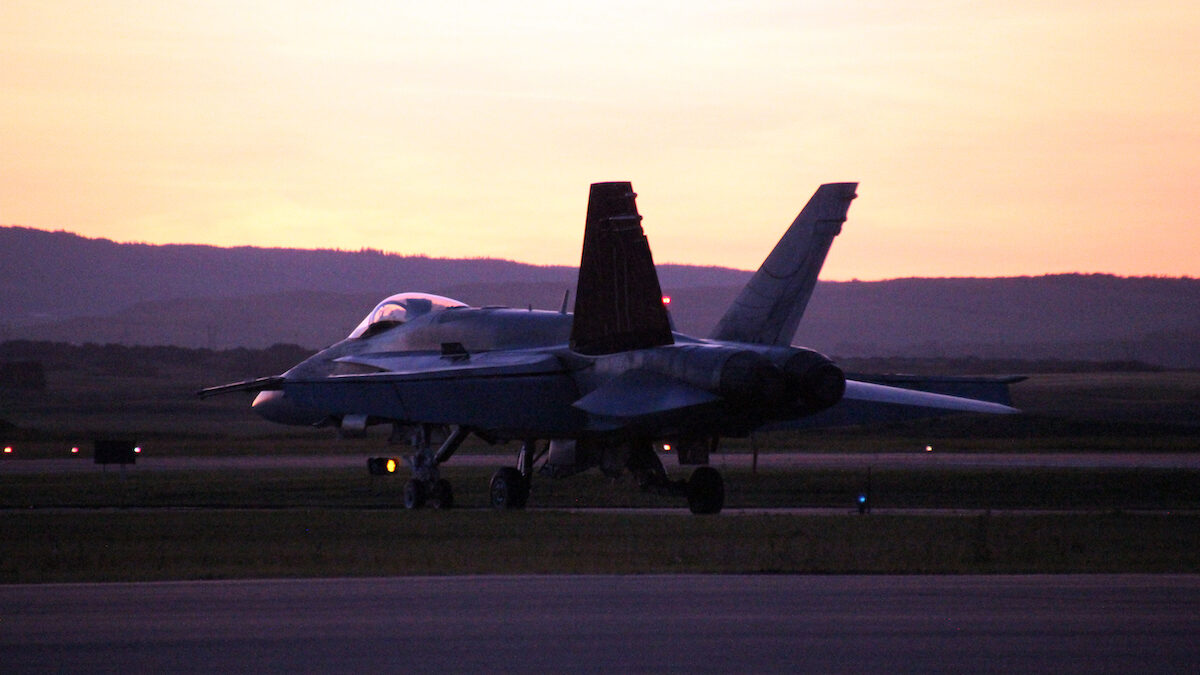 Keeping Pace with the Rapid Evolution of Technology for Multi-Domain Operations
Sponsored Content, April 14, 2021
7 min

read
3847
Multi-domain operations whether it's in the air, on the ground, at sea, or even in space – requires robust, reliable and resilient communications. To achieve this, the Canadian Armed Forces require targeted and strategic investment in capabilities that can be used both on domestic and international military operations. It's for this very reason the CAF collaborates with private sector partners like Viasat to identify emerging needs and unique approaches to accelerate access to defence innovation, ensuring Canada keeps pace with this evolving technology trajectory.
Outfitting the CAF with a Link-Enabled Capability
In the Canadian defence arena, Viasat is well known for its Link 16 capabilities – a military tactical data link that is utilized by coalition partners, allowing military aircraft, ships and ground forces to share a real-time common operational picture, providing 360-degree situational awareness on the battlefield.
The Royal Canadian Air Force utilizes the Viasat KOR-24A Small Tactical Terminal (STT) on its CP140 Aurora aircraft for seamless airborne surveillance and C4ISR missions. Its dual channels allows the CP140 to stay in constant connection to the Link 16 network for tactical information on one channel, while supporting voice and data communications connect on the second.
The STT is a vital component that contributes to seamless Link 16 tactical communications across U.S. and coalition forces, including 12 nations and 3 arms of the Canadian military. It is the world's only multi-channel, software upgradeable radio capable of supporting Link 16 communications in a small form factor. Using the STT, warfighters on the ground, air and sea can now have simultaneous access to Link 16 and other wideband UHF or legacy VHF/UHF communications. Viasat's flexible architectures also allow for the addition of cutting-edge Link 16 capabilities that both address emergent mission requirements, but also help maintain the tactical edge across the modern battlespace. The STT is completely interoperable with other Link 16 terminals that are currently deployed on Halifax Class Frigates, Link 16 fixed/mobile stations as well as other aircraft fleet that are slated for upgrades.
In July, 2019, the U.S. Defense Security Cooperation Agency (DSCA) cleared the sale of 152 Viasat MIDS-JTRS (5) terminals (aka Multifunctional Information Distribution System – Joint Tactical Radio System) worth US$44 million to the Government of Canada.
According to the official DSCA announcement, "Canada intends to upgrade its current inventory of CF-18 Aircraft, CC-130J, and the Royal Canadian Air Force's Ground Stations with the purchase of these MIDS JTRS (5) terminals to be fully interoperable with U.S. and allied forces to support and compliment joint operations in a net-enabled environment; have modernized electronic protection and secure, jam-resistant wave forms; and be capable of improved Link 16 message exchange and information fidelity including support to advanced weapon employment." The procurement also includes spare parts/equipment racks, documentation, training, and engineering technical support.
The Need for Agile Air Defence
Given the vastness of Canada's territory, it is critical for the Canadian Armed Forces to rapidly deploy throughout Canada on a moment's notice. The Royal Canadian Air Forces makes this possible.
However, while the necessity of advanced tactical data links such as Link 16 within the RCAF is widely recognized, the resources being committed to establish, operate and sustain these technologies are insufficient. Before being replaced by the federal government's Defence Capabilities Blueprint in 2018, the Defence Acquisition Guide envisioned improving the RCAF's existing tactical communications system with an improved model under the 'Tactical Integrated Command, Control and Communications Air Project (TIC3 Air Project)'. According to archived DND/CAF documents available online, the TIC3 Air Project would give the RCAF "the ability to network with different organizations, systems and platforms through data links, secure and non-secure communication systems."
"While the TIC3 Air Project has been delayed since its inception, the original goals – the ability to seamlessly network with different platforms/nodes for multi-domain interoperability – still remain and are even more relevant in today's competitive environment," said Peterman. "Viasat still believes in these original goals. This is why we have been working closely with the RCAF to get them closer to achieving this mission, especially now that there's a stronger emphasis in government and private sector partnership."
Viasat remains committed to the TIC3 Air Project because it aligns with the company's problem-solving ethos. "We closely collaborate with our customers to identify capability gaps and understand the problems to be solved," Peterman said. "We then leverage our technology leadership, agile development processes and flexible business models to accelerate the delivery of cutting-edge capabilities to support today's warfighter. TIC3 also aligns to Viasat's unique strengths in our other core capabilities of Satellite Communications, Tactical Data Links and Cybersecurity."
With the RCAF's vision of every platform, be it piloted, remotely piloted or space-based, also acting as a sensor, Viasat is uniquely positioned to deliver the capabilities and unprecedented capacity that's needed to bring this vision to reality – ensuring the critical information and intelligence gets to decision-makers at the speed of relevance. 
Recent Advancements
Viasat has been actively advancing the state of military communications in Canada as well as other Five Eye (FVEY) partner nations with the recent unveiling of an advanced configuration of the Battlefield Awareness and Targeting System – Dismounted (BATS-D) AN/PRC-161 radio. The BATS-D is the world's first (and only) handheld Link 16 radio, which is proving instrumental in keeping warfighters on the ground and aircrew in the sky fully connected across the battlespace.
The updated BATS-D handheld is equipped with new features to address emerging and expanded security threats across a diverse range of operational use cases and deployment scenarios. The advanced configuration is NSA certified for immediate use by U.S. General Purpose Forces, FVEY partner nations and coalition forces.
"The initial success of the BATS-D radios in the field proves this capability to be a true game-changer in military communications," said Andy Kessler, Vice President/Business Area Director in Viasat's Next Generation Tactical Data Links business. As a result, "we've seen tremendous interest to extend the use of the BATS-D radios to new applications and expanded concepts of operation that address specific needs and capability gaps of U.S. and international FVEY armed forces. The availability of BATS-D for GPF and FVEY partner nations will empower more warfighters with secure, interoperable, digitally-aided communications, which ultimately translates into significantly enhanced situational awareness and improved mission coordination across the multi-domain battlespace."
Tapping into Canadian Partnerships
Leveraging a dedicated and skilled Canadian workforce to meet the communication needs of the Canadian Armed Forces is of critical importance. Viasat understands this need and in partnership with MDA, Viasat is playing a vital role in helping the Army modernize its computer suite and data link radios, with the goal of improving networked voice and communications across the entire CAF.
To this end, Viasat and MDA have opened a Link 16 repair, maintenance and upgrade service facility in Richmond, BC – offering crypto modernization, software upgrades, and retrofits to Multifunctional Information Distribution System Low Volume Terminal (MIDS-LVT) Block Upgrade 2 devices for Halifax class frigates and other Link-16 enabled platforms.
Since 2011, Ontario-based Telesat and Viasat have partnered to help deliver unprecedented bandwidth and network resilience, redundancy, and active cyber protection that's required to maximize operational performance in the contested environments Canadian military operations face during combat.
This is a glimpse into the Company's trio of ultra-high-capacity geosynchronous Ka-band satellites that will be launched in 2022, enabling superior reach and readiness for military forces around the globe. This constellation of satellites will provide more than 1 terabyte per second (Tbps) of usable bandwidth offering connectivity and global coverage capable of keeping the CAF connected at broadband speeds virtually anywhere they are deployed.
Looking Forward to the Future
The Canadian Armed Forces (CAF) must be ready and able to deliver across a spectrum of operations – from domestic humanitarian assistance and disaster response to counter-terrorism and peace support operations, to high intensity combat operations. As more emergent technologies from the private sector become available, the CAF can (and should) be outfitted with the best available tools and technology to maintain their tactical edge across today's data-driven battlespace. "We are advocating for the DND to take full advantage of the steep technology trajectories of today's private sector," Peterman said. "By better leveraging private-sector innovation, the DND can ensure the CAF stays strong, secure, and engaged so they maintain dominance across all domains and keep the edge needed to be successful at home and around the world."
Related posts