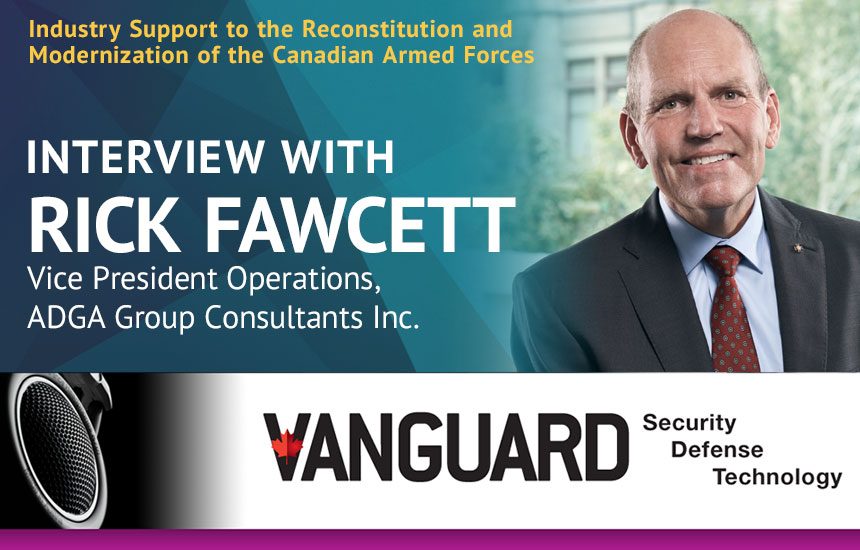 Industry Support to the Reconstruction and Modernization of the Canadian Armed Forces
Vanguard Staff, May 24, 2023
1 min

read
1133
An Interview with Rick Fawcett, Vice President Operations, ADGA Group Consultants Inc.
J. Richard Jones returns with a new episode of Vanguard Radio. This week he is speaking with Colonel (Ret'd) Rick Fawcett, Vice President Operations, ADGA Group Consultants Inc. Mr. Fawcett is no stranger to the show. With 34 years of service in the Canadian Armed Forces, he transitioned to executive roles in the Defense industry and joined ADGA in September 2020. He held various command and staff positions, served in multiple UN and NATO missions, and received notable honors. After retiring in 2013, he established a private consulting firm and later became the Director of Business Development at General Dynamics Canada, focusing on defense and security markets.
Founded in 1967, ADGA Group Consultants Inc. is a Canadian company specializing in Advanced Technology Solutions. They work closely with clients in Defence, Security, and Public Safety markets to solve complex business problems by designing, building, operating, and maintaining their systems and processes. ADGA is committed to initiatives and policies that contribute to jobs, innovation, and economic growth across Canada. In December 2021, ADGA was acquired by Commissionaires Ottawa, enhancing its capabilities to provide a full spectrum of security solutions.
This week the discussion revolves around industry support to the reconstitution and modernization of the Canadian Armed Forces.
In this episode:
Why is there such a need for additional support for the CAF?
What industry can do to support
What is PMO as a service?
How can ADGA support?
And much more!
Where to listen:

Related posts