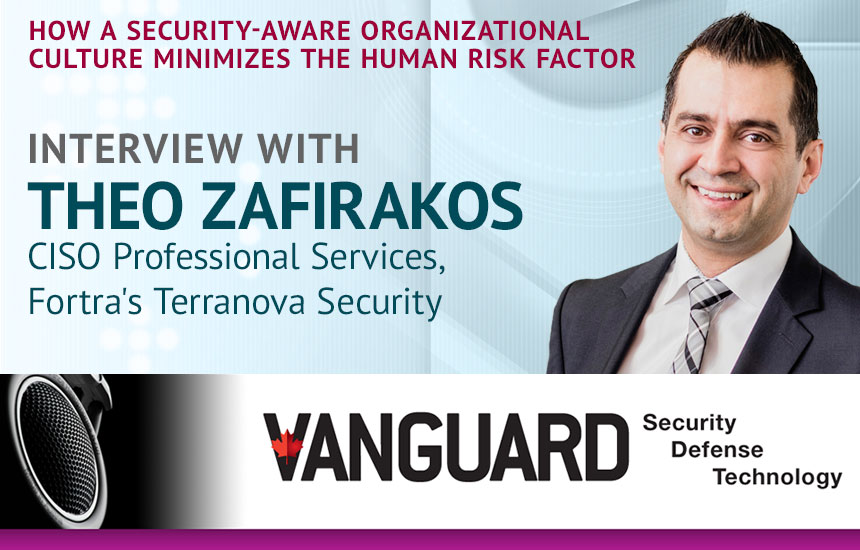 How a Security-Aware Organizational Culture Minimizes the Human Risk Factor
Vanguard Staff, May 29, 2023
1 min

read
718
Welcome back to another episode of Vanguard Radio with host J. Richard Jones. In this episode, we speak with Theo Zafirakos, CISO Coach and Professional Services, Security Awareness Speaker for Fortra's Terranova Security. Theo is an experienced security leader and trusted advisor known for his expertise in security awareness strategy, governance, privacy, and cyber security. He collaborates with CISOs and security leaders globally, assisting them in identifying, evaluating, and managing security awareness risks. Prior to joining Terranova Security, Theo spent two decades at Canadian National Railway (CN) as the CISO, where he was responsible for the information security and governance strategy. He currently leads the Fortra's Terranova Security Professional Services team, which focuses on implementing and executing security awareness programs to achieve measurable results.
Terranova Security is a valuable addition to Fortra's comprehensive cybersecurity portfolio, which aims to simplify the complex landscape with innovative solutions. Their risk-based campaigns and high-quality training content empower employees to understand critical practices like phishing and compliance. Customized options align with customer goals, strengthening long-term information security. Terranova fosters an inclusive workplace with equal gender representation and encourages diverse voices to drive innovative security awareness training.
Today's conversation zeros in on the fact that a successful security awareness program should generate a security-aware organizational culture.
In this episode:
Why should your organization build a Security-Aware Culture?
How to Spot a Security-Aware Cultural Shift in a Business?
Why leaders need to understand employee cyber security awareness levels
Why your organization should be concerned about Third-Party Risk Management
And much more!
Where to listen:

Related posts