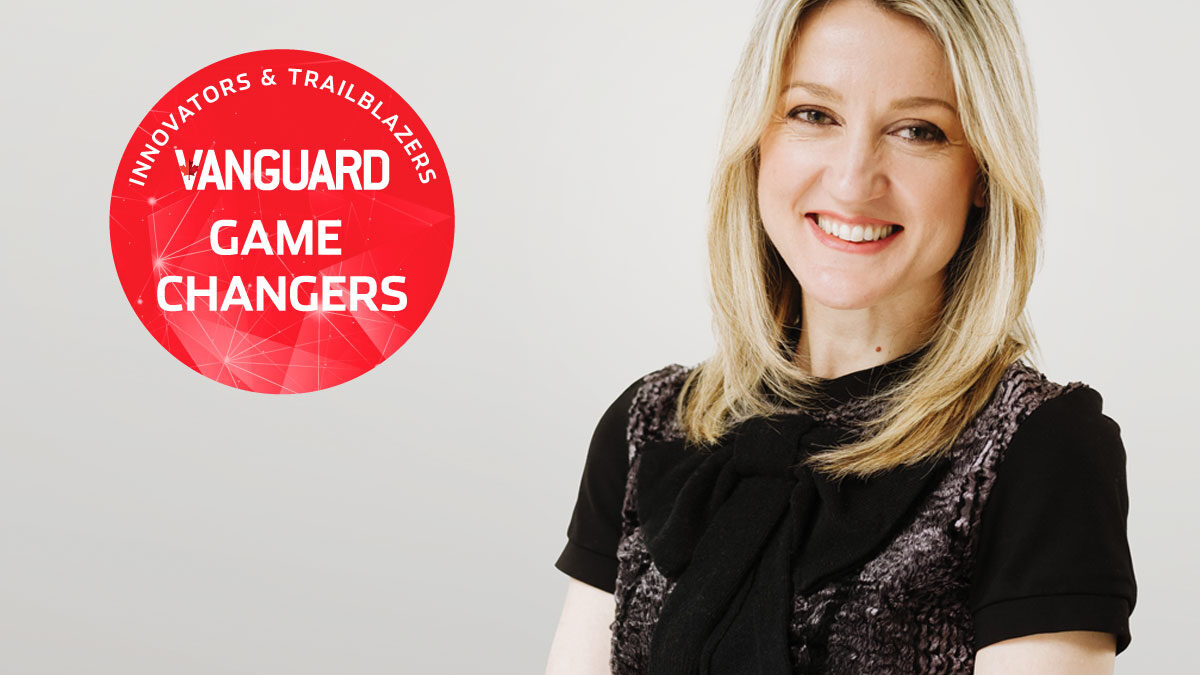 Game Changer: Biljana Jovanovic, Canada Lead, Government Relations, Raytheon Technologies
Vanguard Staff, July 5, 2023
8 min

read
673
Biljana Jovanovic is the Canada Lead, Government Relations for Raytheon Technologies and one of our June/July Game Changers. Born in the former Yugoslavia, Biljana Jovanovic experienced the onset of war at the age of 18. At that time, she had dreams of becoming a teacher. The turbulent circumstances in her homeland led her to Canada where she would find a new path.
After ten years of settling into Canada and having children she decided to re-enter the workforce. A friend suggested her skills and personality would be well-suited for a government relations role. Intrigued by the idea, Biljana embarked on a journey to explore the field and in 2008 she was hired by the vice president of government relations for Pratt & Whitney, a leading aerospace manufacturer. Though she did not possess a background in aerospace and defense, Biljana says the opportunity came to her through, what her culture calls, "the small door."
During her time at Pratt & Whitney she found a mentor and advocate in Greg Hayes, who later became Raytheon Technologies' Chairman & CEO. Greg's commitment to diversity, equity, and inclusion resonated with Biljana, and he recognized her hard work and dedication. It was through his support that Biljana achieved her initial promotion to a senior manager position for United Technologies.
With the merger between United Technologies and Raytheon in 2020, she found herself in a new role as the Canadian Lead for government relations at Raytheon Technologies. Biljana now leverages her skills and experiences to navigate the complexities of government affairs and represent the company's interests in her adopted home of Canada.
---
How did you start out in this industry and how has it brought you to where you are today?
I was 18 when the war started in former Yugoslavia and I was working toward becoming a teacher. I chose a different career direction once in Canada.
After ten years in Canada, I was looking to re-enter the workforce after having children and a friend suggested I'd be good in the government relations role.
I was hired by the vice president of government relations for Pratt & Whitney on the administrative side in 2008. I was not a typical hire for the government relations role. I did not have a background in aerospace and defence, but I entered through the small door (that's a saying from my background). I feel he was critical to me getting the opportunity.
I am grateful to Greg Hayes, now Raytheon Technologies' Chairman & CEO, for his commitment to diversity, equity and inclusion and for recognizing my hard work which led to my initial promotion to a senior manager position for United Technologies. After the merger in 2020, I have become the Canadian Lead for government relations for Raytheon Technologies.
What is your role at your organization today?
I represent all of our business units in Canada. I help facilitate understanding on both sides – government and Raytheon Technologies. I guide and advise our business units about appropriate communication and engagement with government officials and help government officials understand what our company does, what we make and how we at Raytheon Technologies help and are committed to Canada.
What was your most challenging moment?
My most challenging moment was watching my parents lose everything in one day in the war and watching them figure out how to save the lives of their two children. My parents, in their late 40's and both WWII orphans, were so proud of their accomplishments and lost it all. I was old enough to see it. Their courage is why I am where I am now.
I was a refugee for six-and-a-half years before I immigrated to Canada. The Canadian government sponsored landed immigrant status for my husband and I, and facilitated our initial integration into the Canadian system.
What was your A-HA moment or epiphany that you think will resonate most with our readers?
I would replace the term "A-HA" with "realization or discovery." For me, this is the moment when I felt proud of myself for the first time. That moment, which came in 2015 and was a pivotal moment in my career, when I felt like I belonged to this group. I was working alongside a senior vice president and this leader had faith in me – I felt so empowered. This was a milestone in my career and resonates with me to this day. It empowered me to make decisions in critical moments. This is my personal success story.
What is the one thing that has you most fired up today?
Fired up doesn't describe how I feel. For me, it's motivated, encouraged and excited.
The thing that has me excited is hope. Many people don't have hope but I do. I think of all the world issues, maybe more because of my career and my civil war memories, and I get reminded every day that the world isn't perfect. But I am part of this large ecosystem and I feel hopeful because Canada is on the world stage, where we are contributing and being heard. I live in a country where I do have a voice. I live in a diverse community where my children grew up and are oblivious to seeing any difference in people around them. Their inclusive minds give me hope too.
I'm excited because I'm part of that community.
I'm also excited by where our company fits into all of this. Our portfolio contributes to global health and I am part of that.
What is the best advice you received?
Be courageous. I read this in a Raytheon Technologies leadership guide. To me, this means that I am empowered by my leadership to ignore the noise around me, trust my intuition and do what I think is right and take action.
What is a habit that contributes to your success?
Achieving balance. Balance is extremely important for me. I work intensely but when I feel like I need to stop, I respect that so I can recharge. I train myself to disconnect when I need to.
I take my inspiration, both personally and professionally, from my background, where I come from. I allow myself to stay close to my authenticity, even when I feel that might isolate me at times.
What people or organizations do you believe best embody the innovation mindset?
Did you know that Nikola Tesla is from a small area in the former Yugoslavia where I come from? I have read many biographical and patent books about him and he is my role model.
There is a statue of Nikola Tesla at Niagara Falls on the Canadian side. My first travel in Canada was to Niagara Falls to see the Nikola Tesla generator. I never dreamed I would get to see it.
The fact that somebody that's from the same place as I am has had such an influence on sustainability and electric motors is incredible to me. He was brave and developed solutions that are in sync with nature, almost a century before we started thinking like that.
How is your organization changing the game within your industry sector?
When I first started with United Technologies, I worked to get an understanding of what we do. I learned that Pratt & Whitney is the only aircraft engine manufacturer in Canada. The PT6 engine was designed by Canadian engineers.
I've learned more about the other parts of the business since the creation of Raytheon Technologies. Now, we create aircraft travel solutions, in Canada, focused on passenger safety. I feel proud that this is a focus of our company.
Now we have this blend of commercial and defence products that make us unique in the market. Our uniqueness comes alive here in Canada where we have all of our business units represented. I get to speak to Canadian government officials about our broad portfolio – focusing on what we design and manufacture in Canada and then sell to the world. I'm proud of that, and proud that many families are supported through that work, including mine.
What are some of the biggest impediments to innovation in your industry sector?
Uncertainties about geopolitical dynamics. This unexpected shift required, not a reset, but a realignment.
Uncertainties of how to properly address the national and global climate change targets on our national and global level, and how they are impacted by the challenges of the environmental transition.
How has innovation become engrained in your organization's culture and how is it being optimized?
We exist because of research and development and the products that we produce. In order to stay ahead of the biggest global challenges, innovation is one of our key drivers every day. We are a culture of innovators.
What technologies, business models, and trends will drive the biggest changes in your industry over the next two years?
Sustainability. This includes defence solutions which Raytheon Technologies is uniquely positioned to deliver. The collaboration between our commercial and defence parts of the business is driving us to find new ways to meet climate change targets, as well as global security threats.
A critical element of this will be gaining the trust of the traveling public that hybrid-electric air travel is not just sustainable but safe.
What is your parting piece of advice?
Trust your intuition.
Related posts