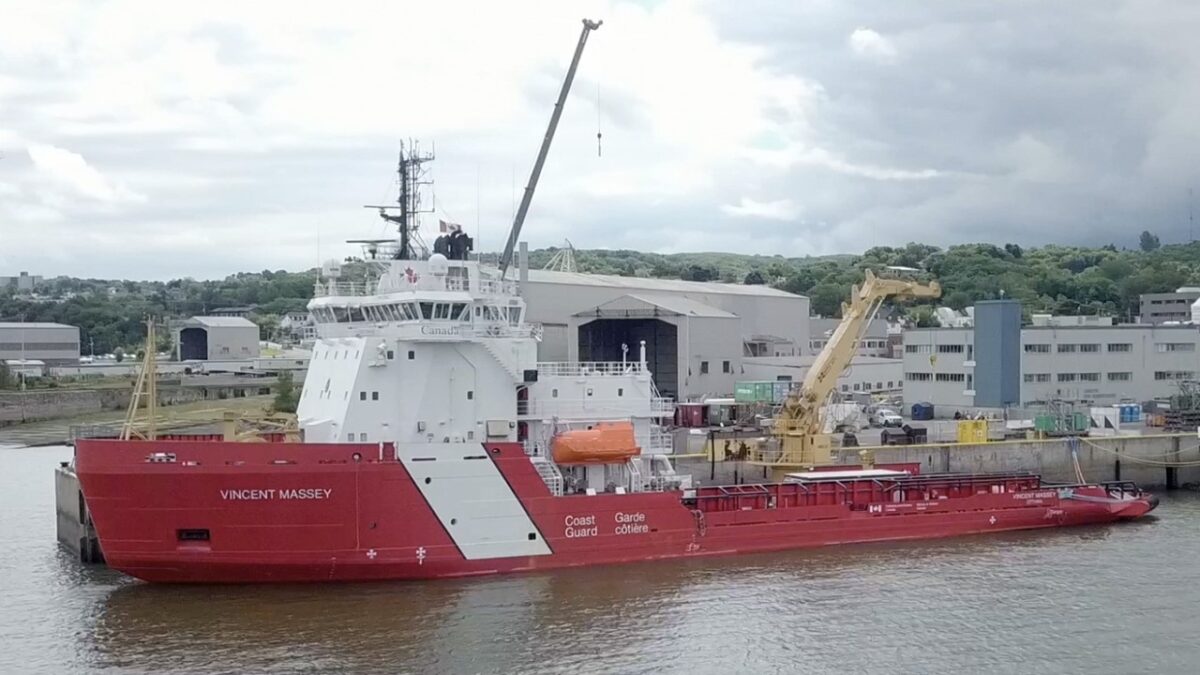 Davie
Vanguard Staff, October 15, 2022
3 min

read
876
In its long history, Davie has played a crucial role in supporting Canada's strategic interests both at home and overseas. In light of current worrying world events, it is clear that now is the time to once again commit Davie's considerable resources for the benefit of all Canadians.
Progress is being made. Davie is working with the Government of Canada to complete the process to officially become the third shipbuilding partner under the National Shipbuilding Strategy (NSS).
We are set to build an entire fleet of advanced Arctic-ready icebreakers. These ships will have played a critical role in meeting Canada's key strategic priorities in the Arctic, including climate change, sovereignty, diplomacy, and national security.
Climate change is the key catalyst, with the Arctic warming around 2.5 times faster than the global average. Arctic waters are becoming more navigable, opening access to the North as never before.
This offers great potential opportunities, including new shipping routes, access to new fisheries and, of course, natural resources.
For every opportunity, however, new issues and threats are emerging.
Old foes, with whom Canada shares an ocean, are rearing their heads, while newer forces are also coming into sharp focus.
While Ukraine dominates the headlines, Russia has for decades been steadily strengthening its strategic position in the Arctic.
The Arctic already accounts for around 10% of Russia's total GDP, in 2021 that was around US$180 billion, and about 20% of all export revenue.
Russia is not stopping there. For example, many of its largest ongoing and planned oil and gas projects are above the Arctic Circle.
Russia aims to control changing trade flows due to receding ice opening up international shipping lanes. One route, the Northwest Passage, traverses Canada's territorial waters. The other, the Northeast Trade Route, offers huge potential savings in time and cost for trade. Russia claims this, calling it the "Northern Sea Route".
Moreover, Russia has reopened Soviet cold war-era military bases, built new airfields and deep-water ports, all in or near the Arctic. Its fleets of nuclear submarines and nuclear-powered icebreakers patrol the region like no other nation.
Then there is China. It covets the Arctic's energy resources, mineral wealth and fishing grounds. China has declared itself a "near-Arctic state" and seeks to participate in governance of the region.
China is also building a fleet of cutting-edge icebreakers to support its strategic goals.
Taken together, these signals clearly show that Canada must actively and immediately protect its interests and sovereignty in the Arctic.
Canada should be commended for its National Shipbuilding Strategy. It provides vital sovereign industrial capability and capacity. And is a part of the solution to protect Canada's strategic interests in the Arctic. Davie's upcoming entry to the NSS, is a clear sign of Canada's resolve to meet the Arctic challenge head on.
Beyond national security, the icebreakers Davie is set to build will bring important domestic benefits, including enabling the Coast Guard to serve Canada's Northern population, including Indigenous communities.
These ships will also help the Canadian economy by keeping the St. Lawrence River navigable during winter.
No matter how you look at it, strengthening Canada's icebreaker fleet is critical to its climate, defence, diplomatic, and economic goals.
Under the NSS, Davie will have a tangible impact on people's lives and livelihoods. Not just in Lévis but all regions of Québec, and all of Canada.
We will generate more than 20 billion dollars of economic activity over the next two decades, create close to 5,000 well-paying jobs and pay hundreds of millions of dollars in-taxes.
Never in Davie's near 200-year history has there been such a generational program of assured work. There is real potential for so much more.
We can't wait to get to work.
Related posts