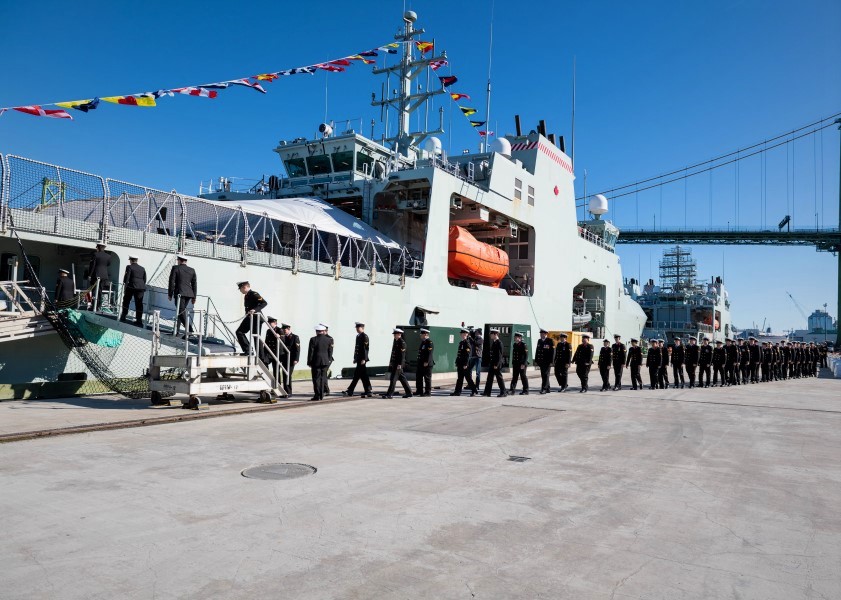 Commissioned into Service: His Majesty's Canadian Ship Margaret Brooke
Vanguard Staff, November 6, 2022
3 min

read
1030
His Majesty's Canadian Ship (HMCS) Margaret Brooke was welcomed into naval service with the Royal Canadian Navy (RCN) at a commissioning ceremony at HMC Dockyard Halifax on October 28th.
The Honourable Anita Anand, Minister of National Defence, said ""HMCS Margaret Brooke and the Arctic and Offshore Patrol Ships enable the Royal Canadian Navy to patrol and protect Canada's sovereignty in our offshore and Arctic waters, bringing enhanced presence and awareness to this important region. These modern ships bring new capabilities to Canada's prosperity, defence and security. As the ship is commissioned today, I extend my congratulations to HMCS Margaret Brooke, and thankits officers and crew, for all of their efforts and dedication in service of Canada."
The introduction of a second Arctic and Offshore Patrol Ship (AOPS) marks a significant achievement for both the RCN and the Canadian shipbuilding industry. Delivered under the National Shipbuilding Strategy, which sustains thousands of jobs annually in Canada, the HMCS Margaret Brooke will enhance the RCN's ability to enforce sovereignty and meet future defence challenges in Canada's offshore and Arctic waters.
"Welcoming a ship into service with the Royal Canadian Navy is a major milestone. Today, we celebrate with time-honoured tradition the hard work and dedication of the Margaret Brooke's crew. The Commanding Officer and crew have successfully completed months of trials and readiness training and recently proved their readiness to support Canadians through their contributions to Hurricane Fiona relief efforts. This class of ship enables the Navy to expand its presence throughout our Arctic and around the globe," expressed Vice-Admiral Angus Topshee, Commander of the Royal Canadian Navy.
A ship's commissioning ceremony is a long-standing naval tradition and a very special event for the ship's company. The commissioning ceremony for the HMCS Margaret Brooke included a symbolic presentation of the commissioning pennant, as well as the symbolic presentation of the "keys to the ship" to the Commanding Officer, Commander Nicole Robichaud. The ship had just returned from her first deployment where she was involved in assisting Atlantic Canada communities that were affected by Hurricane Fiona.
"Today's commissioning ceremony truly is the culmination of the effort and dedication that our ship's crew has put forth leading up to today. The commissioning of a ship is symbolic, and although we have been tirelessly at work for many months including our deployment on Operation NANOOK and Operation LENTUS – today's ceremony is significant as HMCS Margaret Brooke flies its commissioning pennant and is welcomed to the fleet. For all of the sailors who have served onboard this incredible ship, this is an exciting and emotional day."
In conclusion, Commander Nicole Robichaud, Commanding Officer, HMCS Margaret Brooke said, "Today's commissioning ceremony truly is the culmination of the effort and dedication that our ship's crew has put forth leading up to today. The commissioning of a ship is symbolic, and although we have been tirelessly at work for many months including our deployment on Operation NANOOK and Operation LENTUS – today's ceremony is significant as HMCS Margaret Brooke flies its commissioning pennant and is welcomed to the fleet. For all of the sailors who have served onboard this incredible ship, this is an exciting and emotional day."
Related posts