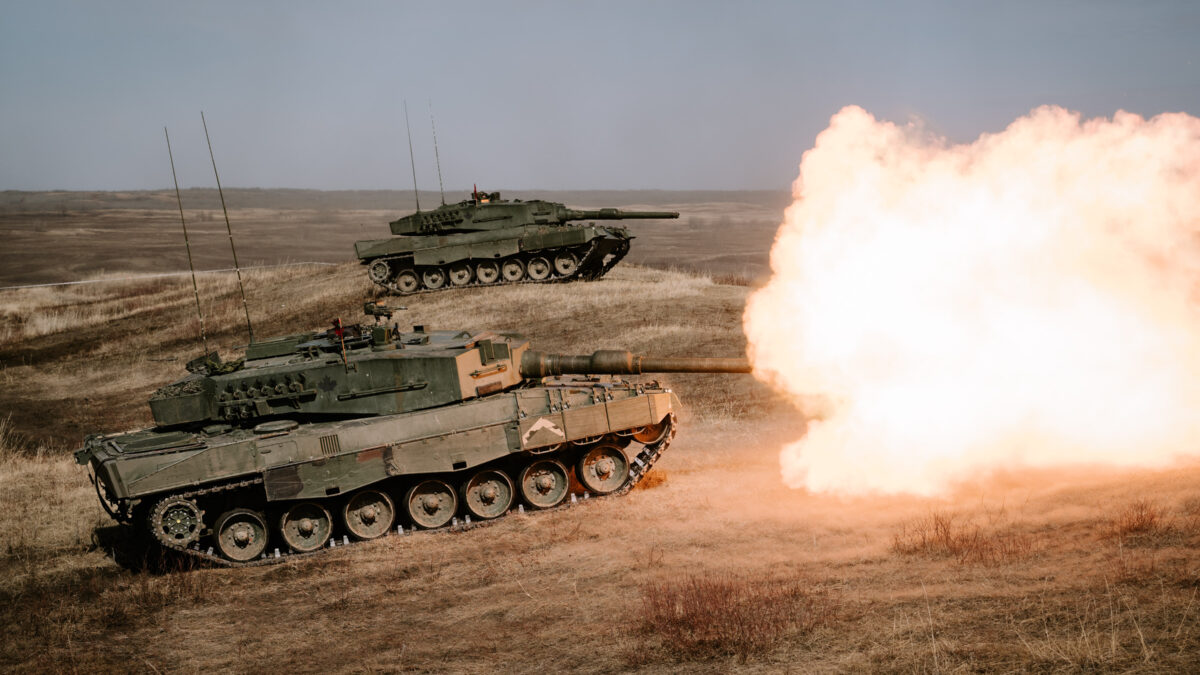 Brussels, Belgium witnessed the successful culmination of a visit by the Honourable Anita Anand, Minister of National Defence. During her time there, she actively participated in the thirteenth gathering of the Ukraine Defense Contact Group and engaged in discussions with North Atlantic Treaty Organization (NATO) Defence Ministers. Minister Anand, together with her Allied counterparts, delved into important topics such as the forthcoming NATO Summit in Vilnius, Lithuania, as well as NATO's ongoing endeavors to promote Euro-Atlantic security.
Minister Anand made a significant announcement, expressing Canada's intention to dispatch a squadron of 15 Leopard 2 tanks, accompanied by supporting personnel and equipment, to Latvia. This deployment, forming part of Operation REASSURANCE, is scheduled to unfold in the following months, with the tanks, initial supporting personnel, and equipment anticipated to arrive by Fall 2023. The complete team of approximately 130 personnel is expected to be in place by spring 2024.
"Canada's support for Ukraine is unwavering, and our commitment to the NATO Alliance is ironclad. Canada's additional military aid to Ukraine will help the Armed Forces of Ukraine defend itself against Russia's illegal and unjustifiable invasion. In addition, the deployment of a Canadian Army Tank Squadron to Latvia demonstrates Canada's continued commitment to Latvia's security, and the collective defence of NATO. As a founding member of NATO, Canada will continue to step up with concrete contributions to protect our Allies," stated the Honourable Anita Anand, Minister of National Defence.
The Canadian Army Tank Squadron will join the multinational enhanced Forward Presence (eFP) Battle Group in Latvia, spearheaded by Canada as the Framework Nation since 2017. This strategic move will significantly bolster the Battle Group's military capabilities. Through this announcement, Canada reaffirms its commitment to the implementation of the Canada-Latvia Joint Declaration from June 2022, which entails collaborating with Latvia and NATO Allies to generate and position forces in order to elevate the eFP Battle Group Latvia to a combat-ready brigade.
Within the framework of the NATO Defence Ministers' Meeting, the Allies engaged in conversations regarding their ongoing support for Ukraine, emphasizing the establishment of conditions that pave the way for the country's long-term military success and a fortified partnership with NATO. Furthermore, they underscored the necessity of ensuring adequate defense production. The Ministers renewed their commitment to NATO's solidarity and unity in response to Russia's unlawful and unwarranted war, while emphasizing the timely and effective assistance extended to Ukraine, in collaboration with the industry.
During her time in Brussels, the Minister also met with the following individuals:
Norway's Minister of Defence, Bjørn Arild Gram. Both ministers signed the Enhancement of Bilateral Defence Co-Operation Memorandum of Understanding (MOU) between Canada and Norway, which aims to enhance defence cooperation between the two countries in several areas, such as strategic surveillance and situational awareness in the Arctic; the implementation of the Women, Peace and Security agenda; climate and security; training and education; space activities; cyber security; and defence science and technology.
Latvia's Minister of Defence, Ināra Mūrniece, in a follow-up to their May meeting in Ottawa, Minister Anand reinforced Canada's commitment to implementing the Joint Declaration to augment Canada's leadership of the battle group in Latvia.
Representatives from Allied nations contributing to the eFP Battle Group Latvia. Representatives discussed steps to reinforce the Battle Group in line with NATO's reinforced deterence and defence posture.
Representatives from Estonia, Germany, Latvia, Lithuania, and the United Kingdom. The representatives reinforced eFP participating nations' commitment to the defence of NATO's Eastern Flank and advanced the alignment of the Framework Nations' approaches to implementing their commitments.
Sweden's Minister of Defence Affairs, Pål Jonson. Minister Anand reiterated Canada's support for Sweden's accession to NATO without delay.
Italy's Minister of Defence, Guido Crosetto. The Ministers discussed areas of bilateral collaboration, including the eFP Battle Group Latvia.
North Macedonia's Minister of National Defence, Slavjanka Petrovska. The Ministers discussed contributions to the eFP Battle Group Latvia and the situation in the Western Balkans.
Finland's Defence Minister, Antti Kaikkonen. The Ministers discussed Finland's recent accession to NATO and how Canada and Finland can continue to work together to bolster Euro-Atlantic security.
Related posts