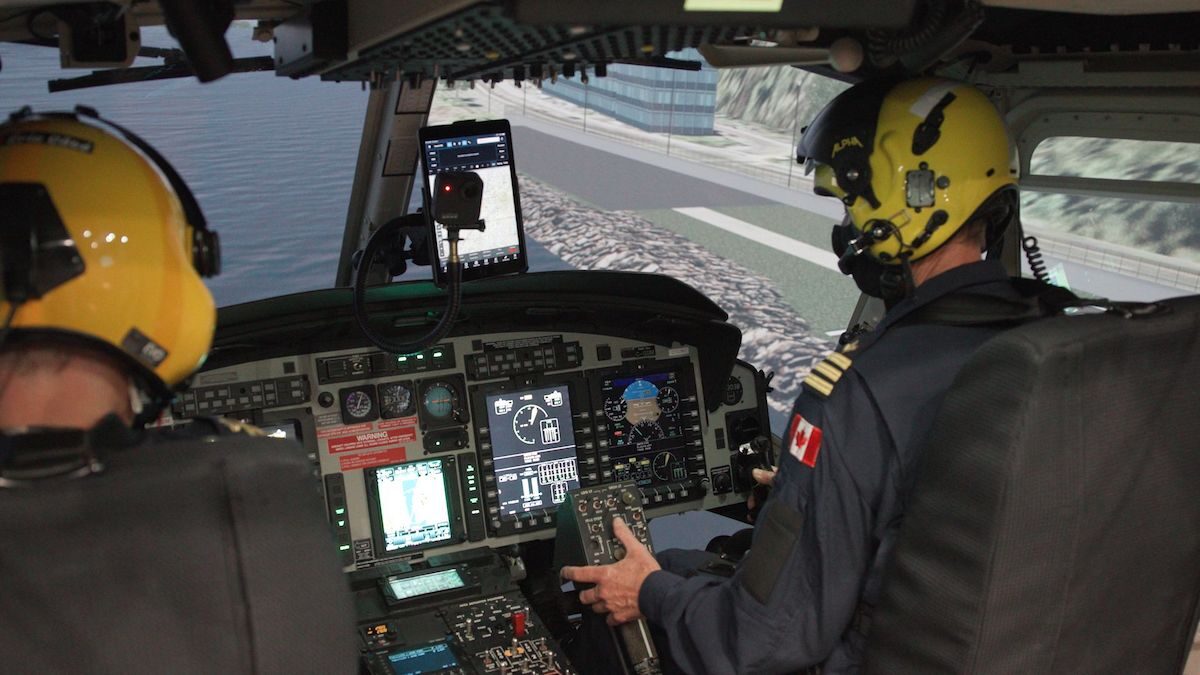 CAE delivers new full-flight helicopter simulator to the Canadian Coast Guard
Marcello Sukhdeo, July 16, 2021
2 min

read
2912
On July 14, the Canadian Coast Guard accepted the delivery of a new full-flight helicopter simulator from CAE Inc. The $17M contract was awarded in February 2016 to CAE to design and build the helicopter full-flight simulator as part of the Canadian Coast Guard's Fleet Renewal Plan.
"Through the Canadian Coast Guard's Fleet Renewal Plan, we're ensuring our members have the best available equipment both in training and on the job," said Bernadette Jordan, Minister of Fisheries, Oceans, and the Canadian Coast Guard. "The new full-flight simulator is cutting-edge technology that will be used to safely train our Coast Guard helicopter pilots, providing a realistic and immersive training environment. Congratulations to everyone at CAE who have contributed to the design and construction of this remarkable simulator."
The Coast Guard operates a fleet of 22 aircraft – 15 light lift and 7 medium-lift helicopters – located at nine bases across Canada. These helicopters and pilots provide support to ships engaged in critical maritime work including aids to navigation, environmental response, icebreaking operations, and in support of search and rescue as needed.
These helicopters are often required to operate in challenging and harsh conditions including landing on icebreakers at sea, operating in remote coastal areas, and in the Arctic, as such the pilots need expert training. The new full-flight helicopter simulator from CAE will help with this need.
"We are pleased to deliver on our commitment to provide the Canadian Coast Guard with their first-ever full-flight simulator and a first of its kind helicopter simulator in North America," said France Hébert, CAE Vice-President and General Manager, Defence & Security Canada. "CAE's 3000 Series helicopter simulator will play a key role in ensuring the Canadian Coast Guard are trained and well prepared through highly realistic virtual helicopter simulations in a safe environment. Safety and security are at the heart of what we do, and we are proud to provide the Coast Guard with the most advanced helicopter simulator ever developed to ensure the safety of their crews."
According to a news release, the simulator is equipped with a revolutionary roll-on/roll-off cockpit conversion system and will provide training on the Coast Guard's two different helicopter types, making it a first of its kind helicopter simulator in North America.
The new simulator will be based at the Transport Canada Training Centre at the Ottawa International Airport, where helicopter pilots will be able to complete their training.
"…This highly innovative and advanced simulator will significantly enhance the pilots' ability to train for a wide range of missions specific to Coast Guard operations," said Mario Pelletier, Commissioner of the Canadian Coast Guard. "I congratulate CAE and its workforce for delivering this innovative training tool that pushes the boundaries of creating a realistic and safe training environment for helicopter pilots."
Related posts