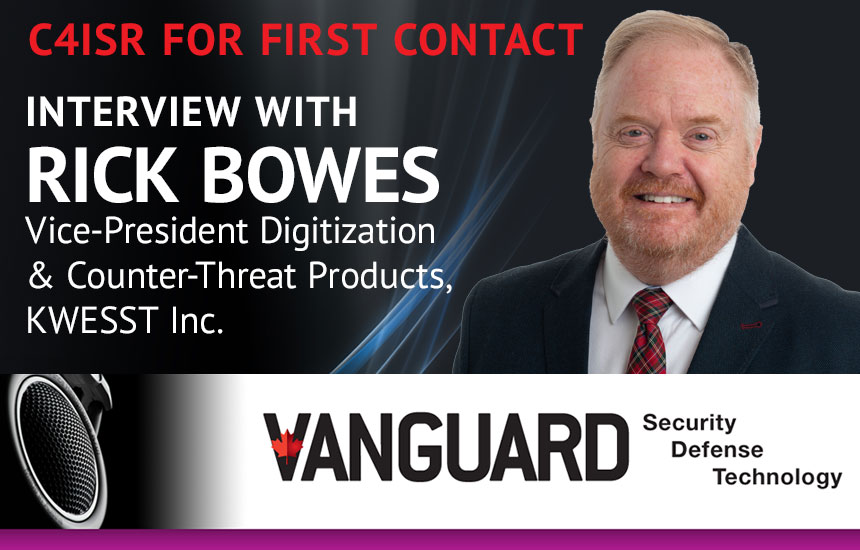 C4ISR for First Contact
Vanguard Staff, January 23, 2023
1 min

read
1401
How can digitization be used to provide a tactical edge? That's the question we answer in the latest episode of the Vanguard Podcast. Host J. Richard Jones sits down with Rick Bowes, Vice-President Digitization & Counter-Threat Products, KWESST Inc. to discuss C4ISR and first contact. Rick had a distinguished career as a senior officer in the Canadian Army, retiring in 2003 as a Lieutenant Colonel. He is a graduate of Royal Military College of Canada and served in various operational and staff roles in the Canadian military and on secondment to the British Army. Since retiring from the military, Rick has held various senior roles with defence contractors such as General Dynamics Canada, DRS Technologies Canada (now Leonardo DRS), ATCO Frontec, and ADGA Group Inc. KWESST develops and commercializes proprietary next-generation technologies that deliver a tactical advantage for military, security forces, and personal defence.
In this episode:
What are the key challenges affecting Land C4ISR development today?
What is KWESST doing differently?
What does modularity and flexibility mean for KWESST?
What were the lessons learned for KWESST in developing a dynamic fires capability for the US Marins Corps?
What does the Internet of Things mean for the battlefield?
How does KWESST evolve its C4ISR offerings into the Public Safety and Critical Incident Management market?
And more!
Related posts