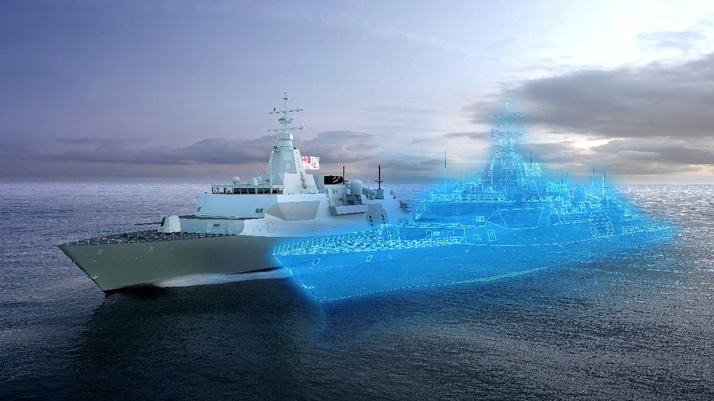 BAE Systems launches Visualization Suite for CSC in Ottawa
Marcello Sukhdeo, November 27, 2020
2 min

read
3683
The acquisition of Canada's new frigates – 15 Canadian Surface Combatants (CSC) – has moved one step closer yesterday. At its offices in Ottawa, BAE Systems opened the first Visualization Suite for CSC. BAE Systems is using 3D visualization suites across its three Global Combat Ship programs in Canada, the UK, and Australia. The 3D visualization suite was pioneered by BAE Systems in the UK for the Type 26 program in transforming how ships are designed.
According to a release from the company, the visualization technology will transform the way warships are designed, built, and delivered for the Royal Canadian Navy. It points out that by using technology to create a virtual prototype and "Digital Twin" will enable a deeper understanding of the vessel and the experience of those serving on board before manufacturing commences.
In attendance to mark this occasion and taking a tour of the suite were Minister of National Defence Harjit Sajjan and Commander of the Royal Canadian Navy Vice Admiral Art McDonald.
With this technology, there is the ability to have a fully detailed view of the ship's design from any angle or area. This will help with inspection and examination of equipment and systems quickly and easily, which is beneficial in the "maturing and ensuring design, and in supporting the program's prime contractor, Irving Shipbuilding, as it plans for build."
"Our engineers are able to mature design across countries and time zones, working together with our partners and customer to create the right ship for Canada," according to the news release. "The Canadian Surface Combatant is being designed to meet Canada's unique needs and will deliver immense economic benefits in Canada from across the program team. Our visualization technology promotes efficiency, quality, and safety in the CSC program for the Royal Canadian Navy and the Government of Canada."
For CSC, Irving Shipbuilding is the prime contractor who will build the ships at their Halifax Shipyard, Lockheed Martin Canada leads the design team with BAE Systems as ship designer.
Related posts