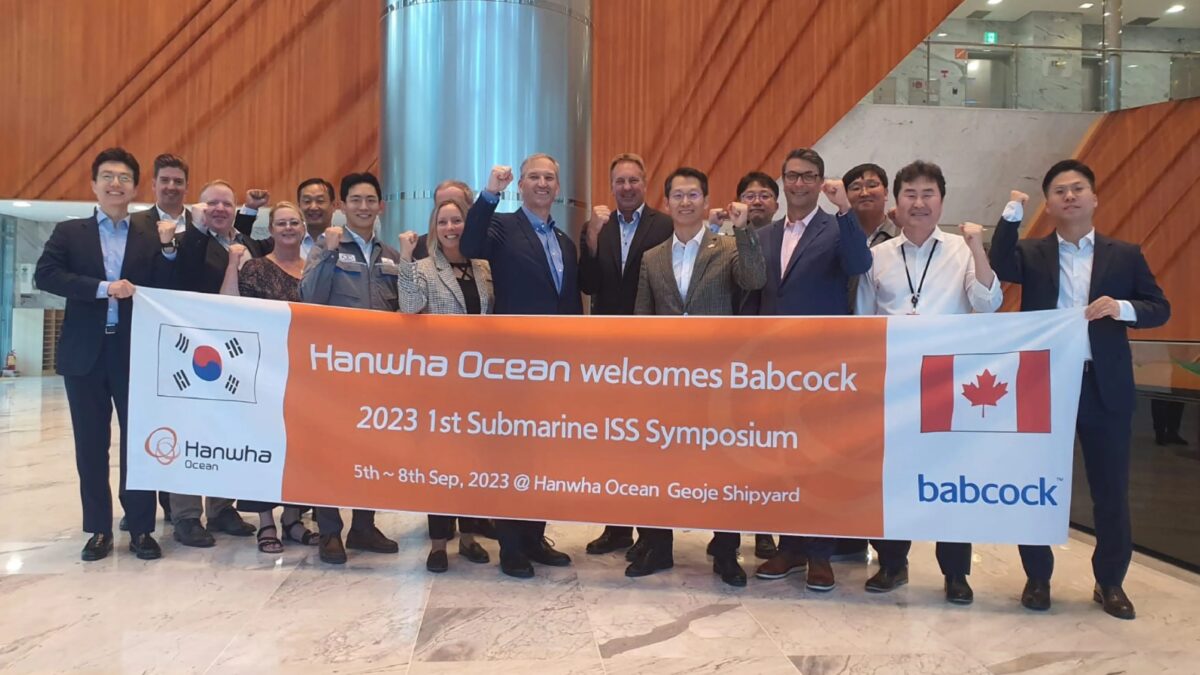 Babcock Canada and Hanwha Ocean Co-Host International Symposiums on Submarine In-Service Support
Michael Kasaboski, September 24, 2023
3 min

read
679
Babcock Canada, a renowned global leader in submarine support, is actively participating in a series of bilateral symposiums focused on in-service support for submarines, in collaboration with Hanwha Ocean.
Babcock holds a prestigious position as the foremost authority in submarine sustainment within Canada and serves as the primary member of Team Victoria-Class. Since 2008, Canada has entrusted Babcock, in conjunction with its industry partners from Team Victoria-Class, with the crucial responsibility of providing essential in-service support for the Royal Canadian Navy's fleet of Victoria Class submarines.
"At Babcock, we are committed to delivering the best possible support to our customers. This commitment includes drawing upon international expertise and experience to improve the through-life support of critical assets that are vital to Canada's sovereignty and national defence. The bilateral submarine sustainment symposiums we are conducting with Hanwha Ocean will promote the sharing of sustainment best practices between both organizations and further reinforce our commitment to supporting the Royal Canadian Navy's current and future submarine programs," expressed Keith Cunnane, Babcock's VP of Marine and Mission Systems.
Formerly known as DSME, Hanwha Ocean plays a significant role as a key provider of third-line maintenance, repair, and overhaul services for the Republic of Korea's conventional diesel-electric submarines. This includes overseeing multiple simultaneous third-line dockings in the Naval Ship Area of the Geoje Shipyard. Furthermore, Hanwha Ocean enjoys a well-deserved reputation as an esteemed leader in submarine design and construction.
"Hanwha Ocean, as the absolute leading company in South Korean submarine industry, will share with Babcock our experience, knowledge, infrastructure, and ecosystem in submarine industry not only MRO but also new building. This is Hanwha Ocean's history how we built a miracle from a submarine backwater 30 years ago to a major actor in the global submarine market. The Submarine In-Service Support Symposium will serve as a cornerstone for further strengthening the two companies' cooperation in the future, as well as for enhancing our understanding of the Canadian ITB (Industrial and Technological Benefits) policy and continue cooperation in the international submarine market," explained Sungkyun Jeong, Hanwha Ocean's SEVP of Naval Ship International Business.
The inaugural event in this series of international symposiums took place in early September 2023, where a team of specialists in submarine sustainment from Babcock, under the leadership of Keith Cunnane, Vice President of Marine and Mission Systems, visited Hanwha Ocean and other critical components of the Korean submarine sustainment industry. The symposium provided an invaluable platform for both prominent maritime organizations to exchange their respective knowledge, accumulated experience, and optimal approaches in the realm of submarine sustainment.
These international submarine sustainment symposiums represent a significant development in the enduring partnership between Babcock and Hanwha Ocean, a partnership that has recently been further solidified through the signing of a Technical Cooperation Agreement. Additional initiatives to facilitate the exchange of best practices in submarine sustainment are already being planned for the upcoming fall season.
Related posts