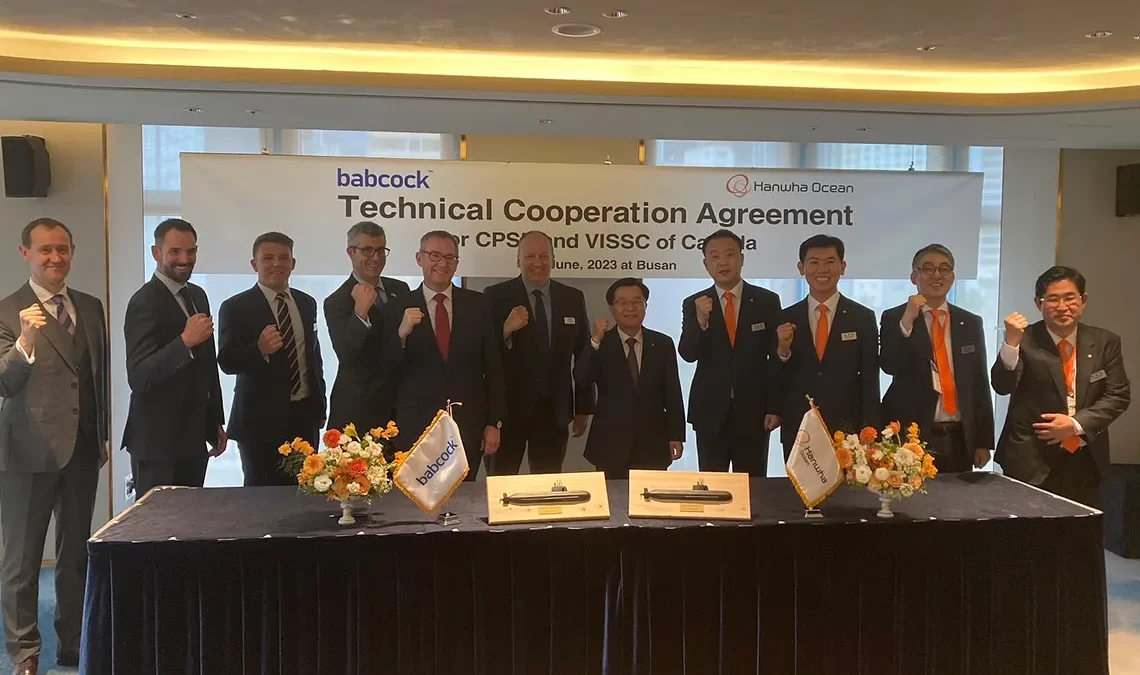 Babcock and Hanwha Ocean Enter Technical Cooperation Agreement for Canadian Patrol Submarine Project
Vanguard Staff, June 7, 2023
2 min

read
1010
Canada's Department of National Defence established the Canadian Procurement Strategy for Submarines (CPSP) to conduct research on acquiring the next generation of submarines for the country.
Through this Technical Cooperation Agreement, two prominent maritime organizations will combine their respective capabilities in shipbuilding and submarine maintenance to support the CPSP and the ongoing Victoria In-Service Support Contract (VISSC).
Babcock, a renowned global specialist in the maintenance, modification, and lifespan extension of operational submarines, provides support to the Canadian, UK, and Australian Navies. Meanwhile, Hanwha Ocean, previously known as DSME, utilizes its exceptional expertise in design, construction, and logistics support. Babcock has been actively involved in providing support and ensuring the longevity of Canada's Victoria Class submarines since 2008.
"The CPSP will play an important role in modernizing the Royal Canadian Navy's defence capabilities. Our collaboration with Babcock will enable us to support the Royal Canadian Navy by delivering advanced, reliable, and highly capable submarines that meet Canada's needs," conveyed Yong Ook Lee, Executive Vice President and Head of Naval Ship Business Unit, Hanwha Ocean.
The agreement was formalized at the International Maritime and Defence Exhibition (MADEX) in Busan, South Korea, with John Howie, Babcock's Chief Corporate Affairs Officer, and Mr. Yong Ook Lee, Executive Vice President and Head of Naval Ship Business Unit at Hanwha Ocean, signing on behalf of their respective organizations.
"As a world leader in submarine sustainment, this agreement enables Babcock to build on our longstanding relationship with Hanwha Ocean and combine both organizations' extensive experience on the Canadian Patrol Submarine Project," said John Howie, Chief Corporate Affairs Officer, Babcock.
This agreement solidifies Babcock's dedication to supporting the current and future maritime programs of the Royal Canadian Navy. It follows a Memorandum of Understanding (MoU) signed in 2022 between Babcock and Hanwha Ocean to collaborate on integrating systems for forthcoming vessels.
Related posts