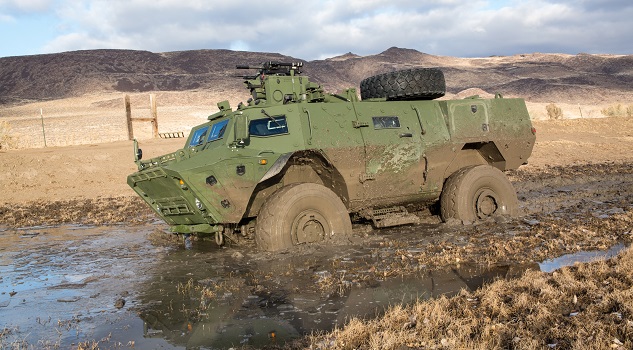 2nd Canadian Division first to receive new TAPVs
Stewart Downing, April 12, 2016
0
5 min

read
768
A fleet of 500 Tactical Armoured Patrol Vehicles (TAPV) will be distributed to seven Canadian army bases and 24 units across Canada in the next 17 months.
The TAPVs, built by Textron Systems Canada Inc., experienced some schedule delays, and fielding of the TAPV is anticipated approximately two years later than originally planned. The army expects to declare full operational capability by mid-2020, following training of all operators, and completion of user trials and exercises confirming operational readiness.
"This delay has allowed the contractor sufficient time to improve certain aspects of the design, thereby providing a better and more reliable vehicle to the army," according to a press release from the armed forces.
The 2nd Canadian Division will be the first formation to operate the TAPV, which will be part of a High Readiness Training Cycle culminating in Exercise Maple Resolve 2018.
"The Army has closely followed the testing of this vehicle. We currently have over a dozen Canadian Armed Forces (CAF) personnel participating in testing activities, and they are relaying very positive feedback," said Brig. Gen.S.M. Cadden, Chief of Staff Army Strategy, "We are looking forward to fielding the TAPV to units."
The vehicles will be delivered in two variants: general utility and reconnaissance. The only differences between variants are their internal design and certain pieces of equipment.
The reconnaissance variant will be fielded to armoured reconnaissance squadrons, infantry reconnaissance platoons, and the Royal Canadian Armoured Corps School.
A notable feature of the TAPV is its very high level of protection and survivability against enemy threats, which includes improvised explosive devices, explosively-formed projectiles, and anti-armour weapons. The army said the Textron Systems vehicle far exceeds the army's essential requirements for protection levels.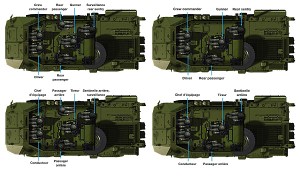 In addition to offering a higher degree of protection, the vehicle will be highly mobile. It is designed to effectively travel long distances on both roads and cross-country terrain. At just under 18,597 kilograms in weight, this light armoured vehicle can perform a wide variety of roles and tasks, including reconnaissance and surveillance, security (patrolling and escort), command and control, and armoured transport of personnel and equipment. Four TAPVs can be transported simultaneously by a CC-177 Globemaster III, providing good strategic mobility.
The TAPV also comes with several innovative new features. Of particular note is the TAPV's remote weapons station, which allows gunners to aim and fire from the vehicle's interior. The remote weapons station comes equipped with both a 40-mm automatic grenade launcher and a C6 flex machine gun. It offers impressive observational capabilities, allowing crews to see at distances of up to 10,000 metres. In addition, it has been specifically designed to accommodate soldiers with all personal protective equipment.
The TAPV is based on Textron Systems' Commando series of vehicles, specifically the Commando Elite. Textron Systems describes the Elite models as "our most highly-protected and capable vehicles," and explains that it is "a more technologically advanced variation of the Commando and is engineered to meet the Canadian Army's demanding standards, including operability in both extreme cold and heat."
Leading up to fielding, there is an increased focus on establishing in-service support.
The in-service support will be provided under a somewhat different approach from other fleets. The CAF will continue to perform first- and second-line maintenance as typical, but otherwise, the TAPV fleet will be largely supported by the contractor, Textron Systems, along with their subcontractor Rheinmetall Canada. Textron Systems will run an equipment management team, and be the main point of contact for technical problems. The contractor owns the spare parts, though a stock of 60 days will be held by the CAF. The contract with Textron Systems is performance-based and is designed to motivate Textron Systems to maintain good reliability and fleet availability. Additional information on the in-service support approach will be provided to the CA in the coming months.
"Textron Systems is fully committed to providing Canada with the most mobile, survivable, and reliable vehicle in the world today," said Textron Systems Vice President of Land Vehicles Mike Gelpi. "We look forward to getting the vehicles in the soldiers' hands in the very near term."
Construction of new TAPV barns is underway at 4th Canadian Division Support Base Petawawa, 2nd Canadian Division Support Base Valcartier, and 5th Canadian Division Support Base Gagetown, and will begin shortly at 3rd Canadian Division Support Base Edmonton.
Operators and technicians will receive initial cadre training shortly after vehicles are delivered to their location. This initial training is being developed by the contractor, Textron Systems while follow-on training will be provided by the CA training system.
TAPV maintenance publications will be modernized with an interactive electronic technical manual (IETM). Accessible via an easy-to-use interface resembling Microsoft Internet Explorer, the IETM will simplify the work of technicians by making manuals and procedures readily accessible via laptop. The IETM will also make updates instantly available.
The TAPV fleet will be the first army vehicle fleet to have a health and usage monitoring system (HUMS). This HUMS includes sensors throughout the vehicle that record key data and provide information to assist with maintenance and fleet management.
The program has experienced some schedule delays, and fielding of the TAPV is anticipated approximately two years later than originally planned. This delay has allowed the contractor sufficient time to improve certain aspects of the design, thereby providing a better and more reliable vehicle to the Army.
The project office in the Department of National Defence`s Assistant Deputy Minister (Materiel) is overseeing the contractor's testing and qualification activities which are currently more than 50 percent complete and planned to be finished by May 2016.
Related posts