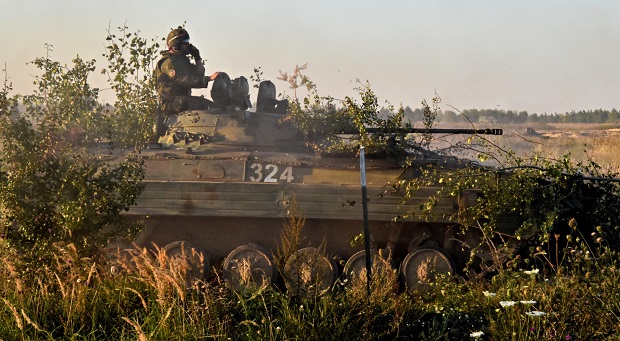 Russian aggression prompts Canada to extend Ukraine mission
Stewart Downing, March 6, 2017
0
3 min

read
413
Canada will continue to send soldiers to Eastern Europe in order to train Ukrainian troops for two more years in the face of continuing Russian military aggression in the region.
The extension of the Canadian Armed Forces' Operation Unifier to the end of March 2019 was announced by Foreign Affairs Minister Chrystia Freeland and Defence Minister Harjit Sajjan announced Monday in Ottawa.
The mission's original deadline was March 31st this year.
"The Government of Canada is committed to Ukraine and the Ukrainian people as they work to build a more secure, stable and prosperous country, and Canada continues to be at the forefront of the international community's response to Russian aggression in Ukraine," said Sajjan.
"Ukraine is a very important partner to Canada and we will continue to support its efforts for democracy and economic growth," Freeland told reporters today.
In an interview with CBC News, Freeland also warned that Canada and its allies should be wary of Russian destabilizations efforts.
A number of articles have appeared in pro-Russian Web sites which alleged Freeland's maternal grandfather was a Nazi Collaborator in Ukraine during World War II. Asked by reporters is she thought this was part of the Russian government's attempts to discredit her, Freeland replied: "I think that it is also public knowledge that here have been efforts, as U.S. intelligence forces have said, by Russia to destabilize the U.S. political system."
"I think that Canadians, and indeed other Western countries, should be prepared for similar efforts to be directed at us," she added. "I am confident in our country's democracy and I am confident that we can stand up to, and see through, those efforts."

Ukraine continues to be gripped by civil conflict brought about by Russian-backed rebels. The battles, concentrated on its eastern border with Russia, have claimed the lives of more than 10,000 people since its inception in 2014.
"Operation Unifier represents a critical piece of our multifaceted support to Ukraine. It supports the professional development of the Ukrainian Armed Forces, who are essential for deterring aggression and creating a safe space for the sustainable social and economic development that the people of Ukraine want and deserve," she added.
Related content
200 Canadian troops head for Ukraine
Op Unifier turns the page on a busy year of training Ukrainian Armed Forces
Canadian ground troops in Europe get new commander
With today's extension, Canada's allies and the Government of Ukraine, and the CAF will continue to support the professional development and enhance the capabilities of the Ukrainian Armed Forces through a range of training activities such as:
Small team training
Explosive ordnance disposal
Military policing
Medical training
Logistics system modernisation
Since 2015, Canadian, American and British troops have been deployed on rotation to Ukraine to the country's soldiers after Russia annexed nearby Crimea in 2014. So far, Canadian soldiers have trained some 2,600 Ukrainian soldiers in weapons use, military maneuvers, field medical procedures, explosives disposal, and others, as part of Operation Unifier.
Back in February when some 200 Canadian soldiers from the 1st Battalion, Princess Patricia's Canadian Light Infantry based in Edmonton were sent to Ukraine to replace Canadian troops who have been stationed in the country since August last year, it was not yet known if Operation Unifier would be extended.
The Ukrainian government had asked for an extension of the mission.
Related posts