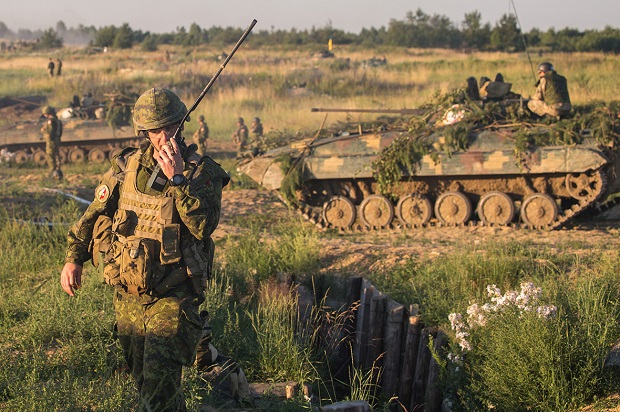 By: Lt.-Col. Wayne Niven
The beginning of a new year provides an opportunity to look back on the significant accomplishments of Joint Task Force – Ukraine (JTF-U), Canada's military training mission in Ukraine, in 2016.
Last year witnessed the activation of the Logistics Modernization line of effort, as well as the first delivery of Canadian-led flight safety training in Ukraine.
The Logistics Modernization line of effort ran seven courses this year, training over 140 Ukrainian combat support specialists on topics like sustainment, convoy operations, and vehicle recovery procedures. Our logistics instructors will hit the ground running in 2017, with a Train-the-Trainer course planned for January.
In November, JTF-U conducted its first Flight Safety course in Ukraine at the Lviv Military Academy. The three-week course was specifically tailored to meet the needs of the Ukrainian Armed Forces (UAF), and included a combination of classroom instruction, panel discussions, and a practical crash exercise scenario. A truly multinational effort, the course was led by Canadians but also had participation from aviation safety experts from Poland and the Czech Republic. Thirty-four UAF officers were trained on the first iteration of the course, with another course planned for February 2017.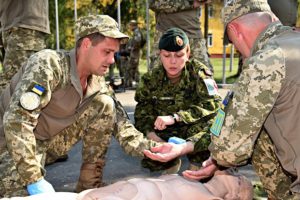 The previously-established lines of effort also saw continued progress. Through our small team training, we trained over 650 UAF soldiers in the areas of weapons and marksmanship, tactical movement, explosive threat recognition, communication, survival in combat, and ethics. This training was conducted through the Canadian contribution to the Joint Multinational Training Group – Ukraine. Canadian combat engineers delivered explosive ordnance disposal and improvised explosive device disposal training to over 120 Ukrainians this year. Our medical staff either directly delivered or mentored combat first aid training to nearly 800 soldiers, with the 100th Canadian-trained Ukrainian combat first aid instructor completing training in December.
With each course, we continue to build a knowledge base within the UAF to allow our Ukrainian colleagues to take on more and more of the instructor role themselves.
Finally, our Military Police personnel trained over 240 Ukrainians via Basic Investigative Techniques and Use of Force courses in 2016. From an institutional standpoint, Canada is playing an important role as co-chair of the Military Police Sub-Committee of the Multinational Joint Commission on Defence Reform and Security Cooperation in Ukraine.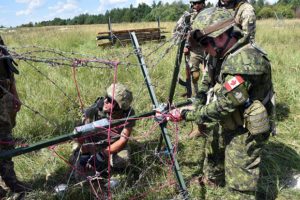 Our Ukrainian colleagues have been outstanding hosts, and JTF-U has made it a priority to connect with the local community. Under the lead of the Task Force Padre, JTF-U members have raised money for the family of a fallen UAF soldier, donated plastic bottles to raise funds for prosthetic limbs for UAF soldiers, and visited the Dzherelo Children's Rehabilitation Centre in Lviv. Additionally, our combat engineers located in Kamyanets-Podilsky have made their own local connection via weekly visits and donations to a local orphanage. These opportunities have been very rewarding for our soldiers, and will certainly be something we look to carry on in 2017.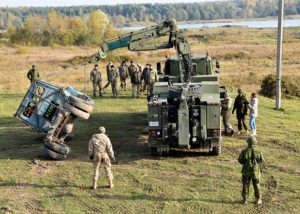 While some of our personnel will have the opportunity to spend the holidays in Canada, many will remain in Ukraine in preparation for a busy start to 2017. Our soldiers will provide continuity as we welcome new contingents from the US, Poland, and Lithuania in the New Year and continue to deliver high quality, relevant training to our Ukrainian hosts.
On behalf of all of the members of Joint Task Force – Ukraine, Regimental Sergeant-Major Smith and I wish everyone back home and those fellow CAF brothers and sisters deployed on other missions around the world a happy and safe holiday season, and all the best in 2017.
Lt.-Col.Wayne Niven, is commander of the Joint Task Force – Ukraine
Related posts