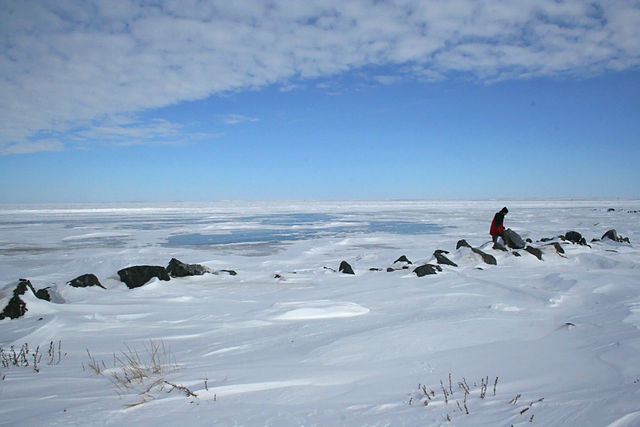 Meeting the challenges of the Arctic
Marcello Sukhdeo, April 23, 2020
0
7 min

read
431
Vanguard hosted its seventh annual ShipTech Forum on February 25 in Ottawa. About 200 members from the Canadian Coast Guard, the Royal Canadian Navy, industry, and other government departments participated in the one-day conference discussing key challenges, solutions, and best practices for the Arctic.
Coast Guard Programs and Challenges
The conference, which is held during the first quarter of each year, featured keynote speaker Mario Pelletier, Commissioner of the Canadian Coast Guard (CCG). Pelletier joined the CCG in 1989 as an engineer officer in the Quebec Region. He began working at headquarters almost a decade later and held several positions with increasing responsibilities including Director General, Fleet, Assistant Commissioner, Central and Arctic Region, and the Deputy Commissioner of Operations. In December 2019, he was appointed to his current position as the Commissioner of CCG.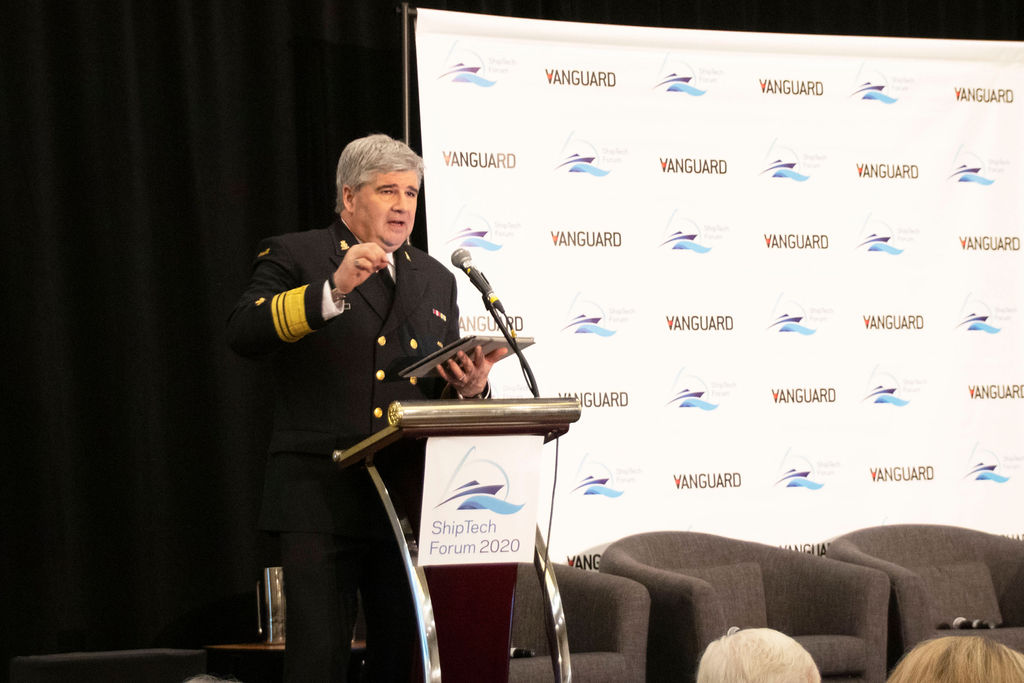 During his keynote presentation, Commissioner Pelletier focused on the current programs and strategies that the CCG is employing to maximize efficiency and preparedness to operate in the Arctic and maritime regions. He also shared the trends and challenges of Arctic operations and activities. Given the significant decline of ice coverage in the Arctic, the Commissioner explained that this is creating some difficulties and unpredictable situations to deal with. He said that shipping activities must keep abreast with this new reality and that the CCG is adjusting its fleet to meet the new demands in the region.
A growing trend is the increase of cruise ships in the Arctic region. "This is partially due to the reduction of ice in the region and the appeal of the Arctic for travelers," said Pelletier. There is also a growing number of adventurers visiting the Arctic, some are not well equipped for the harsh ice conditions, which is posing a challenge for the Coast Guard.
During the 2019 navigational season, 191 vessels (cargo ships, cruise ships, research vessels, bulk carriers, fishing vessels, pleasure crafts, and coast guard ships) completed 430 voyages in Canadian Arctic waters, a slight increase from previous years, with 27 vessels making full transits through the Northwest Passage.
The CCG operates a fleet of seven icebreakers in the Arctic from June to November each year. "Our fleet is aging but to be able to deliver on our core service mandate we need to adapt and keep up with the demand," he said. The Commissioner pointed out that progress is being made with the announcement last August by the Government of Canada to provide the CCG with six new icebreakers. There is also a fleet renewal plan for the construction of up to 18 new large ships for the CCG, which was announced in May 2019. This will include up to 16 new multi-purpose vessels to support light icebreaking, environmental response, and offshore search and rescue and two arctic and offshore patrol ships.
In the meantime, work is continuing on to extend the life of vessels for the CCG to enable them to meet their mandate.
Due to distance, weather, and limited infrastructure in the Arctic, the CCG faces several challenges in the region. Over 25 per cent of the global Arctic region is under Canada's control, which poses a great challenge for search and rescue operations. To help meet these challenges, the Coast Guard has 19 community-based auxiliary units across the Arctic with the aim to add three more this year. These units respond to about 20 to 25 per cent of the search and rescue activities each year in Canada. The CCG is also engaging 22 Arctic communities to grow the importance of Indigenous coastal communities and marine emergency response activities. Other ongoing programs include engaging with partners to ensure operational readiness, spillage, procuring equipment for recovery of oil and ice.
"There is no question that there are challenges, but we are well equipped to face them and to continue being creative to further advance our programs up North," said Pelletier.
Polar Fleet and Design Challenges
During his opening keynote, Ravi Kumar, Senior Naval Architect at Lloyd's Register Applied Technology Group focused on polar fleet and design challenges for future fleet. There are about 110 icebreakers worldwide that are less than 50 years old. These icebreakers can be categorized under:
Government Service – Coast Guard and offshore patrol mission icebreakers
Icebreakers for assisting shipping
Icebreaking offshore platform supply and stand by vessels
Icebreaking research re-supply vessels
On the commercial side, there are about 50 Arctic commercial ships of which 30 have been built since 2010 and include Arctic shuttle tankers, LNGC, container ships, bulk carriers, and module carriers.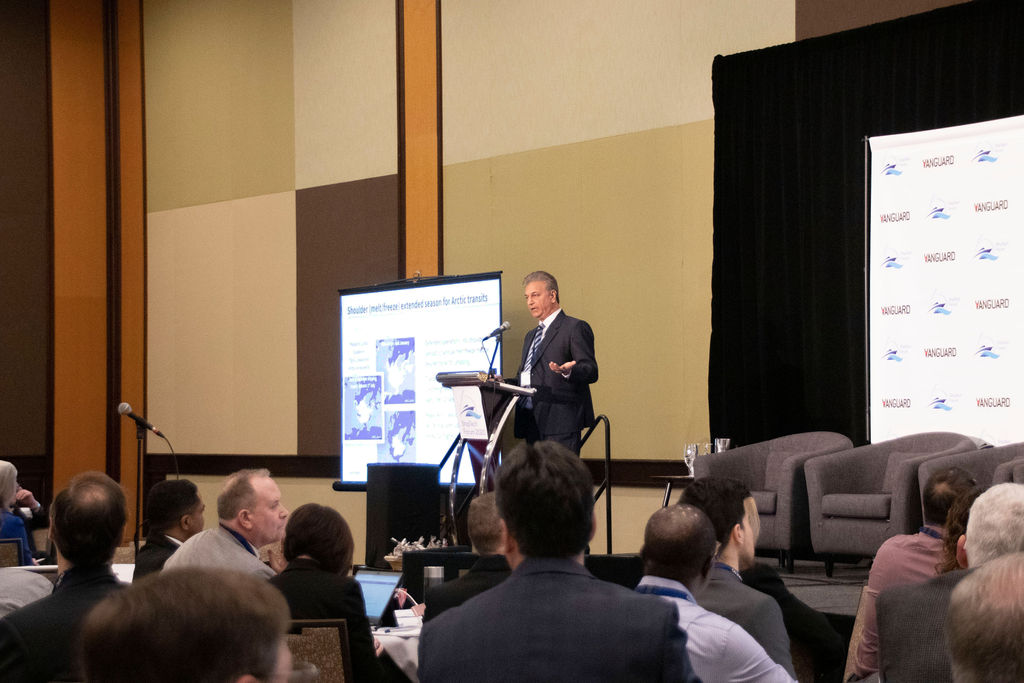 "The main activity of Arctic shipbuilding is happening in Asia," said Kumar. "The Russians, Koreans, Japanese, and Chinese are leading the shipbuilding of these vessels. The Chinese shipyards are investing more in Arctic shipping and updating their technology. If they are to keep this up for the next 20 years, they will be leading in Arctic shipbuilding."
"Canada is also active in building and designing ice-class ships," added Kumar. These are not icebreakers, but they have ice capabilities.
Most of the ship designs being used today are from Europe and South America. But with design comes challenges. One challenge is the uncertainty of ice loading for large ships. "We have the knowledge available of ice loads for smaller icebreakers, but for larger ships, we don't have the understanding of loading," said Kumar. The challenge here is as the ice gets thicker there is an exponential ice load increase which affects the structural arrangements, materials, and approaches to design.
The other design challenge is efficient structures for large Arctic ships. This involves the reduction of steel weight of the ships by having greater certainty of ice loads (ties into challenge one) and making improvements to the structural design by optimizing material distribution throughout the ship and using new lightweight materials.
The third challenge is energy efficiency. "This is a difficult challenge because icebreakers are not eco-friendly," said Kumar. By cutting back the power of engines to meet eco-friendly standards is significantly impairing ice going performance of ships employed in the Arctic. Research is ongoing in this area to optimize ships to become more energy efficient.
The final challenge that Kumar highlighted was the operational mode influence on design. The aim of designing a high specification icebreaker is to have it deployed all year round. "If you are using the icebreaker only in open water, you are not using it effectively and there is a penalty because you are paying too much for it," said Kumar. "That is why it's important for the designer to specified upfront what type of operational mode the ship will serve."
Vessel Performance, Innovation, and Climate
The conference also included three panel discussions on Improving Component and Vessel Performance, Made-in-Canada Innovation, and Tackling the Climate Crisis – How the Marine Sector Plays its Part.
Cathy O'Caroll, Global Campaign Director, Integrated Test & Evaluation at QinetiQ moderated the first panel, which comprised of speakers: Serge Carignan, Superintendent, Quality Engineering Test Establishment, DND; Capt(N) Jacques Olivier, Director Naval Platform Systems, RCN; and Tony Winter, VP, Project Delivery, Seaspan. Some of the key takeaways from this panel include optimizing systems for end to end capability life cycle, best specifications to use in systems, tailoring test evaluations, the use of technology like AR, VR, Cloud, and AI to help strengthen the interoperability between systems, and ship repair and refitting to extend a ship's lifespan.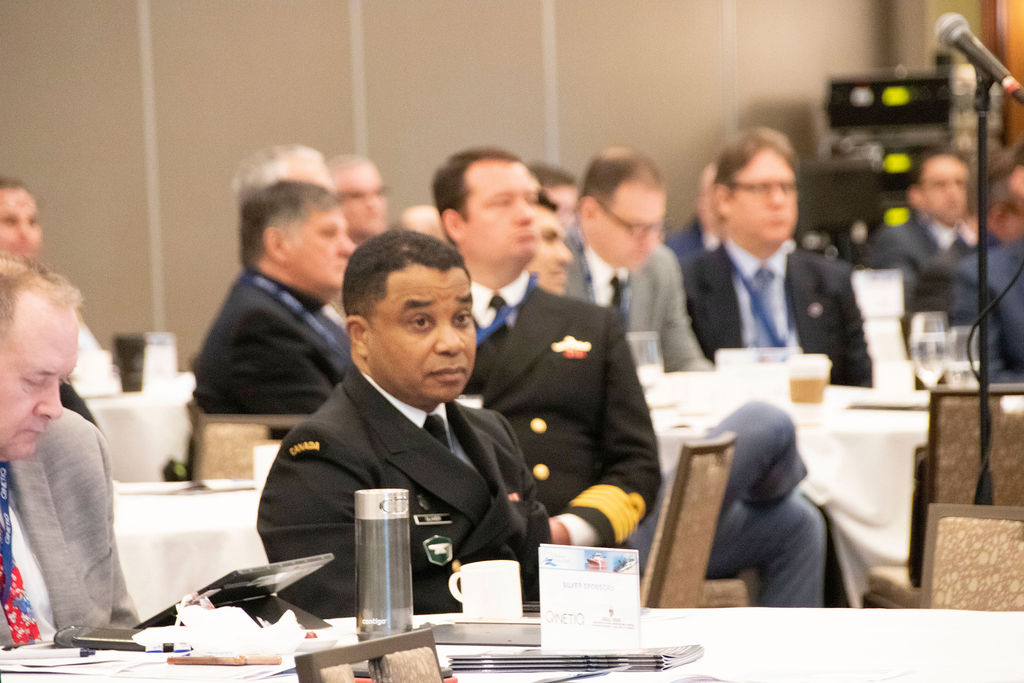 The Made-in-Canada Innovation panel was moderated by Jim Hanlon, CEO of Cove, with panelists Stewart Cramer, Chief Manufacturing Officer of Next Generation Manufacturing Canada; Matthew Douglas, Technology Transfer Officer from the University of New Brunswick, and Abigail Fyfe, Senior Research Development Officer, Marine RD&D of the Innovation Centre of Transport Canada. The panel discussed collaboration as a key to growing innovation within Canada. Research and development of new technology to support remote work, cybersecurity, and augmented reality is an important part of the innovation ecosystem. Clean marine is another vital area as governments around the world move to reduce carbon emissions to fit within the IMO's goals and guidelines.
The last panel of the event was moderated by James Bond, Director, Polar Research & Ice Class Ships, ABS and included Drummond Fraser, Arctic and Large Vessels, Design and Equipment Standards, Transport Canada; Mark Keneford, General Manager, Marine Solutions, Wärtsilä Canada Inc.; and Ryan Sookhoo, Director New Initiatives, Hydrogenics Corporation. They delved into the use of new technologies to reduce the impact on climate change. Vanguard's next ShipTech Forum will take place in the first quarter of 2021.
Related posts