ShipTech Forum, an annual one-day conference held during the first quarter of every year, has announced its keynote speaker, Mario Pelletier, Commissioner of the Canadian Coast Guard.
This event facilitates meaningful dialogue between industry, government, and military so as to provide stakeholders with the knowledge and share lessons learned from a technological perspective with the aim to showcase successful investments in cutting-edge technologies.
ShipTech Forum has been designed since its inception by Vanguard media to showcase emerging technologies, address a range of marine and shipbuilding matters, coastal operations and ship repair to provide both domestic and international growth opportunities.
Pelletier began working for the Canadian Coast Guard (CCG) in 1989 as an engineer officer in the Quebec Region. Almost a decade later in 1998, he joined headquarters where he held positions with increasing responsibilities. In 2011, he was appointed Director General, Fleet, a position which he held until the new organizational structure of the CCG took effect on October 1, 2012, when he became the Assistant Commissioner, Central and Arctic Region.
On June 1, 2015, Pelletier was appointed the Deputy Commissioner of Operations and received a Commissioner's Commendation in recognition of his strong leadership, commitment and high level of expertise and professionalism. He was appointed to his current position as the Commissioner of the Canadian Coast Guard on December 9, 2019.
Register to attend ShipTech Forum 2020 to keep abreast with innovative technologies, market trends, challenges, source solutions, and opportunities to place your organization at the cutting-edge of shipbuilding. To get an overview of last year's event, check out our article The Future of Shipbuilding in Canada.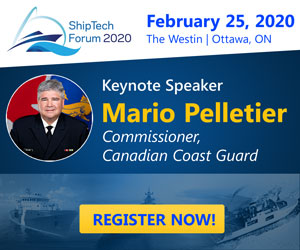 ShipTech Forum will take place on February 25 at The Westin in Ottawa. The early bird rate will expire tomorrow, January 3. Take advantage of this discount by getting your tickets today.