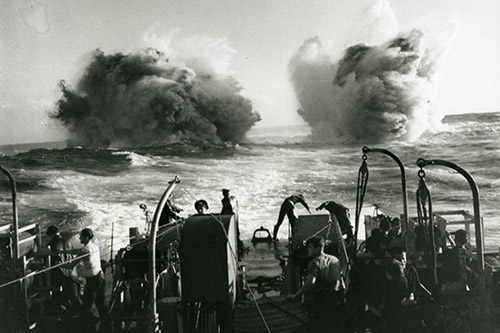 As the longest continuous battle of the Second World War, The Battle of the Atlantic was fought at sea from 1939 to 1945 for a total of 2,075 days. A greater portion of the burden of fighting fell on Canada, which entered the battle with six destroyers and 3,500 sailors, one third of which were reservists, and less than 40 merchant vessels.
Due to the war, a heavy shipbuilding effort was undertaken by Canada resulting in the Royal Canadian Navy becoming the third largest navy in the world. The RCN had over 400 warships, 400 merchant vessels, 95,000 sailors, including 6,000 members of the Women's Royal Canadian Naval Service, and employing 12,600 civilians in industry by the end of the war.
During the course of 2,075 days, Allied naval and air forces fought more than 100 convoy battles and performed as many as 1,000 single ship actions against submarines and warships of the German and Italian navies. But it was Canada's navy that was instrumental in turning the tide of the war, and by the end of the war had grown to become one of the largest in the world. The RCN destroyed or shared in the destruction of 33 U-Boats and 42 enemy surface craft. In turn, it suffered 2,210 fatalities, including nine women, and lost 33 vessels.
It was on that fateful day of September 3, 1939, when the United Kingdom and France declared war on Germany, the passenger ship the S.S. Athenia was torpedoed by U–30, while on patrol in the northwestern sector of Ireland. The ship was carrying 1,103 passengers, including approximately 500 Jewish refugees, 469 Canadians, 311 Americans, 72 British, along with 315 of her crew. However, 98 passengers and 19 crew members were killed. Fifty–four were Canadian, 28 were American, including Canadian Stewardess Hannah Baird. The first casualties of WWII were Canadian and American civilians.
The Battle of the Atlantic was a contest between the Western Allies and the Axis powers (particularly Germany) for the control of Atlantic sea routes.The battle ended on May 8, 1945. To commemorate this special event, Stéphane Ouellette, President and Chief Executive Officer, Merchant Navy Commemorative Theme Project (MNCTP), issued a special news release on the observance of the 76th Anniversary of the End of Action in The Battle of the Atlantic.
Related posts