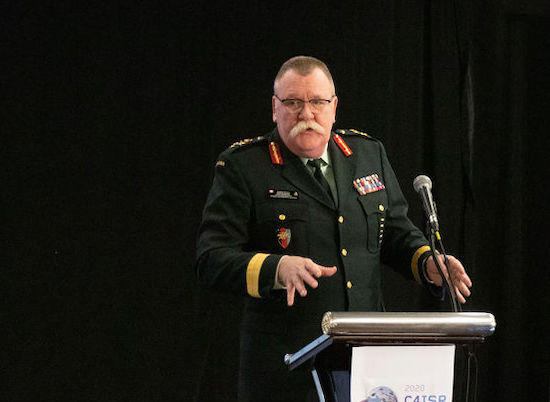 Managing the deluge of data
Marcello Sukhdeo, February 14, 2020
0
6 min

read
411
The information domain is one of the fastest-growing areas within military operations. It's quickly becoming the central theatre of strategic competition, especially in this digital age, where it's easy to come under cyberattacks from numerous global hostile players.
How we fight
Given this precarious situation, the "How We Fight" initiative is what helps define how the Canadian Armed Forces will compete, contest, confront, and combat adversaries across all domains including the information domain. But success in pan-domain operations will require pan-domain situational awareness (PDSA), explained BGen David Anderson, Director General Readiness, Canadian Joint Operations Command to over 200 attendees at C4ISR and Beyond 2020 conference. This, he said, will require an adaptation of culture, structure, processes, and governance as it relates to AI, data management and emerging technology.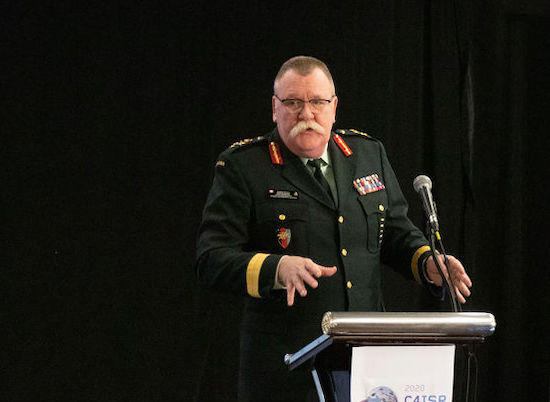 BGen Anderson went on to say that capability is not the issue, but fusing awareness of what's happening across all six domains – land, air, sea, cyber, space and information – is a massive problem.
So, how do we create a synchronized and holistic approach to managing the deluge of data that will accompany pan-domain operations so that the CAF can adapt and remain operationally relevant? A germane question – and one that keeps BGen Anderson up at night.
"I lay awake at night thinking about PDSA and how we do that. I'm not sure what that looks like," he said. But one thing for certain, "we are protected from the deluge of data right now because we are acquiring data and can't send it anywhere." But when this does arrive, he said, we're all going to drown unless we've developed the means to adapt to it. To do so we need to "become digitally aquatic" and "swim in the deluge of data."
He pointed out that we need to understand our relationship with data, as data in and of itself can completely disable you. He highlighted an example of an organization that harvests four terabytes of data every second and only uses four gigabytes of it. If data is to be good in and of itself, you have to be able to do something with it. That is why we need to develop a relationship with data and the governance structure of it. And this will bring us to the tipping point of using sufficient data to make linkages that are inherent to create PDSA.
The NDOIC
One way to help solve this problem is through the National Defence Operations Intelligence Centre (NDOIC), which ultimately will become the forcing function. The new NDOIC will be comprised of the Canadian Joint Operations Command, Canadian Special Operations Forces Command, space and cyber personnel housed in one building for the fusion of operations and plans for the CAF. This will probably become the heart of the centrality of data and artificial intelligence, according to BGen Anderson.
He pointed out that the CAF is spending a lot of money purchasing 4th and 5th generation capabilities. With these capabilities come massive amounts of data that enable us to win. But there is a shortage of linkages and the ability to process the data. "The NDOIC is a great opportunity to force us to achieve the true benefits of big data."
Through an ecosystem that reaches across the six domains and external partnerships of other governmental departments, Allies, partners, industry, academia, and the public, all fused through digitization by employing AI, analytics, cloud, IoT, automation, the NDOIC will become a capability and not a building – a capability that will help the CAF adapt and remain operationally relevant in years to come.
The legal, intelligence and ethical perspectives of surveillance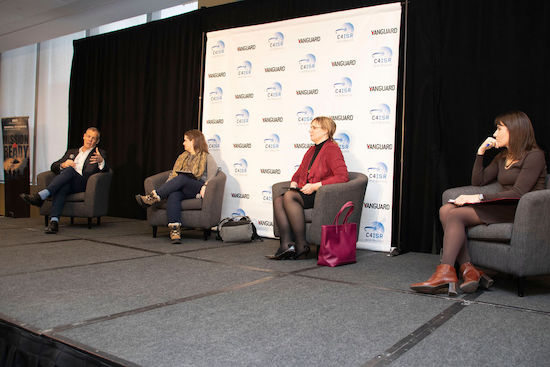 In continuing the theme of data, a panel comprising of LGen D. Michael Day (Ret'd), Jessica Davis from Insight Threat Intelligence, and Leah West and Stephanie Carvin from Carleton University spoke about the legal and ethical implications of the collection of data. Data needs to be considered through the lens of legal and ethics. The world is leaving Canada behind on how it thinks about the legal structures and consent as it relates to data. "If industry, academia, and government don't work together on this and we don't have leading voices, we will continue to fall further and further behind," said Day. "This issue has not received a lot of attention and needs to be thought of as not three separate components but as a complete whole."
Digitization
People often get confused between the meaning of digitization and digital. Digitization, as Jodie Wallis from Accenture explained, is about taking artifacts and converting them into something that can be stored and retrieved digitally, whereas digital is changing the fundamental way an organization operates. Wallis, BGen Anderson, Michael Daly from Raytheon and Christiana Cavazzoni from DND discussed the topic of digitization during the event.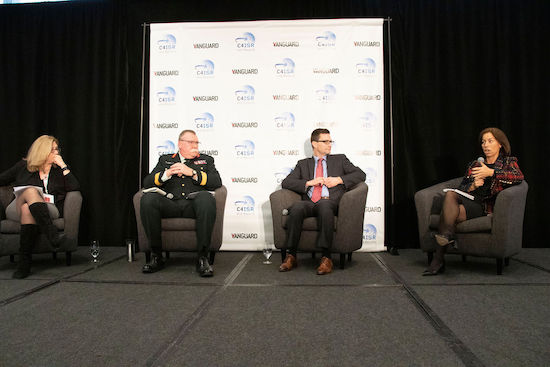 To push digitization forward, change needs to start at the top with a leader who is not afraid to put himself on the line to ensure that the processes and conversion are made to digitize. It also requires thinking differently about how to evolve with the next generation of technology.
JEDI
Sharon Woods, a member of the Senior Executive Service (SES) who currently serves as the Director and Program Manager for the Cloud Computing Program Office (CCPO) in the U.S. Department of Defense (DoD), Office of the Chief Information Officer, presented a keynote on JEDI. The CCPO is responsible for the acquisition and execution of the Joint Enterprise Defense Infrastructure (JEDI) program. JEDI is DoD's pathfinder, General Purpose enterprise-wide cloud initiative that will provide the foundational commercial cloud technologies to support the warfighter.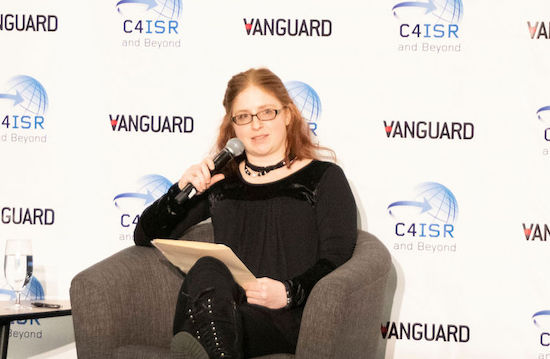 Woods delved into four reasons she believes that led to JEDI becoming an initiative for the U.S government: mission focus, leadership, tools of legitimacy, and personnel. She shared lessons of JEDI and how that by keeping on the path they are able to move forward with the program.
Converting tactical data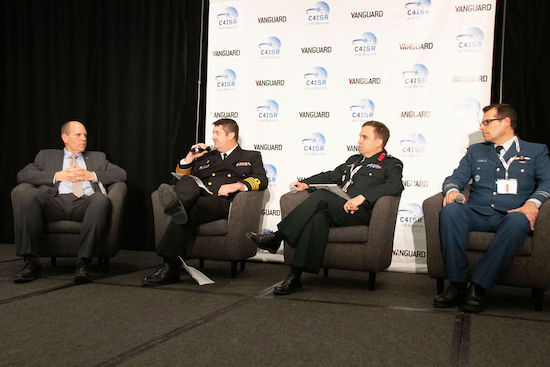 Another panel headed by Col Richard Fawcett (Ret'd) discussed how the Air Force, Army, and Navy are converting tactical data into operational effect. Members of the panel included: Maj Jason Furlong, Project Director, RPAS, Directorate of Air Requirements 8, Royal Canadian Air Force; Capt(N) Sheldon Gillis, Director Naval Requirements, Royal Canadian Navy; and Col Yannick Lemieux, Director Land Command Information, Canadian Army. The importance of tactical data cannot be overstated in the operations of the CAF. Data collected from various sensors are fused into different systems to help make decisions. As the CAF becomes more reliant on data, data analytics is becoming more increasingly important in operations.
Agile, resilient network
The final panel for the day focused on delivering an agile, resilient network to enable C4ISR readiness. MGen Earl D. Matthews (Ret'd) of Verodin, Inc. led the discussion with Eric Lariviere from DND, Leslie Bayford from Pleora, and Bruce Carruthers from CORD3 Innovation Inc. They focused on how to factor the user experience, adding to networks without compromising security, safely improving connectivity and designing systems to gain maximum efficiencies.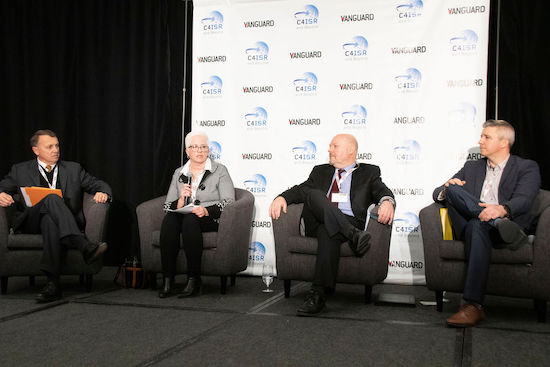 The next C4ISR and Beyond event will take place in January 2021. Stay tuned to Vanguard over the next few months for more from the conference in video and article format. For timely updates and news as it relates to C4ISR, join our C4ISR LinkedIn group.
To see a slideshow of C4ISR and Beyond 2020, go here.
Related posts