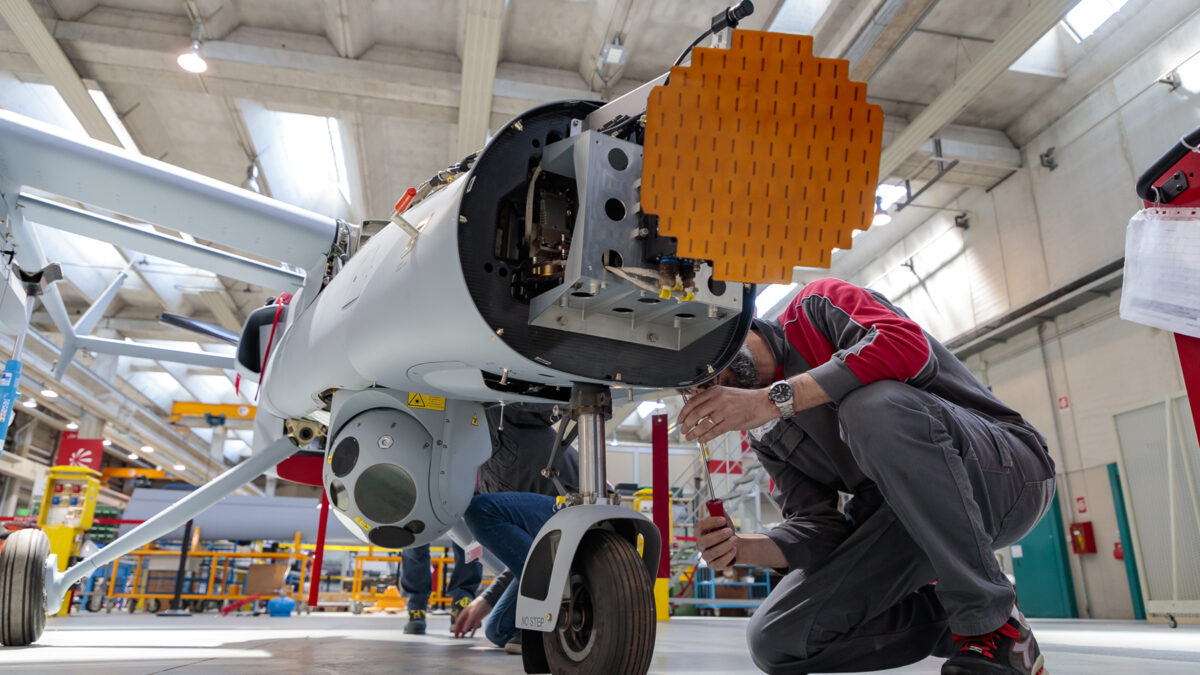 Leonardo's Falco is the complete package for uncrewed air surveillance
Vanguard Staff, May 9, 2022
3 min

read
2054
The international aerospace giant is putting forward its expertise in remotely piloted air systems (RPAS) to support surveillance and environmental protection missions worldwide.
Many nations employ aircraft equipped with surveillance capabilities as part of their approach to national security. They are used to prevent pollution, protect marine life, and support missions such as police investigations, search and rescue incidents, humanitarian efforts and civil emergencies. Now, with the utility of uncrewed aircraft becoming increasingly relevant to these missions, operators are looking to evaluate long-range, long-endurance remotely piloted aircraft to supplement their manned operations.
Italian-headquartered international technology company Leonardo, which has a substantial onshore presence in Canada, is one of the companies putting forward its aircraft systems for this essential duty. Leonardo is notable as being one of the few manufacturers in the world that can deliver end-to-end solutions for uncrewed surveillance, including the aircraft itself, its mission system and ground control station, as well as a full range of advanced in-house sensors. Indeed, one such sensor is already on-course to be employed by Transport Canada for its NASP airborne surveillance program, with Leonardo's multi-domain Osprey radar having been selected to equip one of the program's iconic red Dash-8 aircraft, supporting environmental missions such as oil spill detection.
Leonardo will be drawing on its Falco family of remotely piloted aircraft systems, which presently includes the mature and proven Falco Evo for Heavy Tactical surveillance missions and the new Falco Xplorer, a larger system designed to deliver persistent, multi-sensor strategic surveillance. The company has extensive experience operating Falco family aircraft in a range of environments, including in the harsh equatorial African climate, where Leonardo has delivered over 10,000 hours of uncrewed surveillance flights. A recent highlight saw the Falco family supporting missions in the Mediterranean as part of the European Frontex agency's maritime surveillance project in 2018 and, today, the uncrewed aircraft are flying in support of the Italian Ministry of Interior.
The largest of Leonardo's available platforms, the Falco Xplorer, combines a payload capacity of 350kg, more than 24 hours flight time and a satellite communications capability for beyond-radio-line-of-sight operations, all within a relatively light 1.3-ton maximum take-off weight (MTOW). Leonardo has noted that this attractive mix of awareness, reach and persistence is generating substantial interest from potential international customers.
A role that is regularly cited as ideally suited to the Falco Xplorer is maritime and littoral surveillance, which benefits from the Xplorer's ability to stay on-station for long periods while equipped with a formidable suite of surveillance capabilities. Customers have access to advanced Leonardo sensors including the SAGE electronic surveillance system and the Gabbiano T80 Ultra-Light radar. This radar packages all of the proven technology and advanced modes of the company's internationally successful Gabbiano family into a lightweight multi-mode, multi-mission package, making is ideally suited for uncrewed surveillance missions.
All these advanced sensor systems can be managed by a lean ground crew at a dedicated ground control station using Leonardo's powerful uncrewed mission system. The mission system is designed to reduce the workload of operators while providing a complete situational awareness picture, limiting the number of personnel required to fly the aircraft and manage its payloads.
The Falco Xplorer is about to enter the market. It successfully completed its maiden flight in January 2020 and embarked on further flights that year; qualification has since proceeded at-pace even during pandemic conditions, with lab-based testing and data analysis pulled forward to fill the gaps left by difficult flight-testing conditions. The next step for the Xplorer will be for it to achieve military certification. In support of this goal Leonardo currently has the RPAS deployed at the Italian Air Force base in Trapani, where it is undergoing test and evaluation work with the support of the Italian Air Force.
Related posts