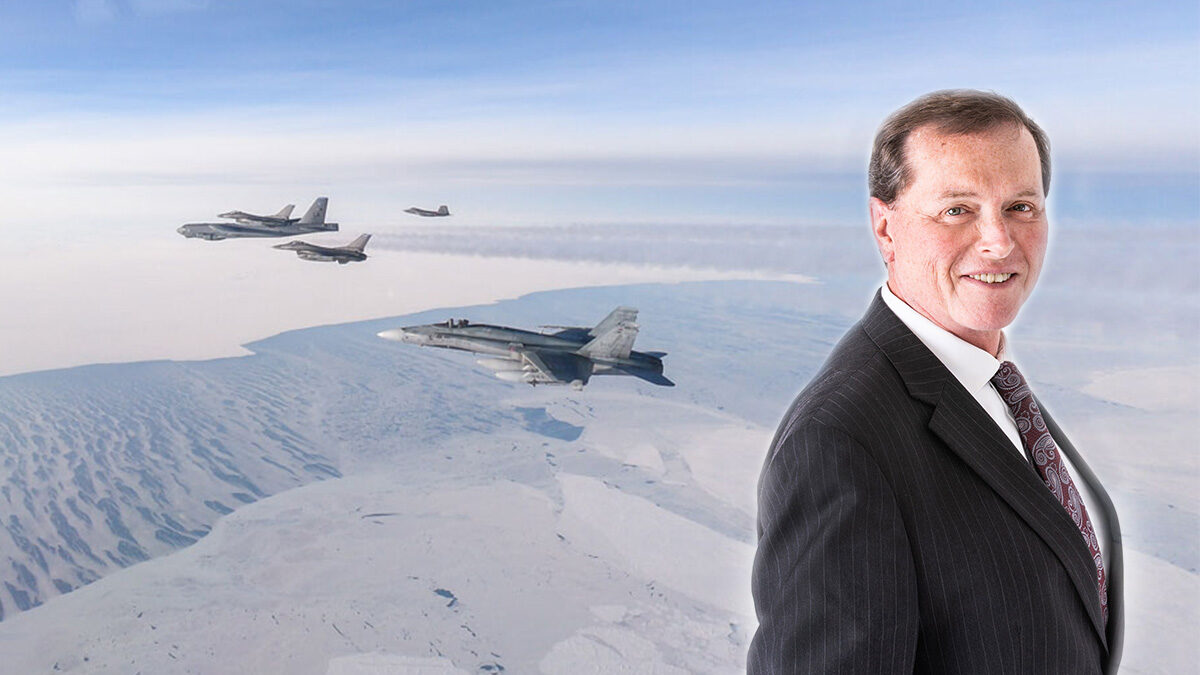 In a tumultuous world with rising global temperatures and rapidly changing geopolitical factors, the question of clean energy and how to ensure its stable supply is one that is universal. For Canada, Arctic sovereignty is also a matter of primary concern. Joseph McBrearty, president, and CEO with Canadian Nuclear Laboratories (CNL) recently sat down to speak with the Vanguard team about his thoughts on developing the Arctic using small modular reactors (SMRs). CNL is Canada's premier nuclear science and technology organization, actively engaged in helping to solve some of the world's biggest problems by developing nuclear technology for peaceful and innovative applications. With their unique expertise, they are restoring and protecting the environment, advancing clean energy technology, and making medical breakthroughs.
Q – Let's delve right into talking about the potential for SMRs for northern and remote applications, sovereignty in Canada's Arctic regions, indigenous engagement with respect to communities' energy ambitions and expanding trade routes in the north due to climate change. There is a need, and maybe you can give us a little bit of background around SMRs.
A – SMRs are very similar to the nuclear reactor technology that exists today. Just as a basic overview, your uranium is mined, it's processed, it's put in fuel pellets and undergoes a process called fission. That produces heat, and then that heat is generally used to turn water to steam and then to drive a turbine for electricity. That's the basic concept of nuclear reactors themselves. Small modular reactors are basically that, just small. These types of reactors have existed already for about 70 years.
This technology is not brand-new technology. Most of it is adapted from previous technologies. The principal SMR technologies that we look at for these small modular reactors are either pressurized water reactors, boiling water reactors, high-temperature gas reactors or even there's some thought of using molten salt reactors. The technology really is something. It's a heat source to generally produce steam or to produce a hot gas at the end of the day which will produce power either through electricity from a turbine or through district heating or process heat for a city, a town or, in the case of the Arctic, a possible remote outpost.
Q – Climate change is having a much bigger impact in the north than people realize.  What needs to be done to prepare for the changing landscape, both physically and geopolitically?
A – That's a really good question. It's a complex. But at the end of the day, the north is going to open up, and I think there's numerous studies that show the Arctic region is probably heating up two to three times faster than the rest of the planet. As the northwest passage opens up countries become very interested in the access to natural resources that are believed to be vast underneath the Arctic ice cap, and nations are looking at it from a national security and an energy security perspective to be able to potentially tap those resources.
The melting of the Arctic ice cap and the receding of the Arctic ice, especially in the summer months, will give rise to increased trade, shorter trade routes from the Pacific to the Atlantic, and that will be a huge driver to increase trade routes in the north. As a result, you need to have some sort of infrastructure. In addition, to maintaining a viable trade route, its ports, its ability to have navigation, whether you have air-sea rescue type things. Those are all areas which I think are important as climate change impacts the Arctic.
This will open up the Arctic and remote communities more to potential industrial or economic empowerment for the peoples living in the Northern latitudes.
Q – So, what do you see as the major challenge to be able to adopt nuclear technology in the north?
A – I don't think it's a technical challenge. I think technology is well-understood. I think the biggest challenge is to have folks understand why it is a viable power source. There is a long history of folks not necessarily trusting nuclear power. The ability to go in and have conversations and listen to the residents in remote Inuit communities, to understand what their concerns are, I think that's one of the most important things. It's incredibly important to be able to get buy-in from folks when we would like to put one of these things in their neighborhood for instance
In Ontario 60% of power is coming from a nuclear reactor, and that's forgotten. The reason it's forgotten is the US and the Canadian industries operate safely, so they don't get into the news, which is a good thing. I think it's public perception.
Q – How are you going to address this with potential host communities?
A – That's a very good question, and the answer is communication, communication, communication. That's what it takes. It takes listening, and it takes us to understand that the timelines that we operate to are not the timelines that indigenous and Inuit communities operate to.
Q – I recently read that you did a feasibility study for Department of National Defence (DND) on the potential to provide power to Garrison Petawawa. Are you able to share some of the findings with us?
A – Sure. Just as a little, I would say as background, we are located in Chalk River, Ontario, which is on the Ottawa River, about 120 miles northwest of Ottawa. Our neighbor is Garrison Petawawa, which is one of the major military facilities here in the Ottawa Valley. Over the last year or two, we've done a feasibility study with the DND to see if we could provide clean, reliable power to the Garrison Petawawa and allow DND to actually start to meet its net zero goals by 2050 and be able to prove that this technology could not only produce electricity, but produce low temperature heat for district heating of buildings, etcetera. Many of the large government installations use district heating or single boiler-fed heating to provide heat for their facilities in the winter.
This study, done as part of our hybrid energy system optimization model, showed that the use of nuclear energy could reduce carbon emissions by the base fairly significantly over the next few years. The idea is, while the Garrison receives most of its power from hydroelectric power today, the peak power demands are higher than what the grid can provide, and so they provide peak shaving or peak loading by using fossil fuel power. We were able to show that and combining some solar power input, we could reduce the emissions by between 20 to 50% overall. That would be a huge advantage for DND as they work to get to net zero.
Q – Is there a website that our readers can look at to find more information about some of the things you've expressed?
A – That's www.cnl.ca. If you go to that site, I think you'll get a good overview of not only the science and technology advances that we are working on as Canada's National Nuclear Laboratory, but we are also conducting the largest environmental clean-up mission ever in Canada, and that expands across four provinces and territories here in Ontario, Manitoba, Quebec and into the Northwest Territories. A large portion of the work that we do today is environmental cleanup.
Q – Just one closing question. You've touched upon three key points that I think every Canadian is interested in. One is the climate. Two is clean energy, and the other is security. given all the things that you're doing and involved in, what do you think are the important steps for Canada to ensure that it's on the right path to achieve its ambitious climate change, energy, and security goals?
A – First, I think is policy. Second is funding, and third is having the intestinal fortitude to go through and make some difficult decisions. Climate change is, I think, the generational issue that we have to face, but not everybody agrees on how we get to net zero. I think what you're seeing around the world, and in Canada as well, is a real push that nuclear energy is a major part of that, but I think, from the government perspective, you need to look at it as an all-of-the-above strategy, whether you're looking at wind, solar, geothermal, nuclear, hydroelectric power, and you're going to need some fossil fuels for the foreseeable future. All those need to be in the mix. You have to be able to fund them appropriately, but you also have to have the political support for all of them and have the scientific understanding based on the fact of what you have to do to achieve your goal.
Q – It certainly does help to improve the standards of life for everybody. Small modular reactors definitely seem like they hold significant value and opportunity to support our energy ambitions, independence, and Arctic sovereignty.
A – This is something I've been part of for 40 years, the nuclear world. If I didn't think it was valuable and important, I wouldn't have been in it for so long.
---
Would you like to listen to this interview in audio form? Be sure to check out our complete podcast catalogue at vanguardcanada.com/category/podcast or search for us on Spotify.
Related posts