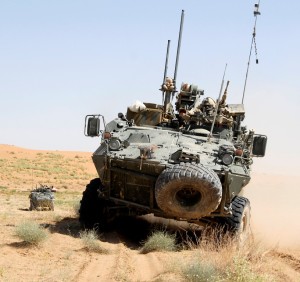 GDLSC awarded contract for Coyote replacement
Marcello Sukhdeo, November 18, 2014
0
1 min

read
437
General Dynamics Land Systems-Canada (GDLS-C) has been awarded a $287 million contract to outfit 66 upgraded Light Armoured Vehicles (LAV) with a new reconnaissance and surveillance system.
The announcement was made at GDLS-C's facility in London last Thursday and will see the integration of a surveillance suite that features radar, thermal, day and image intensification sights, a laser rangefinder and GPS, as well as upgrades to the vehicle's firepower and mobility. With the LAV III, soldiers had to exit the vehicle to use the radar equipment. The upgraded LAVs will include a 10-meter retractable mast and operator control stations.
"The contributions of our military forces are always a source of pride for Canadians," said Diane Finley, Minister of Public Works. "It is fitting, I think, to know that the contract…will result in enhancements that will help protect the brave men and women of the Canadian Armed Forces."
The LAV 6.0 OPV (Observation Post Vehicle) variant, also known as the LAV Reconnaissance Surveillance Systems Upgrade Project (LRSS UP), will replace the Canadian Army's remaining fleet of LAV II Coyote reconnaissance vehicles, which were originally delivered in the 1990s and have seen extensive service from the Balkans to Afghanistan.
"More than 20 years ago, we designed and delivered to the Canadian Army the Coyote vehicle which at the time was the best reconnaissance and surveillance vehicle in the world," said Danny Deep, vice-president of GDLS-C. "We are now privileged to deliver the next generation of advanced surveillance capability to the Canadian soldier."
Related posts