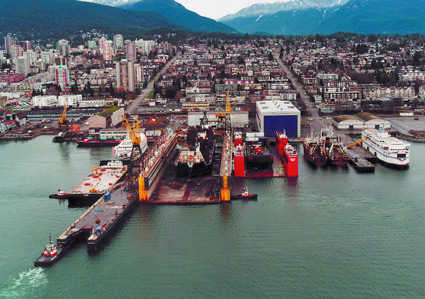 Seaspan's "Industry Day" draws more than 200 companies
Federman Rodriguez, September 24, 2015
0
2 min

read
338
More than 300 people representing over 200 companies attended Seaspan Shipyards' Western Canada Industry Day hosted in North Vancouver on September 23. During the session, current and potential partners and suppliers received an update on Seaspan's progress on its National Shipbuilding Procurement Strategy (NSPS) Non Combat package, as well as information on opportunities for suppliers to deliver the products, systems and services required for the construction of these vessels.
"Seaspan, in support of the Canadian Coast Guard and the Royal Canadian Navy, has embarked on many years of sustained shipbuilding on Canada's West Coast," said Brian Carter, President of Seaspan Shipyards. "As part of the process, we are continually looking to attract marine industrial companies with experience and competitive and innovative solutions to join our expanding supply chain. We are excited to meet and engage with these companies to describe our growing needs and learn of the role they could play on a number of our projects to ensure we are delivering the best vessels possible to our federal customers."
In October 2011, the Government of Canada awarded Seaspan's Vancouver Shipyards the right to build Canada's Non-Combat vessels for the Canadian Coast Guard and Royal Canadian Navy.
The Non-Combat vessels Seaspan is building under the NSPS include: three Offshore Fisheries Science Vessels (OFSVs), one Offshore Oceanographic Science Vessel (OOSV), two Joint Support Ships (JSS), one Polar Icebreaker, up to five Medium Endurance Multi-tasked Vessels (MEMTVs) and up to five Offshore Patrol Vessels (OPVs).
To date, Seaspan has awarded nearly $321M in contracts to 137 participating Canadian companies.
It is estimated that Seaspan's NSPS work will create 5000, direct, indirect and induced jobs over the next 20 years, produce almost $500 million per year in GDP for B.C.'s economy, and mean thousands of people will get the opportunity for an exciting new career in shipbuilding.
Related posts