Game Changer: Joe Armstrong, Vice President & General Manager, CAE
Marcello Sukhdeo, April 15, 2019
0
6 min

read
540
It was during the time he was undertaking his masters degree program that Joe Armstrong began his career in the Aerospace and Defence industry, some 20 years ago. "I had the good fortune of being in 'the right place at the right time' at the beginning of a joint Canadian Forces, Academia, and Industrial research program," he said. This research program was initiated to explore new concepts in advanced system design for the Royal Canadian Air Force (RCAF) by converging the fields of Human Factors Engineering, Aerospace Engineering, and Modelling & Simulation. It was the beginning of the CASE (Canadian Advanced Synthetic Environment) program.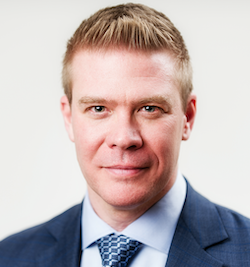 "I could not have asked or dreamed about a better opportunity to take my field of study, which was Cognitive Psychology, and apply it in an area that I had a lot of passion about for men and women who were serving our country," he added. For the past 18 years, he has been working to do just that through CAE Inc.
Joe Armstrong was selected as a Game Changer for the April/May issue of Vanguard. Here is the full interview with him.
What is your role at your organization today?
Today I'm the Vice President and General Manager for CAE Canada. I am responsible for CAE's Defence and Security business in Canada, which is critically important to the company since Canada is our home country.
What was your most challenging moment?
The largest challenges in my mind are always driven by the ability to bring people together in complex situations, align expectations, unify perceptions of a problem, and solve things together.
What was your "a-ha" moment or epiphany that you think will resonate most with our reader? Tell us that story.
My biggest epiphany was that EVERYTHING comes down to people and relationships. I am a firm believer that any technical solution can be solved with the right amount of time, space, and resources, but very little can be solved or accomplished if people are not aligned and engaged to reach a common objective.
What is the one thing that has you most fired up today?
The speed in which technology is advancing, and specifically, the ability to measure performance at both the system level and the human level and then interpret that data in an intelligent way. CAE is taking advantage of technologies and big data analytics to help make pilot training more effective and efficient. This is gratifying to see because I had spent quite a bit of time in my early career in the fields of Artificial Intelligence and Computation Human Performance modelling – a field that, at the time, I had great hopes for its broader application across the defence industry.
What is the best advice you received?
To always believe that any problem has a solution.
What is a habit that contributes to your success?
Focusing on relationships. Building them, nurturing them, and learning from them regardless of what level you establish them.
What people or organizations do you believe best embody the innovation mindset?
I have tremendous respect and admiration for people and organizations that never give up. Take Elon Musk and his companies, like Tesla and SpaceX, for example. I'm quite certain he probably heard "you can't compete in the car industry" or "access to space is not feasible for private industry" many times over the past decade, yet his companies continue to innovate and push the boundaries of what is possible.
How is your organization changing the game within your industry sector?
Most of what CAE does is help our customers in civil and military aviation develop and train pilots. As a company, each year we train more than 220,000 civil and defence crewmembers, including more than 135,000 pilots. This gives us unparalleled experience and know-how in creating proficient, well-trained aviation professionals. For militaries, in particular, our training systems' integration capabilities and focus on developing government/industry partnerships is pertinent to pilot training. A great example is what we have done over the past several years running NATO Flying Training in Canada (NFTC), which is one of the world's premiere military pilot training programs. Since CAE took over running the NFTC program more than three years ago, we have helped the Royal Canadian Air Force achieve record pilot production.
What are some of the biggest impediments to innovation in your industry sector?
The defence industry is stricken by government procurement processes that are too rigid and too focused on trying to eliminate risk, which stifles innovation and leads to timelines that are so long that what might have been innovative at one time is obsolete by the time it actually gets fielded. I would also say that a big impediment is that Defence is sometimes too shy of itself. In other words, the government/military and the defence industry do not openly share some of the amazing innovation that takes place in our industry, which over time will erode the desire and excitement of talented people wanting to work in this market.
How has innovation become engrained in your organization's culture, and how is it being optimized?
CAE has been around for more than 70 years now, and ever since Ken Patrick – a former Royal Canadian Air Force officer – founded the company in 1947, we have always had innovation and technology leadership in our DNA. Today, as a company focused on training, we are continually innovating to remain at the forefront of the training industry. Just last year, we launched a five-year internal research and development initiative called Project Digital Intelligence that will see us invest more than C$1 billion to transform our products and services to leverage digital technologies. We are creating solutions that involve big data, artificial intelligence, cloud-computing, cybersecurity and augmented/virtual reality, all of which can and will play a role in enabling integrated live-virtual-constructive training. One very recent example is the introduction of CAE Rise, which stands for Real-time Insights and Standardized Evaluations. CAE Rise leverages the wealth of "big data" that is gathered during simulator training sessions, and it provides the ability for instructors to deliver standardized training and objectively assess pilot competencies using live data. We first launched CAE Rise for civil aviation and have now introduced it to the military market to help enhance the efficiency of pilot training, which is even more critical right now as militaries face the challenge of pilot recruitment, training and retention.
What technologies, business models, and trends will drive the biggest changes in your industry over the next two years?
We are going to continue to see more long-term government/industry partnership in the sustainment and servicing of defence systems. I am a firm believer that a long-term partnering approach is the only way to impact capability. I'll add too that leveraging big data will continue to drive change. I know the term "big data" has the connotation of being the latest buzzword, but access to this data and using it to objectively address challenges will have a tremendous impact on efficiency and effectiveness in a range of disciplines.
What is your parting piece of advice?
Believe that any challenge can be overcome if you surround yourself with good people who are willing and committed to working together.
Related posts