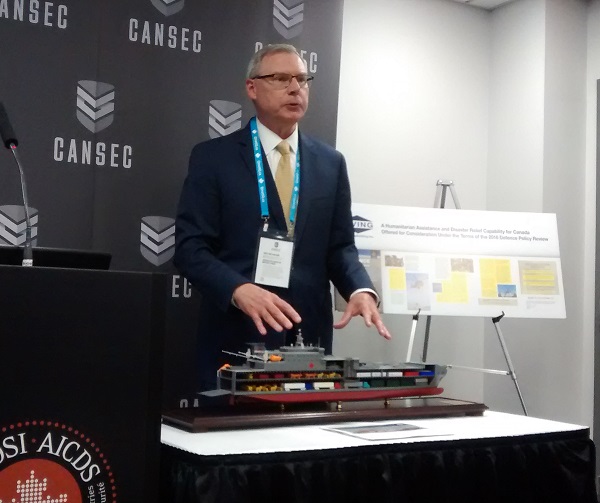 Irving pitches $300-million vessel to government
Stewart Downing, May 26, 2016
0
2 min

read
348
Irving Shipping Inc., believes the Canada's humanitarian relief efforts need a boost and it is proposing the government lease customised maritime support vessel from it approximately $300 million.
The government has not put tendered any contract for such a vessel yet, but Kevin McCoy, president of Irving, said his company is replying to the government's call to the public for suggestions to the ongoing Canadian defence policy review.
"This is not an unsolicited proposal," McCoy stressed during a press briefing at the CANSEC 2016 conference in Ottawa on Tuesday. "…this is in the context of the government's call for input for the defence policy review…they are asking what type of mission the military should respond to, what type of equipment they should get."
Irving calls the vessel a Maritime Support Ship. It is a 193-metre long vessel with a displacement of 21,000 tonnes. The ship is capable of hauling 14,000 tonnes of cargo, and can be tailored to carry, container vans, helicopters, landing craft, construction equipment, as well as supplies such as food, medicines and fresh water.
McCoy said Irving is sourcing the vessel from a partner but is not in a position to reveal who that partner is. He described the vessel as a "modern, five-year-old" converted in Halifax. It is powered by a twin screw, twin engine with roll-on/roll-off capability.
"The vessel can be loaded and sent off to any disaster area in the world within 48 hours," said McCoy.
Irving is proposing that the government lease the vessel for five years for under $300 million. That price will include the ship's crew of 37, as well as maintenance for the vessel.
McCoy thinks, Canada could use three MSSs.
The government has not yet responded to the proposal.
Related posts