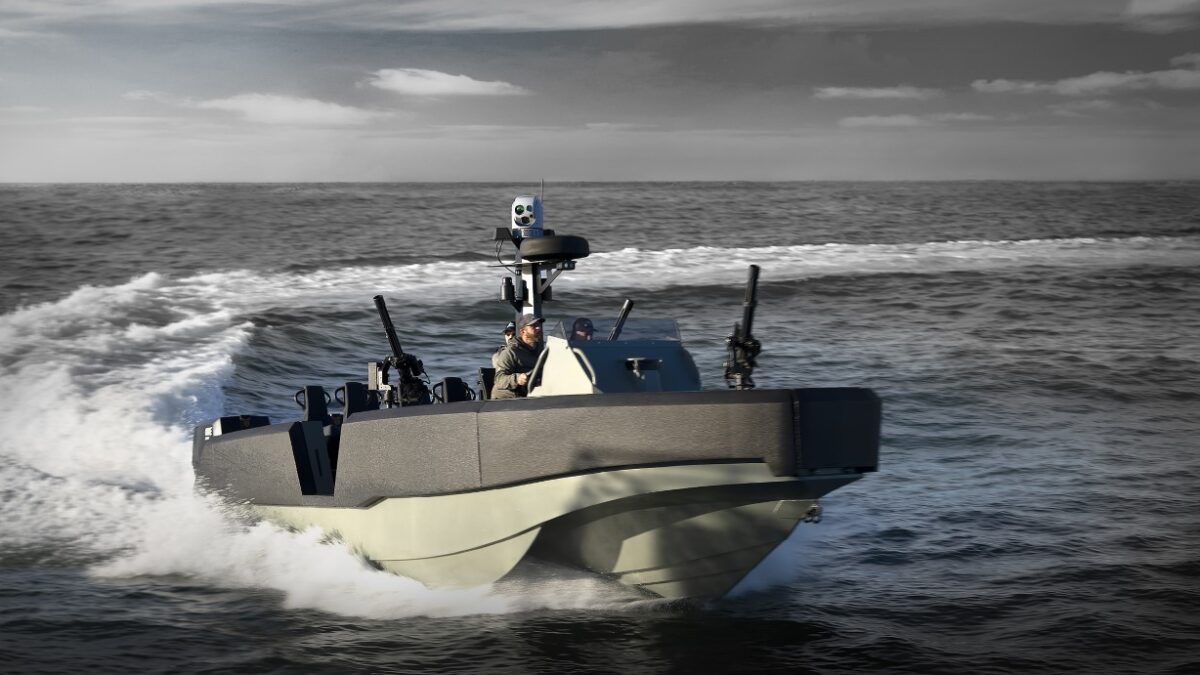 Coming to Canada: The Whiskey Multi Mission Reconnaissance Craft
Vanguard Staff, April 19, 2022
3 min

read
2101
OTTAWA — Inter-Op Canada Inc. is a NextGeneration Tactical Communications Integrator and Solutions Provider. In partnership with Australia-based "The Whiskey Project", they present another evolution in specialized delivery with a fully integrated, sensor to operator, Multi-Mission, Reconnaissance Craft (MMRC) designed to meet Canadian Defence and Security market needs and implement a "Sense First, See First, and Strike First" capability.
Watch for the complete package to be on display at CANSEC 2022 in Ottawa, Ontario for the first time ever. The new tactical craft is based on a low profile/cross section hull that presents reduced signature and detection as well as a better performing ride in rough seas, it combines powerful, organic, and remote sensors with state-of-art communications. The MMRC seamlessly meshes tactical and operational functionality in the most demanding of environments and acts as a surface assault package, or C2 node.
The MMRC presents a better performing and more forgiving platform for conducting traditional rigid-hull inflatable boat (RHIB) missions including blue-water visit, board, search and seizure/rescue, and traditional combatant craft riverine operations or coastal/harbour patrol. The MMRC reduces Shock to onboard personnel is reduced by 40 percent while also delivering integrated ballistic protection. The MMRC also affords passengers and crew better operating conditions so they arrive on target and ready for the tasks at hand.
The modular nature of the platform design and payload it can carry represents the real hidden power of the MMRC. The Whiskey Project's Horizon Strike Package provides The artificial intelligence, "brain in the boat", is provided by The Whiskey Project's Horizon Strike Package, enabling tight integration of all active and passive sensors. It can collect all information and display as needed via two existing ATAK stations mounted in key operator, VIP, and/or C2 passenger locations.
Additionally, situational awareness information can be passed to other MMRC, surface assault forces (SAFs), units ashore, support anchor/C2 ships or airborne ISR/strike assets. This feature leverages Inter-Op's proven TrellisWare family of radios and waveforms and can be used to create a personalized, scalable, dynamic, and survivable Mobile AdHoc Network (MANET). Trellisware radios aboard the MMRC are paired with BLOS systems to provide situational awareness and C2 channels to any static headquarters whether it be Canadian National Defence or Joint/Allied/Multi-Agency.
The design and integrated payloads of the MMRC serve to complement each other in every way. by maximizing operator and platform survivability with ease of use, operating close to the target, or deploying the sensor-laden mast to see over the horizon. Report back can be accomplished with other BLOS radio systems. And, for more advanced threats, you can extend the range of your TSM enabled eco-system via the tethered drone aboard (200 ft antenna) creating desired standoff yet still maintaining over-the-horizon sensing.
The Whiskey Project is currently contracted with the Australian Defence Force for a number of craft to be developed and delivered over the next year. The Whiskey Project's MMRC's continue to inform several partner and allied nations future maritime programs as they provide a unique interoperable and operational advantage through their effect centric capability development.
The Partnership with Whiskey Project is a logical step forward for both parties and great news for Canadian Small Businesses in the continued effort to leverage Canada's experience and tactical knowledge to advance defence integration, according to Inter-Op President, Jim Peter Safar. Existing vendor partnerships paired with proven delivery of C4ISR mission package components will help form a Canadian maritime capability growth area and augment tactical defence ingenuity. The current global security environment requires the rapid evolution of companies, partnerships, and capabilities. Next Generation Maritime effects must be delivered in order to support Canadian National Interests and defend North America and maintain Arctic Sovereignty.
Related posts